Kyoto's temples & shrines
The epicentre of Japanese culture and history, Kyoto is home to the very best temples and shrines.
Kyoto is the most culturally rich city in Asia, home to over 2,000 temples and shrines, an original castle, an imperial palace, several imperial villas, four geisha districts, countless beautiful gardens, bamboo groves and much, much more. You could spend years here trying to cover everything, so we wouldn't blame you for getting a little overwhelmed if you have just two or three days to spare!
Of the many sights, 17 are designated UNESCO World Heritage Sites, so we suggest you pick a couple of these to start your sightseeing. Kinkaku-ji, otherwise known as the Golden Temple, is a must-see as is nearby Ryoan-ji for its famous Zen rock garden. The wooden stage of Kiyomizu-dera offers fantastic views across the city and is particularly spectacular in spring and autumn, while climbing the endless tunnels of red torii gates at Fushimi Inari Shrine is a great way for the more energetic to spend an atmospheric afternoon.
Wherever you go, be sure to allow time for deviations. Sometimes the best spots in Kyoto are those not mentioned in the guidebooks (or on our website!). You never know - a deserted little temple tucked among the shopping arcades or a quiet teahouse at the back of a shrine complex might make your day. Our advice is to accept that you can't see everything and instead to seek out the little details and let the magic of Kyoto enchant you.
Make an Enquiry
For more information email us: [email protected] or call: 303 952 0379
Important notice: We are pleased to be able to offer so many amazing experiences in Japan. However, we are sorry that we can only include these as a part of a full Japan holiday package which includes your accommodation and transport alongside the experiences presented in this section of the web site.

Interested in this Experience? It is included in this tour:
An adventurous Small Group Tour for those who want to discover a beautiful yet little-visited rural area of Japan away from the tourist trail.

If you would like to get away from the crowds and explore a region of Japan rich in history and brimming with myths and legends, all set in some of the most beautiful scenery in the country, then this is the tour for you.
Take a boat trip to see the mysterious island of Gunkanjima - aka 'Battle Ship Island'.

Get your holiday on the right track with a lesson in survival Japanese.

Experience the old town Tokyo atmosphere in the Shitamachi district.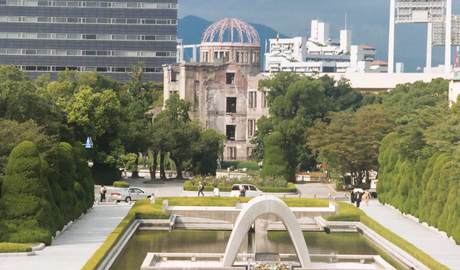 Take a sobering tour of Hiroshima's Peace Park with a volunteer from an NPO that provides support to A-bomb survivors.