Self-Guided Adventure
Golden Route
9 Nights: from US$2678 per person (twin share)
Trip Code: GRC
The Golden Route showcases the very best of Japan, combining the fascinating and disparate cities of Tokyo and Kyoto with the beautiful countryside of Hakone National Park near Mount Fuji. This flexible itinerary is ideal for the first time visitor. Read more >
Tokyo is a modern phenomenon. Beneath the famously space-age aesthetic, jam-packed trains and notoriously eccentric youth culture, the perceptive visitor may be surprised to realise how much of the soul of this age-old city has remained intact. Despite its many facelifts Tokyo has held on to its culture and traditions, and this melting pot of sights and smells is where you will begin your adventure in Japan.
Just a short journey on the bullet train but truly worlds away from Tokyo is Hakone National Park, an outstanding example of some of the natural beauty to be found in Japan. Famed for its bubbling volcanic hot springs, superb museums and picture-perfect views of Mount Fuji (when weather permits!), in Hakone you will be following in the footsteps of the first Shogun who rested his troops here in preparation for battle!
Having been swept down the coast on the Shinkansen, you will glide into Kyoto: a modern city that offers a tantalising window to the past. Here you will find a glimpse of the historic majesty of Imperial Japan, in a city where exquisite gardens lie hidden behind sliding doors and every corner conceals unknown treasures.
With your included Japan Rail Pass, you will have the option to take a day trip from Kyoto at no extra cost. The stunning castle at Himeji, the historic temples and deer park in Nara, and the World Heritage Site of Byodoin Temple in Uji are just some of the many possibilities.
Whether you travel for the cherry blossoms of spring, the buzzing summer festivals, the blazing colours of autumn, or the crisp clear skies of winter - the Golden Route is a trip to savour, and has plenty to offer for every season.
What's included
Nine nights' accommodation in Japan

Breakfast every day and two evening meals

Airport transfers

All transport between destinations

Seven-day Japan Rail Pass

Manaca transport card with 2,500 yen credit for city transport

Eight-hour private guide service in Kyoto

Pocket WiFi device

Hakone Free Pass for local transport in the Hakone region

Your personalised InsideJapan Info-Pack
What's NOT included:
International flights

Local transport (buses, subways, taxis) at any destination unless otherwise specified

Any entrance fees including those for shrines, temples and museums

Baggage handling - you will be expected to carry your own bags for the duration of the trip
Trip Highlights
Marvel at stunning mountain scenery in Hakone

Stay at a traditional ryokan inn

Take a day trip to one of the many attractions near Kyoto
Visit UNESCO World Heritage temples in Kyoto

Whizz through the country on the Shinkansen bullet train
For more information email us: [email protected] or call: + 44 117 244 3380
What, where, when and how...
Golden Route - 10 Days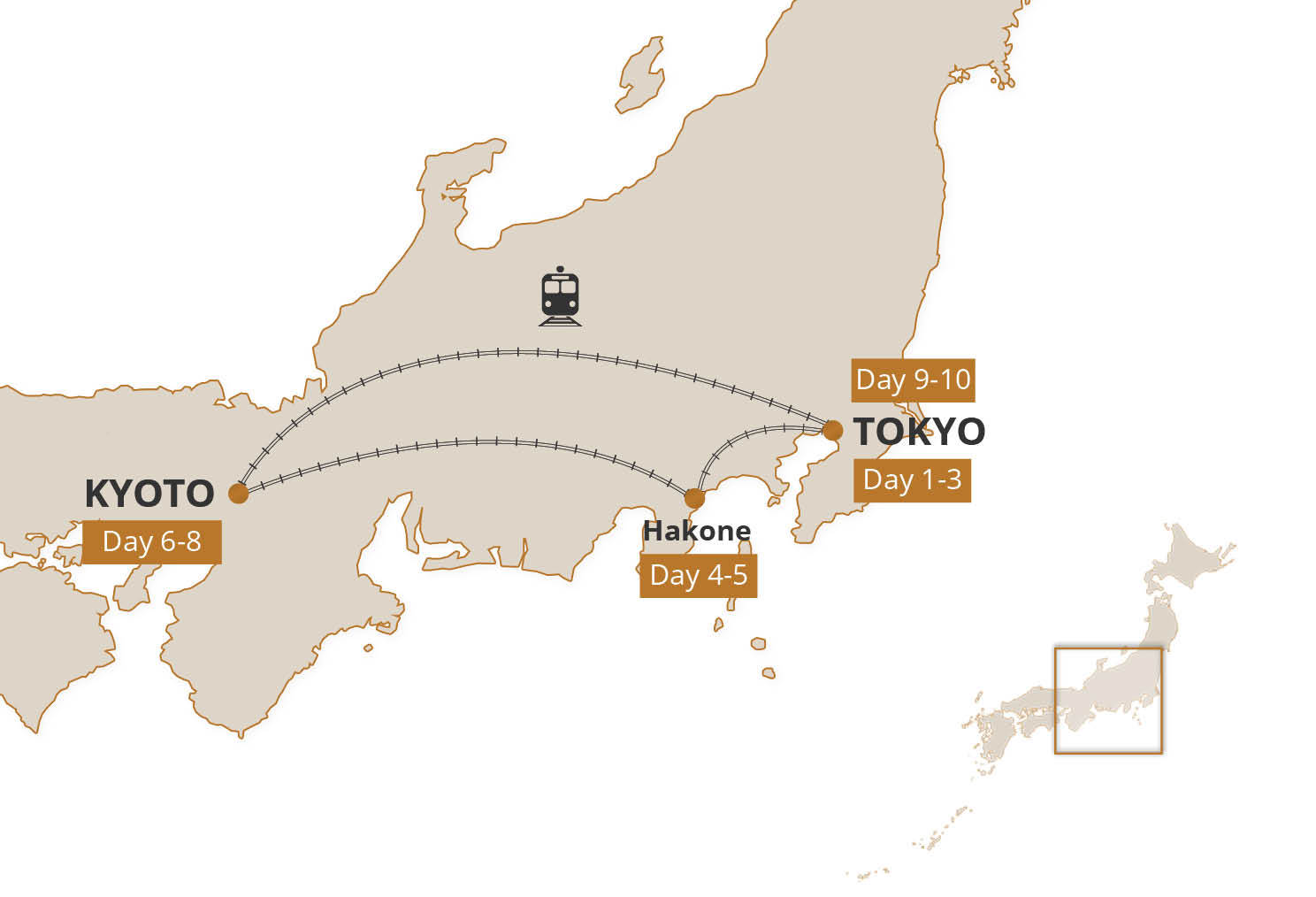 Destinations
Golden Route - 10 Days - Day by Day
Golden Route - 10 Days - Accommodation
Golden Route - 10 Days - Experiences
Day 1-3

Discover Tokyo's traditional side, see the sights with an expert local guide, and take an optional day trip outside the city.

Welcome to Japan! For the first three nights of your adventure you'll be staying in Tokyo's historical Asakusa district on the banks of the Sumida River. With its colourful carnival of market stalls, food vendors and traditional ryokan inns, Asakusa's down-to-earth atmosphere offers a glimpse of what Tokyo life might have been like before the neon-spangled skyscrapers arrived!

On your first full day in Tokyo you'll join a guide to explore the highlights of the capital. In between you'll explore lesser known gardens, the back alleys of Harajuku, traditional craft shops and more.

Day three is an opportunity to either explore Tokyo independently or take a day trip out of the city. We highly recommend taking a gentle cruise along the Sumida River from Hamarikyu Gardens back to Asakusa. The high drama of a kabuki performance at the elegant Kabuki-za Theatre is also a possibility. If you prefer to get away from the city, you might consider taking a day trip to Kamakura's giant Buddha or Nikko's extravagant temple complex, or spending a day hiking on Mount Takao.

Overnight: Gracery Asakusa Hotel

Day 4-5

Follow in the footsteps of the samurai as you enjoy the healing hot springs and magnificent views at Hakone National Park.

Following in the footsteps of the samurai, your journey follows the old Tokaido post road as you travel to Hakone National Park. From Tokyo you will hop aboard the world-famous Shinkansen bullet train for the short ride to Odawara, the gateway to Hakone.

Set in mountainous countryside, the region boasts superb natural beauty and on a clear day the near-perfect symmetry of Mount Fuji looming over Lake Ashi is truly a sight to see.

You will spend tonight at an authentic Japanese inn, where you can relax in the hot spring baths and enjoy a delicious Japanese-style dinner.

On your second day in Hakone you will have a full day to explore the area using your included Hakone Free Pass, which covers all the public transport in the region – from buses and trains to funicular railways, cable cars and even a pirate ship! Of course you may prefer to explore on foot, in which case pull on your walking boots and head for one of the many hiking trails that criss-cross the area.

Although the last eruption of Mount Hakone was 3,000 years ago, sulphurous fumes and bubbling hot rivers can be still seen in the volcanic crater at Owakudani, famous for its black eggs boiled in the valley water. Legend has it that each one consumed adds seven years to your life! Hakone is also home to a number of excellent museums including the open-air sculpture park, which boasts a sizeable Picasso collection amongst many other treasures.

Overnight: Ichinoyu Susukinohara

Day 6-8

Discover Japan's rich history and hope for a glimpse of a geisha as you explore the City of Ten Thousand Tempes

Leaving Hakone behind, the bullet train will whisk you down the eastern seaboard to Kyoto – that's 267 miles in just two hours and ten minutes! Your arrival in this modern city will be heralded by Kyoto Station, one of the largest buildings in Japan and a triumph of futuristic architecture.

Today you will have a free afternoon to begin exploring some of Japan's finest cultural sites in this "City of Ten Thousand Temples." Drink a cup of green tea at the picturesque Golden Pavilion, contemplate Zen at Ryoan-ji's rock garden and wander through the thousands of vermillion shrine gates that line the paths of Fushimi Inari Taisha.

The next morning you will be met at your hotel by a local guide who will take you through the backstreets of Kyoto to the city's most famous sights as well as some of its lesser-known locales. Kyoto was Japan's capital for over 1,000 years and boasts rich history that has left the city with plenty of stories to tell!

Kiyomizu-dera is one of Japan's best-loved temples, where the taste of the spring water is said to have healing powers. As dusk falls, be sure to head to Gion for the chance to catch a glimpse of Kyoto's secretive geisha as they scurry to their evening appointments.

On your final day in Kyoto you may wish to spend another day exploring the city, or you can take advantage of your Japan Rail Pass for an excursion. Just 40 minutes away by train is Nara, famous for its resident population of deer and its huge bronze statue of Buddha at Todai-ji Temple.

The electric metropolis of Osaka is only a 30-minute journey away and Hiroshima, forever infamous following the events of World War Two, makes a very worthwhile day trip and is only two hours away by bullet train.

Overnight: Intergate Kyoto Shijo Shinmachi

Day 9-10

Round off your trip with a stay in Tokyo's vibrant Shinjuku district, packed with enough food, drink and distraction to keep you busy for a lifetime!

From Kyoto you will return to Tokyo today at your leisure, taking the Shinkansen at whatever time of day suits you. For your final night in Japan you will be based in the futuristic Shinjuku district – a complete contrast to the Asakusa area with which you began your trip!

Here you'll find bright lights, busy department stores, lively restaurants and karaoke bars – a great place to say goodbye to Japan in style.

Sadly all good things must come to an end, and on the final day of your trip you will take the fast and comfortable airport limousine bus service to the airport for your flight home.

Overnight: JR Kyushu Blossom Shinjuku
View all days
Day 1-3

Discover Tokyo's traditional side, see the sights with an expert local guide, and take an optional day trip outside the city.

Welcome to Japan! For the first three nights of your adventure you'll be staying in Tokyo's historical Asakusa district on the banks of the Sumida River. With its colourful carnival of market stalls, food vendors and traditional ryokan inns, Asakusa's down-to-earth atmosphere offers a glimpse of what Tokyo life might have been like before the neon-spangled skyscrapers arrived!

On your first full day in Tokyo you'll join a guide to explore the highlights of the capital. In between you'll explore lesser known gardens, the back alleys of Harajuku, traditional craft shops and more.

Day three is an opportunity to either explore Tokyo independently or take a day trip out of the city. We highly recommend taking a gentle cruise along the Sumida River from Hamarikyu Gardens back to Asakusa. The high drama of a kabuki performance at the elegant Kabuki-za Theatre is also a possibility. If you prefer to get away from the city, you might consider taking a day trip to Kamakura's giant Buddha or Nikko's extravagant temple complex, or spending a day hiking on Mount Takao.

Overnight: Gracery Asakusa Hotel

Day 4-5

Follow in the footsteps of the samurai as you enjoy the healing hot springs and magnificent views at Hakone National Park.

Following in the footsteps of the samurai, your journey follows the old Tokaido post road as you travel to Hakone National Park. From Tokyo you will hop aboard the world-famous Shinkansen bullet train for the short ride to Odawara, the gateway to Hakone.

Set in mountainous countryside, the region boasts superb natural beauty and on a clear day the near-perfect symmetry of Mount Fuji looming over Lake Ashi is truly a sight to see.

You will spend tonight at an authentic Japanese inn, where you can relax in the hot spring baths and enjoy a delicious Japanese-style dinner.

On your second day in Hakone you will have a full day to explore the area using your included Hakone Free Pass, which covers all the public transport in the region – from buses and trains to funicular railways, cable cars and even a pirate ship! Of course you may prefer to explore on foot, in which case pull on your walking boots and head for one of the many hiking trails that criss-cross the area.

Although the last eruption of Mount Hakone was 3,000 years ago, sulphurous fumes and bubbling hot rivers can be still seen in the volcanic crater at Owakudani, famous for its black eggs boiled in the valley water. Legend has it that each one consumed adds seven years to your life! Hakone is also home to a number of excellent museums including the open-air sculpture park, which boasts a sizeable Picasso collection amongst many other treasures.

Overnight: Ichinoyu Susukinohara

Day 6-8

Discover Japan's rich history and hope for a glimpse of a geisha as you explore the City of Ten Thousand Tempes

Leaving Hakone behind, the bullet train will whisk you down the eastern seaboard to Kyoto – that's 267 miles in just two hours and ten minutes! Your arrival in this modern city will be heralded by Kyoto Station, one of the largest buildings in Japan and a triumph of futuristic architecture.

Today you will have a free afternoon to begin exploring some of Japan's finest cultural sites in this "City of Ten Thousand Temples." Drink a cup of green tea at the picturesque Golden Pavilion, contemplate Zen at Ryoan-ji's rock garden and wander through the thousands of vermillion shrine gates that line the paths of Fushimi Inari Taisha.

The next morning you will be met at your hotel by a local guide who will take you through the backstreets of Kyoto to the city's most famous sights as well as some of its lesser-known locales. Kyoto was Japan's capital for over 1,000 years and boasts rich history that has left the city with plenty of stories to tell!

Kiyomizu-dera is one of Japan's best-loved temples, where the taste of the spring water is said to have healing powers. As dusk falls, be sure to head to Gion for the chance to catch a glimpse of Kyoto's secretive geisha as they scurry to their evening appointments.

On your final day in Kyoto you may wish to spend another day exploring the city, or you can take advantage of your Japan Rail Pass for an excursion. Just 40 minutes away by train is Nara, famous for its resident population of deer and its huge bronze statue of Buddha at Todai-ji Temple.

The electric metropolis of Osaka is only a 30-minute journey away and Hiroshima, forever infamous following the events of World War Two, makes a very worthwhile day trip and is only two hours away by bullet train.

Overnight: Intergate Kyoto Shijo Shinmachi

Day 9-10

Round off your trip with a stay in Tokyo's vibrant Shinjuku district, packed with enough food, drink and distraction to keep you busy for a lifetime!

From Kyoto you will return to Tokyo today at your leisure, taking the Shinkansen at whatever time of day suits you. For your final night in Japan you will be based in the futuristic Shinjuku district – a complete contrast to the Asakusa area with which you began your trip!

Here you'll find bright lights, busy department stores, lively restaurants and karaoke bars – a great place to say goodbye to Japan in style.

Sadly all good things must come to an end, and on the final day of your trip you will take the fast and comfortable airport limousine bus service to the airport for your flight home.

Overnight: JR Kyushu Blossom Shinjuku
Close all days
Other trips you may like
Kawayu Onsen
Yunomine Onsen
Kii-Katsuura

This walking module presents a taster of what the Kumano Kodo has to offer at a gentle pace designed to make this amazing region accessible to all.

3 nights: from US$1287 pp (twin share) Read more >

Tokyo
Kyoto
Mount Koya
Kawayu Onsen
Yunomine Onsen
Nachi
Ise
Tokyo

Join the ranks of the junreisha, or pilgrims, as you explore Ise, Mount Koya and the ancient paths of the Kumano Kodo on this classic trip.

14 nights: from US$4108 pp (twin share) Read more >

Tokyo
Hakone
Kyoto
Hakuba
Nagano
Tokyo

Japan is a first class winter sports destination with a twist. Why not combine skiing or snowboarding with a taste of the unique Japanese culture?

13 nights: from US$3991 pp (twin share) Read more >