Shitamachi Tokyo old town
Experience the old town Tokyo atmosphere in the Shitamachi district.
Shitamachi literally means "downtown" and is the place to experience a taste of the old town Tokyo atmosphere that existed before the economic miracle of the 1970's and 80's really took hold. The most famous district of Shitamachi is Asakusa. At its heart you find Senso-ji Temple, best known for the giant red lantern situated at the entrance. This is a great place to start any exploration of Tokyo. Learn about the relationship between Buddhism and Shinto, get to know some of the rituals associated with visiting a temple and of course, purchase an omikuji fortune.

Make an Enquiry
For more information email us: [email protected] or call: + 44 117 244 3380
Important notice: We are pleased to be able to offer so many amazing experiences in Japan. However, we are sorry that we can only include these as a part of a full Japan holiday package which includes your accommodation and transport alongside the experiences presented in this section of the web site.

Interested in this Experience? It is included in this tour:
Pull on your hiking boots for six days on the Shin-Etsu trail and the Nakasendo Way.

Nothing beats exploring a new culture on foot. Slowing down to walking pace allows you to absorb the sights and sounds in technicolour detail, helping you get under the skin of a new place.
Get your holiday on the right track with a lesson in survival Japanese.

Take a boat trip to see the mysterious island of Gunkanjima - aka 'Battle Ship Island'.

Take a sobering tour of Hiroshima's Peace Park with a volunteer from an NPO that provides support to A-bomb survivors.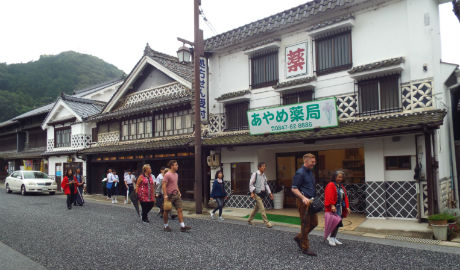 Step back in time a hundred years with a visit to the little-known town of Joge.