Neon lights of Shinjuku
The Tokyo of the films; an urban jungle of fluorescent neon stretching high into the sky.
Ah the bright neon-spangled skyscrapers of Shinjuku! This is the Tokyo of the imagination with flashing kanji signs, screaming pachinko parlours, karaoke bars, cat cafés, department stores, restaurants and izakaya all straining for space and rising skywards from the busy streets below.

Whether you start or end your trip in Tokyo, an evening wandering through Shinjuku is a must. Away from the main streets, there are lots of pedestrian areas where Tokyoites shop through the evening or while away the small hours in tiny standing bars, or slurp noodles from streetside shacks. Want to see it all from above? Escape the madness for a little while and take a lift for free to the top of the Tokyo Metropolitan Government Office to see all that neon sparkling fluorescent beneath you.
Make an Enquiry
For more information email us: [email protected] or call: + 44 117 244 3380
Important notice: We are pleased to be able to offer so many amazing experiences in Japan. However, we are sorry that we can only include these as a part of a full Japan holiday package which includes your accommodation and transport alongside the experiences presented in this section of the web site.

Interested in this Experience? It is included in this tour:
The best of Japan's arts scene, from Naoshima "Art Island" to the Adachi Museum, with moderate accommodation and some delicious meals included.

Japan may not have a high profile when it comes to art, but there are numerous museums and galleries to be discovered throughout the country. This itinerary will help you discover the Japanese passion for art.
Take a boat trip to see the mysterious island of Gunkanjima - aka 'Battle Ship Island'.

Get your holiday on the right track with a lesson in survival Japanese.

Take a sobering tour of Hiroshima's Peace Park with a volunteer from an NPO that provides support to A-bomb survivors.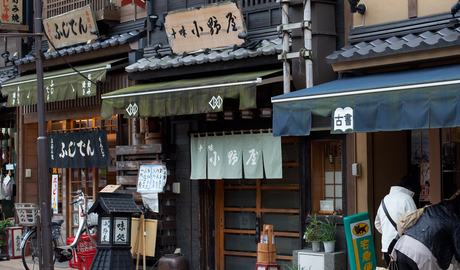 Experience the old town Tokyo atmosphere in the Shitamachi district.