Our team at Inside Japan Tours
The sun never sets on the InsideJapan Tours team (well, maybe on Sundays) as we have offices in Bristol (UK), Boulder, (USA), Brisbane (Australia) and Nagoya (Japan). On this page you can meet the people behind our Japan tours and holidays.
We have a wide range of backgrounds and interests, but you can be sure that the one thing that ties us all together is a love of Japan, Japanese culture and a passionate desire to share that with other people.
From the accounts department, through the travel consultant teams to the tour leaders and guides on the ground, you can rest assured that everything we do is to make sure you have the best possible experience of Japan.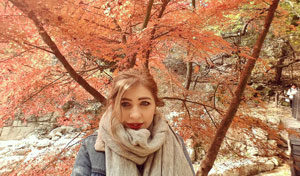 Originally from the beautiful town of Frome in Somerset, after travelling around the world, Becky has found a place to celebrate her love of travel a bit closer to home.
French and German lessons at school left Becky convinced that languages simply weren't for her. But after watching films such as Seven Samurai and Spirited Away, she became fascinated by Japanese, going on to backpack around the country, study the language at university and spend a year in Kobe.
As a self-confessed "champion for Kobe", Becky insists the city should be top of every Japan bucket list. With the chance to hike in nearby mountains, take a boat trip around the harbour, pick up treats in the huge shopping scene, and eat your way around the city's superb restaurants (perhaps all in one day), she thinks it has the best of all worlds.
Despite living as a city slicker in Kobe in Japan, Seoul in South Korea and Adelaide in Australia, she enjoys a more relaxed pace of life, doing yoga, swimming and horse-riding in her spare time. With a keen interest in the arts, she also enjoys painting, playing instruments (jazz clarinet and saxophone) and seeing musicals; watching a Takarazuka play in Osaka (courtesy of some very generous Japanese hosts) is one of her most treasured memories.
While it is a struggle to track down her favourite Japanese dish in the UK (unagi-don - grilled eel in barbecue sauce), a couple of home comforts certainly make up for it - Becky thinks there's nothing quite like HP sauce and a proper cup of English Breakfast tea!