Our team at Inside Japan Tours
The sun never sets on the InsideJapan Tours team (well, maybe on Sundays) as we have offices in Bristol (UK), Boulder, (USA), Brisbane (Australia) and Nagoya (Japan). On this page you can meet the people behind our Japan tours and holidays.
We have a wide range of backgrounds and interests, but you can be sure that the one thing that ties us all together is a love of Japan, Japanese culture and a passionate desire to share that with other people.
From the accounts department, through the travel consultant teams to the tour leaders and guides on the ground, you can rest assured that everything we do is to make sure you have the best possible experience of Japan.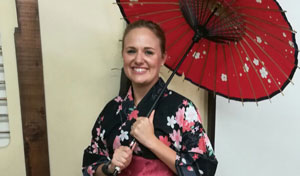 Imogen's life is all about balance - whether it's getting toasty at a bikram yoga class, or spending a chilly day snowboarding on the slopes.
Having lived abroad for more than half her life by the time she was 10, Imogen caught the travel bug pretty early on and still sets aside every spare dollar and dime for her next adventure. She grew up in the beautiful county of Yorkshire, and after a stint living in New Zealand, and a series of London jobs in the travel industry, she's joined the team in the cultural hub of Bristol.
It didn't take long for Imogen to fit in at InsideJapan (unsurprisingly chock full of Japanophiles). Like every visitor to the country before her, she found herself surprised at every turn, not least of all with Japanese cuisine. While she admits she was least excited about the food, Imogen came back hankering after ramen, tonkatsu, okonomiyaki and kare pan (something she could happily eat for breakfast, lunch and dinner).
As the proud holder of a WSET Level 2 Certificate in Wines, she occasionally washed down this new favourite food with sake, all in the name of research of course.