Our team at Inside Japan Tours
The sun never sets on the InsideJapan Tours team (well, maybe on Sundays) as we have offices in Bristol (UK), Boulder, (USA), Brisbane (Australia) and Nagoya (Japan). On this page you can meet the people behind our Japan tours and holidays.
We have a wide range of backgrounds and interests, but you can be sure that the one thing that ties us all together is a love of Japan, Japanese culture and a passionate desire to share that with other people.
From the accounts department, through the travel consultant teams to the tour leaders and guides on the ground, you can rest assured that everything we do is to make sure you have the best possible experience of Japan.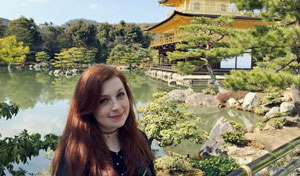 While the Japanese language can seem like an intimidating mountain to climb, after being introduced to the complex swish of kanji calligraphy during World Languages Day, Sophie became fascinated with Japan.
After attempting to master these indecipherable symbols in her spare time, she packed her bags for a stint at a homestay in Yamanashi Prefecture. Despite speaking very little Japanese, with a bit of enthusiasm (and a hand gesture or two) her hosts helped her fall in love with Japan further, teaching her origami and how to make takoyaki (octopus balls - more delicious than they sound).
Taking part in a traditional tea ceremony and ikebana (flower arranging) inspired her to study at Gakushuin University in Tokyo - specialising in kimono and the Meiji era - and work in Kawasaki City to promote international exchange.
While she loved Tokyo's art galleries and the super cool district of Shimokitazawa, it was the shrines, countryside and rural villages she found most magical; one of her fondest memories is of climbing a mountain in Kawaguchi-ko to the Chuoreito Pagoda and visiting the villages at the bottom.
Though gallery hopping and learning about modern and traditional art is one of her favourite past-times, she does have a penchant for something ubiquitous in just about every souvenir shop, ever: snow globes. It's no surprise then that Sapporo on Japan's northernmost island, Hokkaido is her favourite place of all. In February, the streets fill with enormous snow sculptures - the closest thing to walking through a real-life snow globe. Sophie's collection currently sits at an impressive 40; perhaps it's time to open a niche gallery of her own...