Our team at Inside Japan Tours
The sun never sets on the InsideJapan Tours team (well, maybe on Sundays) as we have offices in Bristol (UK), Boulder, (USA), Brisbane (Australia) and Nagoya (Japan). On this page you can meet the people behind our Japan tours and holidays.
We have a wide range of backgrounds and interests, but you can be sure that the one thing that ties us all together is a love of Japan, Japanese culture and a passionate desire to share that with other people.
From the accounts department, through the travel consultant teams to the tour leaders and guides on the ground, you can rest assured that everything we do is to make sure you have the best possible experience of Japan.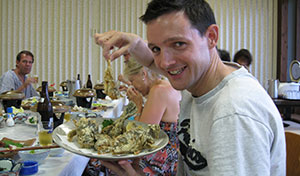 Mark has covered Japan from top to bottom but is always itching to get back to see more.
As a tourism graduate, Mark has been working in the travel industry for a number of years - starting his career at the East of England Tourist Board and working on green tourism initiatives in Suffolk.
After government cuts in the public sector eventually made him redundant in 2005, Mark decided to seize the opportunity to follow up on a long-cherished interest (cultivated while watching sumo on Channel 4 and the seeing the anime film Akira on TV), and he set off to backpack around Japan.
It was through this experience that he fell in love with the country, and soon afterwards he became an English teacher in rural Yamaguchi Prefecture - where he would stay for three years and meet his future wife, Rie! Aside from the culture and food (his favourite dishes are chirashi sushi and mackerel simmered in miso, as made by Rie), Mark's favourite aspect of living in Japan was seeing his students progress and gain the confidence to speak a foreign language.
Besides his time in Japan, Mark has travelled extensively throughout Asia, Europe and North America. As a keen hiker, he has climbed Mount Fuji several times and even summited Vietnam's highest mountain - Mount Fansipan. He is always looking forward to his next travel experience and loves exploring new areas of Japan, but is equally happy whiling away the time in coffee shops and having a good glass of wine in Bristol.
His favourite place in Japan is Tsuwano in Shimane Prefecture - it's very rural and absolutely idyllic. The stunning views of the valley, the local arts and crafts and the warm welcoming people - not to mention the beautiful cherry blossom and yabusame horseback archery - make it a fantastic place to visit.
Mark's top tip for those travelling to Japan is not to waste valuable sightseeing time looking for banks that accept foreign credit cards - or queueing up to exchange travellers' cheques. Japan is very much a cash-based society, so bring plenty of yen!
What is one of the most interesting experiences you've had in Japan?
"I once spent a few hours (in the small hours of the morning) on the deserted island of Gunkanjima off the coast of Nagasaki. At the time the island was off-limits to visitors and I could only get there by bribing a local fisherman! Incredible and eerily haunting, the island has a fascinating history as a former Korean prisoner of war camp and as an industrial coal-mining haven.
"Since the island was deserted in the 1970s it has remained largely untouched, with washing-up still in the sink in one house. Visitors today can only see the island from a jetty on a pre-planned boat tour, so I was amazingly lucky to have the experience I did."