Our team at Inside Japan Tours
The sun never sets on the InsideJapan Tours team (well, maybe on Sundays) as we have offices in Bristol (UK), Boulder, (USA), Brisbane (Australia) and Nagoya (Japan). On this page you can meet the people behind our Japan tours and holidays.
We have a wide range of backgrounds and interests, but you can be sure that the one thing that ties us all together is a love of Japan, Japanese culture and a passionate desire to share that with other people.
From the accounts department, through the travel consultant teams to the tour leaders and guides on the ground, you can rest assured that everything we do is to make sure you have the best possible experience of Japan.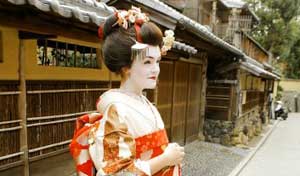 Claire first went to Japan to work as an English teacher in 2006 - and enjoyed it so much that she stayed for five years!
Hailing from Coventry, Claire has an impressively diverse range of interests - from dinosaurs to dressmaking and the South African swimming team.
As a serial traveller, Claire has spent a total of seven years living in Germany and three years in California in addition to her time in Japan. When asked why she likes living abroad so much, she explains that not only does it make everyday tasks like going to the supermarket more interesting, but it also encourages you to think about your home country and culture and how they might be experienced by visitors.
Though she missed jammie dodgers and the BBC, Claire did not waste her time in Japan. Instead she used it to enjoy the delicious street food (her favourites are yakiniku grilled meat and kushikatsu meat skewers), and to cultivate an interest in Japanese fashion. She loves picking up traditional kimono and yukata at antique markets (her favourite being Toji Temple market in Kyoto, held on the 21st of every month) and using the fabric from her extensive kimono collection to make dresses.
Do you have any top tips for anyone visiting Japan for the first time?
"I would say that it is important to relax and enjoy the experience. No-one expects you to fully understand the culture so don't worry about 'doing the wrong thing'. Japanese people really love to introduce their culture to visitors so take advantage of this whever you can!"