Our team at Inside Japan Tours
The sun never sets on the InsideJapan Tours team (well, maybe on Sundays) as we have offices in Bristol (UK), Boulder, (USA), Brisbane (Australia) and Nagoya (Japan). On this page you can meet the people behind our Japan tours and holidays.
We have a wide range of backgrounds and interests, but you can be sure that the one thing that ties us all together is a love of Japan, Japanese culture and a passionate desire to share that with other people.
From the accounts department, through the travel consultant teams to the tour leaders and guides on the ground, you can rest assured that everything we do is to make sure you have the best possible experience of Japan.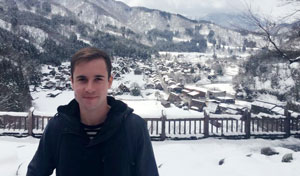 Lachlan Woodland
Travel Consultant
Email:

[email protected]

Location (Brisbane, Australia)
Growing up in a country that is also a continent left Lachlan used to travelling 10 hours to the nearest city...
What a joy it was then when he moved from Australia to Japan, took his first shinkansen (bullet train) and realised that you could travel 30 minutes and be in a completely different landscape with people speaking a whole new dialect. This might explain why he had visited 39 of Japan's 47 prefectures by the end of his first year there as a high school exchange student.
There were still another 8 prefectures to go, so it made sense to move back for another six months to study at university.
With English as his mother tongue, one of Lachlan's teachers came up with a novel solution to help him learn Japanese. Taking his teacher's advice to use music as a tool to remember words, he now has a large repertoire of Disney songs that he can sing by heart in Japanese. Despite moving back to Australia, his dedication is such that whenever a new Disney film is released, he sets about learning its Japanese counterpart.
Perhaps unsurprising after that revelation, alongside Disney, his love for music and international politics have manifested themselves into an intense passion for Eurovision. Just like Japan, it's a bastion of culture, this time from the Europeans.
Fortunately for Lachlan, they have now opened the Eurovision doors to Australian entrants (look out for his Japanese Disney rendition the next time it rolls around...)