Our team at Inside Japan Tours
The sun never sets on the InsideJapan Tours team (well, maybe on Sundays) as we have offices in Bristol (UK), Boulder, (USA), Brisbane (Australia) and Nagoya (Japan). On this page you can meet the people behind our Japan tours and holidays.
We have a wide range of backgrounds and interests, but you can be sure that the one thing that ties us all together is a love of Japan, Japanese culture and a passionate desire to share that with other people.
From the accounts department, through the travel consultant teams to the tour leaders and guides on the ground, you can rest assured that everything we do is to make sure you have the best possible experience of Japan.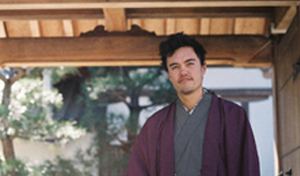 Rory Burgin
Travel Consultant
Email:

[email protected]

Location (Brisbane, Australia)
Rory describes Japan as an "adventurer's paradise" – perfect for a traveller who's never happier than when in the great outdoors.
While growing up in Brisbane, Rory went back and forth to Japan to see family, so was no stranger to the country and culture when he moved there for three years. Despite making a home for himself in the city of Nagoya, it was Japan's natural beauty that really charmed him, and he took any excuse to escape the metropolis, making time to hike, cycle and ski in the countryside.
On one particularly wild trip, Rory spent 11 days camping on the island of Shikoku, shunning the trappings of modern life to go off-grid, sleeping soundly in a hammock every night and returning from busy days to shower under waterfalls. He even caught his own dinner - rustling up fresh black snapper under the stars wouldn't be the same under Tokyo's skyscrapers.
With a glut of different roles behind him though, Rory is no one-trick pony. While in Nagoya he played guitar in two bands, arranged jam sessions with foreign and Japanese musicians, hosted a regular pub trivia night and collected old cameras to shoot Japan's beauty on film. That's all before he was doused in paint to star in an advert for Ibanez guitars. Then there was the time he lived in Germany to work as a travelling Guinness salesman and study in the Black Forest...
Now back in Brisbane, travel consultant and amateur golfer has been added to that lengthy list of accomplishments. Whatever next?!