Our team at Inside Japan Tours
The sun never sets on the InsideJapan Tours team (well, maybe on Sundays) as we have offices in Bristol (UK), Boulder, (USA), Brisbane (Australia) and Nagoya (Japan). On this page you can meet the people behind our Japan tours and holidays.
We have a wide range of backgrounds and interests, but you can be sure that the one thing that ties us all together is a love of Japan, Japanese culture and a passionate desire to share that with other people.
From the accounts department, through the travel consultant teams to the tour leaders and guides on the ground, you can rest assured that everything we do is to make sure you have the best possible experience of Japan.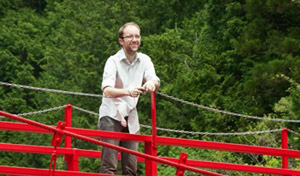 Tim's interest in Japanese culture and history was ignited after watching The Last Samurai, which spurred him on to take night classes in Japanese at school.
From here, Tim went on to study Japanese at university, which involved spending a year at Nagoya University of Foreign Language Studies in 2007-8. Despite the lack of a decent cup of English tea, he found that Nagoya's cosmopolitan atmosphere and its superb miso katsu (pork cutlet in miso sauce) more than made up for it. As a history buff, he also loved living in a place so steeped in the events of the past: Nagoya played a key role in the "Warring States" period of Japanese history.
On returning to his hometown of Oxford in the UK, Tim worked in the customer service department of a large local transport company - a role that he found surprisingly stimulating as it allowed him to meet all sorts of interesting people. His favourite job, however, was undoubtedly working at Hotel Chocolat over Christmas, where he particularly enjoyed getting to know his product.
In his free time, Tim is a man of many and varied interests. Not just a closet video game nerd, he is also an avid cook and watcher of cooking shows, and a (slightly lapsed) second-level practitioner of capoeira (a Brazilian dance-come-martial-art). This means he can throw a mean kick and cartwheel! Muggers beware, Tim will dance at you.
What would you say to persuade someone to visit Japan?
Japan has such a unique and colourful history and culture which really does need to be experienced rather than read about. It is easy to find out about Zen meditation, geisha, and sumo - but you need to see it for yourself and speak to those involved to really understand what they represent, and to get past the stereotypes you see in the media.