Our team at Inside Japan Tours
The sun never sets on the InsideJapan Tours team (well, maybe on Sundays) as we have offices in Bristol (UK), Boulder, (USA), Brisbane (Australia) and Nagoya (Japan). On this page you can meet the people behind our Japan tours and holidays.
We have a wide range of backgrounds and interests, but you can be sure that the one thing that ties us all together is a love of Japan, Japanese culture and a passionate desire to share that with other people.
From the accounts department, through the travel consultant teams to the tour leaders and guides on the ground, you can rest assured that everything we do is to make sure you have the best possible experience of Japan.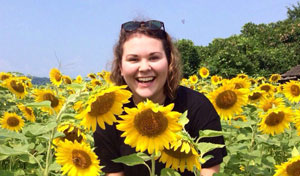 Holly's passion for Japan can be traced way back to an art class that she had as a child in her native Bedford.
Learning about Hokusai's famous Great Wave off Kanagawa left quite the impression, and the more she continues to learn about Japan, the more fascinated she becomes!
This interest in the arts followed her into adulthood, and her travel to-dos in any destination always start with a local concert or exhibition. When she's not busy being the ultimate cultured explorer, it doesn't take her long to hit the great outdoors. Japan's beautiful national parks, natural hot springs and mountainous landscape served her well, and the Aso-Kuju National Park on Kyushu became her favourite hiking hotspot.
Having lived in Ottawa as a student, she was happy to make a home for herself abroad. But there was one (furry, tail-wagging, occasional-woofing) bit of home that she sadly couldn't take with her. While she did try to Skype her dog regularly, he couldn't quite get to grips with this long-distance relationship. Thankfully, following her return, they're back on.
While some Brits pine for Christmas back home, Holly embraced her first Christmas in Japan. As with all great travel tales, a casual conversation in a bar flourished into a great friendship. Her next two years in Japan were full of trips with the Tokyo locals she met that December.
She was also happy to make peace with the humid Japanese summers, tucking into an icy bowl of kakigori when the sun became too much. Luckily the sun isn't something she'll have to worry about now she's back in the UK.