Our team at Inside Japan Tours
The sun never sets on the InsideJapan Tours team (well, maybe on Sundays) as we have offices in Bristol (UK), Boulder, (USA), Brisbane (Australia) and Nagoya (Japan). On this page you can meet the people behind our Japan tours and holidays.
We have a wide range of backgrounds and interests, but you can be sure that the one thing that ties us all together is a love of Japan, Japanese culture and a passionate desire to share that with other people.
From the accounts department, through the travel consultant teams to the tour leaders and guides on the ground, you can rest assured that everything we do is to make sure you have the best possible experience of Japan.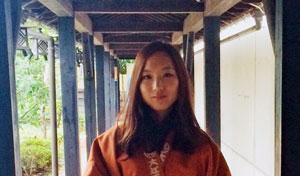 The food, the people, the atmosphere… Sora loved everything about living in Japan.
While Sora became fond of Osaka's unique charm after living there for six months, with 2,000 temples and 17 UNESCO World Heritage Sites, it was Kyoto that really captured her heart.
She became immersed in traditional Japanese culture, spending days cycling through well-preserved backstreets, visiting shrines and learning the art of Kyudo (Japanese archery) and Gasshuku (martial arts). Even her choice of food embraced the old, getting a taste for washoku (traditional Japanese cooking) with grilled nimono (vegetables), grilled fish and tofu.
But she had the most quintessentially Japanese experience of all on her honeymoon when she stayed in her first ryokan; a traditional inn with tatami mat flooring, kaiseki meals and onsen (hot spring baths).
After living in South Korea for 18 months, Sora went home to New Zealand to work in the travel industry, before jumping across the water to Australia. After a stint working in Adelaide, we're delighted that she's found her way to our Brisbane team. Even more delighted after finding out she's a keen baker...