Our team at Inside Japan Tours
The sun never sets on the InsideJapan Tours team (well, maybe on Sundays) as we have offices in Bristol (UK), Boulder, (USA), Brisbane (Australia) and Nagoya (Japan). On this page you can meet the people behind our Japan tours and holidays.
We have a wide range of backgrounds and interests, but you can be sure that the one thing that ties us all together is a love of Japan, Japanese culture and a passionate desire to share that with other people.
From the accounts department, through the travel consultant teams to the tour leaders and guides on the ground, you can rest assured that everything we do is to make sure you have the best possible experience of Japan.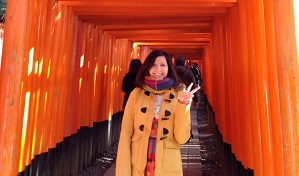 Halley Trujillo
Senior Sales Team Leader, Training and Development
Email:

[email protected]

Location (Boulder, USA)
Originally from Colorado USA, Halley returned home to join us in Boulder as Senior Sales Team Leader and Training and Development Coordinator after working in our Nagoya office in Japan.
Halley has been through many phases of Japan love. She describes her high school self as a "huge otaku" (otaku being the Japanese word for geek), thanks to the influence of her older brother. Cosplay, conventions - you name it, she did it!
Later, when she began studying Japanese, she moved on to J-dramas and Japanese food instead. Next, as a student in Osaka, she graduated to everything J-culture - music, weird themed restaurants, Lolita fashion and everything in between. Finally, when she was posted to a remote mountain town on the JET English teaching scheme, she fell in love with idyllic Japanese country life - from rice planting to local festivals.
Halley's advice to Japan travellers is this: don't sweat the small stuff, and don't jam your days too full. Japan is kindest to those with open minds and open schedules. It's also the weirdest country you'll ever go to - you can never understand until you get here, so you'd better come and see for yourself!
In her free time, Halley is a lifelong lover of dance and yoga, practising ballet, flamenco, traditional Japanese nihonbu-yo and zumba. She has also been studying Japanese sign language for seven years, and was a vegetarian until she came to Japan - where the meat was too delicious to resist!
Tell us about your favourite place in Japan...
"I used to love Japanese cities, but after having lived in a rural town they have come to seem a little cold. These days I love getting out into the countryside - I absolutely love my little town of Komono, as it has the most energy of anywhere I've ever seen on my travels.
"Everyone is hard-working and welcoming, there are some fantastic hot springs and the home-grown food is amazing! I would urge everyone who visits to try delicious makomo cookies and check out the Aquaxlquinis onsen and bakery."