Our team at Inside Japan Tours
The sun never sets on the InsideJapan Tours team (well, maybe on Sundays) as we have offices in Bristol (UK), Boulder, (USA), Brisbane (Australia) and Nagoya (Japan). On this page you can meet the people behind our Japan tours and holidays.
We have a wide range of backgrounds and interests, but you can be sure that the one thing that ties us all together is a love of Japan, Japanese culture and a passionate desire to share that with other people.
From the accounts department, through the travel consultant teams to the tour leaders and guides on the ground, you can rest assured that everything we do is to make sure you have the best possible experience of Japan.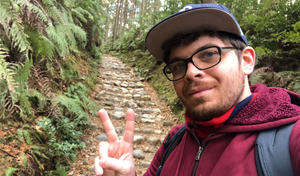 With a Master's degree in Japanese Anthropology, and experience living and travelling all over the country, in Tim's words "all roads lead to Japan".
Tim has always been interested in different cultures, but it was during a Japanese history lesson that he really found his calling. Inspired by Japanese social constructs (and anime), he went on to study Japanese Anthropology, spending senior year living like the locals at a homestay while attending Tokyo International University. Returning to the US, he continued his Japanese studies with a Master's at the University of Arizona.
A passionate sports fan (spot him in the Seattle Seahawks stands!), Tim took a break from his presidency at the university's anime club to spend three months attending disability athletic events across Japan as part of his research. It's not just learning about sports though, Tim was so good as a hockey goalie that he won MVP of his league. His secret to success? Being able to do the splits! Something that apparently becomes increasingly difficult with age...
Having travelled all over Japan, Tim finds it tricky (nigh on impossible) to narrow down a favourite place, but does have three top highlights: the natural beauty and winter sports opportunities in Sapporo; the unmatched energy and Skytree views in Tokyo; and Hiroshima for its history and his favourite food of all - the city's signature style okonomiyaki (savoury pancakes).
The perfect fuel for working back up to the splits!