Our team at Inside Japan Tours
The sun never sets on the InsideJapan Tours team (well, maybe on Sundays) as we have offices in Bristol (UK), Boulder, (USA), Brisbane (Australia) and Nagoya (Japan). On this page you can meet the people behind our Japan tours and holidays.
We have a wide range of backgrounds and interests, but you can be sure that the one thing that ties us all together is a love of Japan, Japanese culture and a passionate desire to share that with other people.
From the accounts department, through the travel consultant teams to the tour leaders and guides on the ground, you can rest assured that everything we do is to make sure you have the best possible experience of Japan.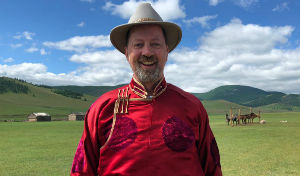 Even after travelling around all 7 continents (yes, including Antarctica) Paul is always planning his next holiday.
With over 20 years in the travel industry, Paul certainly knows his stuff. In fact, it would be easier to name the places he hasn't been. If there was a map on the wall dotted with pins, we'd only see the sea.
It's not just holidays though, he has boarded a plane with his worldly possessions more than once, having lived in Australia, Vietnam, and Taiwan, as well as Iran as a child (we presume his belongings were packed for him, but maybe he's even more adventurous than we thought).
As a tour leader in Vietnam, he's travelled the length and breadth of the country (giant bowl of his favourite Pho Bo - beef noodle soup - in hand), but the pretty town of Hoi An remains his favourite. In his words "I know it's not a very original choice, but some places are famous for a reason!"
While Japan also left an impression on him, he certainly left one in return when he found himself moving in only the highest circles. As if it wasn't enough to go curling alongside the Japanese national team, he was featured on Japanese television as he hobnobbed at the National Palace.