Our team at Inside Japan Tours
The sun never sets on the InsideJapan Tours team (well, maybe on Sundays) as we have offices in Bristol (UK), Boulder, (USA), Brisbane (Australia) and Nagoya (Japan). On this page you can meet the people behind our Japan tours and holidays.
We have a wide range of backgrounds and interests, but you can be sure that the one thing that ties us all together is a love of Japan, Japanese culture and a passionate desire to share that with other people.
From the accounts department, through the travel consultant teams to the tour leaders and guides on the ground, you can rest assured that everything we do is to make sure you have the best possible experience of Japan.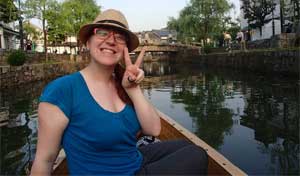 Katrina has been interested in Japan ever since studying for a Japanese GCSE at school, during which time she did a homestay in Wakayama Prefecture and fell in love with the country.
Following this early experience of Japan, Katrina went on to spend two years teaching English near Nagasaki in Japan's south-west, before moving to Tokyo for a year. Knowing that she only had a limited amount of time in Japan, she made sure that she never took it for granted - visiting a wild boar-racing festival, a scarecrow festival (complete with scarecrows of Michael Jackson and Obama!), going out for karaoke and trying all the onsen hot spring baths she could find.
Amongst her other interests (which include cooking, baking and nail art), Katrina is a huge fan of onsen - which are a very important part of Japanese culture. She tries to frequent at least one hot spring in every place she visits in Japan, and has experienced quite a variety in her time! A sand bath in Kagoshima, an onsen that flows into a river in the Iya Valley, onsen in the snow in Hokkaido, an art onsen on Naoshima Island, and a wine onsen in Fukuoka are all under her belt already.
Though choosing a favourite destination in Japan is far too difficult, Katrina loves Miyajima Island for its friendly deer, beautiful nature, temples and relaxing atmosphere - and Naoshima for all its quirky art installations.
What is your advice to travellers who want to visit Japan?
"Japan is a place where there's always something more to see and discover, a country where you'll never be bored. Every time I cross something off my Japan wish list, I add something else on!
"My advice would be to learn a few simple phrases before you go - even if it's just 'hello' and 'thank you'. Japanese people are always so happy you've made any effort at all that they'll be even more friendly and helpful than ever. Also, don't be nervous about going into an onsen - the first time it's scary and you think it'll be weird, but if you just take the plunge and do it then it's totally fine!"