Our team at Inside Japan Tours
The sun never sets on the InsideJapan Tours team (well, maybe on Sundays) as we have offices in Bristol (UK), Boulder, (USA), Brisbane (Australia) and Nagoya (Japan). On this page you can meet the people behind our Japan tours and holidays.
We have a wide range of backgrounds and interests, but you can be sure that the one thing that ties us all together is a love of Japan, Japanese culture and a passionate desire to share that with other people.
From the accounts department, through the travel consultant teams to the tour leaders and guides on the ground, you can rest assured that everything we do is to make sure you have the best possible experience of Japan.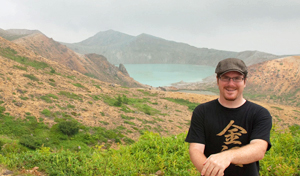 A Colorado native, Grant was sold on Japan after just two weeks spent visiting a friend. Within six months, he was teaching English in Nagoya – and would spend six out of the next eight years living in Japan.
During his first stint in Japan, Grant split his time between Nagoya (the home of our Japan branch) and Kanazawa, citing the latter as his favourite place in Japan. With so much to see and do - from beaches to mountains, hot springs, a castle, geisha districts, samurai houses, great shopping, and one of the most beautiful gardens in Japan - Kanazawa deserves much more attention than it currently gets!
After returning to the USA for two-and-a-half years, Grant headed back to Japan for another stretch - this time to work as an English teacher in Gunma Prefecture. After five years in Gunma, in 2015 he decided to return to his home state of Colorado and joined the InsideJapan team as a travel consultant.
If you're interested in Japanese history there's nobody better placed to put together your itinerary! Having studied history at university, Grant has a keen interest in Japan's feudal past - particularly its impressive castles, of which he has visited five of the remaining 12.
When he's not buried in history books, Grant is also a keen hiker (particularly of Colorado's 14ers), has a penchant for geology, and enjoys home brewing and blogging about beer. His top tip for first-time visitors to Japan is to bite the bullet and visit an onsen (Japanese hot spring bath) or sento (public bathhouse). He explains that while your first visit can be very intimidating, the experience is so central to Japanese life and culture it is very much worth it. Sitting in an open air bath while the snow falls from the sky is an experience like no other.
What would you say to persuade someone to visit Japan?
Two words: Japanese Food. From spicy chicken wings in Nagoya to a building full of okonomiyaki restaurants in Hiroshima to duck soup and soba noodles in Takayama to the fresh sushi of Kanazawa, the width and breadth of Japan has a dizzying array of unique dishes and local specialties.