Our team at Inside Japan Tours
The sun never sets on the InsideJapan Tours team (well, maybe on Sundays) as we have offices in Bristol (UK), Boulder, (USA), Brisbane (Australia) and Nagoya (Japan). On this page you can meet the people behind our Japan tours and holidays.
We have a wide range of backgrounds and interests, but you can be sure that the one thing that ties us all together is a love of Japan, Japanese culture and a passionate desire to share that with other people.
From the accounts department, through the travel consultant teams to the tour leaders and guides on the ground, you can rest assured that everything we do is to make sure you have the best possible experience of Japan.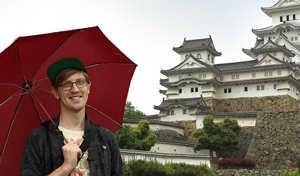 Lachlan Miller
Travel Consultant
Email:

[email protected]

Location (Brisbane, Australia)
Where better for a passionate Nintendo fan to end up than in Japan? While we're not short of passionate gamers here, after hearing tales of placing first against the bigwigs of the gaming world we imagine few would take on this Adelaide native in a tournament.
Having spent two and a half years living in Japan, he isn't short of travel tales, but a surprise place on Osaka's MariCar experience is up there with his happiest highlights. Think real-life Mario Kart with the same colourful characters, fewer hastily laid obstacles (thank goodness) and more bemused passers-by. Best birthday present ever.
Lachlan didn't live under the bright lights of Japan's biggest metropolises though, instead making his home as an English teacher in a small town in quiet Kochi prefecture, Shikoku. Had it not been for this, he may never have looked beyond the screens of the buzzing arcades to fall in love with the mountains, farms and rivers of rural Japan, 'I felt like I was thrown right into a fantasy village and I was free to explore it all'. But though games may have been a gateway to the more traditional aspects of Japanese culture, he can't help but still feel drawn to second hand shops to scour for cool and rare games.
Now living in Brisbane, he has the fondest memories of tucking into Japan's creamy katsu curries (including that time he ate double servings with level 10 spice at Cocoichi Curry) but is relieved to take up eating chicken parmigiana by the beach again.