Our team at Inside Japan Tours
The sun never sets on the InsideJapan Tours team (well, maybe on Sundays) as we have offices in Bristol (UK), Boulder, (USA), Brisbane (Australia) and Nagoya (Japan). On this page you can meet the people behind our Japan tours and holidays.
We have a wide range of backgrounds and interests, but you can be sure that the one thing that ties us all together is a love of Japan, Japanese culture and a passionate desire to share that with other people.
From the accounts department, through the travel consultant teams to the tour leaders and guides on the ground, you can rest assured that everything we do is to make sure you have the best possible experience of Japan.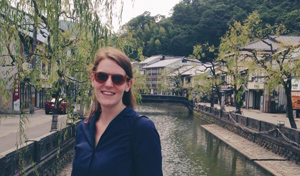 Before joining us at Inside Japan, Samantha spent two years as a coordinator for international relations on the JET (Japan Exchange and Teaching) programme in Toyooka, Hyogo Prefecture.
While part of JET, it was Samantha's job to work with local businesses and the tourism association to find ways of attracting inbound travellers - an experience that has set her in good stead for her role as a travel consultant, sending travellers to Japan! Her main focus was the hot spring town of Kinosaki Onsen, so if you ever need to know where to find its best ryokan inns, its tastiest food, or the mineral composition of each onsen bath - you know who to call.
Samantha originally became interested in Japanese history when she attempted to read the Tale of Genji - a one-thousand-year-old novel by Japanese noblewoman Murasaki Shikibu. Though her attempt failed, she was inspired by a traditional world of geisha and samurai to visit Japan for herself.
While living in Toyooka, Samantha loved being surrounded by the mountains, rivers, beaches and hot springs of her adopted hometown, which she considers her favourite place in Japan. Samantha also took part in a six-month tea ceremony course in Kobe for retirees (she was a special exception), where she learned the art of pouring tea with Japanese grandpas and grandmas - who became her first friends in Japan and kept her well provided with gifts and dinners.

As well as her time in Japan, Samantha has lived in France - where she worked in a hostel - and Switzerland, where she worked in a luxury hotel while doing a ski season. As an ardent foodie, she plans all her travels around eating - and has been known to arrange whole trips around visiting a certain restaurant or eating a certain delicacy!
What is your favourite Japanese food or drink?
I already have a plan of the things I'll eat when I go back to Japan: okonomiyaki and an ice-cold beer are my favourites! I also love mochi (pounded rice cake), especially when it has a hidden surprise inside. My favourite is ichigo daifuku (mochi with a whole fresh strawberry inside).