Our team at Inside Japan Tours
The sun never sets on the InsideJapan Tours team (well, maybe on Sundays) as we have offices in Bristol (UK), Broomfield, (USA), Brisbane (Australia) and Nagoya (Japan). On this page you can meet the people behind our Japan tours and holidays.
We have a wide range of backgrounds and interests, but you can be sure that the one thing that ties us all together is a love of Japan, Japanese culture and a passionate desire to share that with other people.
From the accounts department, through the travel consultant teams to the tour leaders and guides on the ground, you can rest assured that everything we do is to make sure you have the best possible experience of Japan.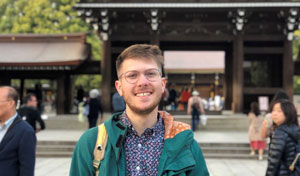 Little did Michael's parents know that the Origami handbook they bought him in 4th grade would inspire a lifelong passion for Japan.
Unfortunately, despite being somewhat of a child prodigy in the paper folding world, nowadays he would struggle to fashion anything more impressive than a paper cup.
From cookery classes with Princess Diana's former chef, to a stint at a fast food restaurant, Michael's first love isn't origami, but food. We've heard he can cook up a storm with nothing more than an idea, a hungry tummy and some ingenuity. Us, angling for a dinner party invite?
You're never far from a good meal in Japan and when living in Askashi, katsudon - fried pork with sweet and salty sauce topped with an egg - soon became his favourite. Katsudon isn't a health food, but it was great fuel for all his outdoor adventures; hiking Mount Fuji, Mount Ishizuchi and a quarter of the Kumano Kodo being just a few.
As if that wasn't enough, alongside cooking, hiking and origami, Michael enjoys crochet, and was a tissue engineering lab research assistant in a previous life. Plenty to talk about at that dinner party.