Our team at Inside Japan Tours
The sun never sets on the InsideJapan Tours team (well, maybe on Sundays) as we have offices in Bristol (UK), Boulder, (USA), Brisbane (Australia) and Nagoya (Japan). On this page you can meet the people behind our Japan tours and holidays.
We have a wide range of backgrounds and interests, but you can be sure that the one thing that ties us all together is a love of Japan, Japanese culture and a passionate desire to share that with other people.
From the accounts department, through the travel consultant teams to the tour leaders and guides on the ground, you can rest assured that everything we do is to make sure you have the best possible experience of Japan.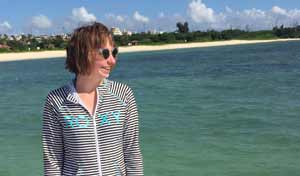 Anna hails from Worthington Ohio, and spent five years teaching English to high school students in Japan before joining us at Inside Japan Tours.
A cultural omnivore, Anna loves art (whether viewing or making), books and movies - all in as many styles, genres and periods as possible! It is thus unsurprising that what first led her to Japan was Japanese art. Inspired by a framed Hiroshige print of her mother's, Anna went on to study ukiyo-e woodblock printing and other Japanese art forms at college, along with the craft of printmaking.
Following this, Anna moved to Japan to become an English teacher on the JET programme, which placed her in Kawagoe, Saitama Prefecture. As well as enjoying the local sightseeing, restaurants and shops, she developed a particular soft spot for Koedo - or "Little Edo": a small, historical area packed with old buildings, a retro Penny Candy Lane, and numerous street stalls selling everything from fresh senbei rice crackers to a pint of the local craft brew, Coedo Beer. For this, Kawagoe remains one of Anna's favourite places in Japan.
In addition to her time in Japan, Anna has worked in a variety of interesting roles - including tour guiding at the Intrepid Sea, Air and Space Museum (where her specialities were US WWII naval history and women in the military), and managing a Halloween fancy dress shop in New York (peddling Styrofoam skeletons and the like to tourists, locals and celebrities alike). These days, Anna is based in Boulder Colorado - where she uses her in-depth Japan expertise to put together amazing itineraries for our North American clients.
What is your favourite Japanese food or drink?
I love okonomiyaki! I love it made-to-order by talented teppan chefs, like at my favourite Tokyo spot (Okonomiyaki Daikonman in Shimokitazawa), or DIY - as at the popular chain restaurant, Dohtonburi.