Our team at Inside Japan Tours
The sun never sets on the InsideJapan Tours team (well, maybe on Sundays) as we have offices in Bristol (UK), Broomfield, (USA), Brisbane (Australia) and Nagoya (Japan). On this page you can meet the people behind our Japan tours and holidays.
We have a wide range of backgrounds and interests, but you can be sure that the one thing that ties us all together is a love of Japan, Japanese culture and a passionate desire to share that with other people.
From the accounts department, through the travel consultant teams to the tour leaders and guides on the ground, you can rest assured that everything we do is to make sure you have the best possible experience of Japan.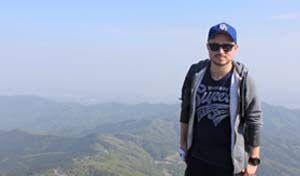 Having returned from six years in Japan in March 2015, Benjamin is fresh off the boat and has a wealth of Japan-related knowledge to share with our customers.
Benjamin has been interested in Japan since childhood, with a particular penchant for Japanese technology, geography, history and film. His love for classic samurai films led him to visit Japan in 2007, on an adventure that taught him how little he really knew about the country - not to mention the importance of trip planning!
Since then, Benjamin's Japan knowledge has grown exponentially, and after writing his university thesis on the effect of World War Two on the Japanese film industry, he finally moved to Japan in 2009.

Having studied Japanese full-time in Tokyo for six months and lived in Mie, Nagoya, Chiba and Tokyo, Benjamin has an excellent depth of expertise across a wide variety of destinations. He particularly enjoys the starkness of the contrast between vast Japanese cities and the beautiful countryside, and his favourite location is the Japanese Alps - home to spectacular hiking in Kamikochi, Matsumoto's "black crow" castle, and the alpine craft town of Takayama.
When he's not selling fabulous holidays, Benjamin is a keen hockey player, cricket fan and stalwart West Ham supporter.
What is your favourite aspect of life in Japan?
My favourite things about Japan would definitely be the food and the countryside - both things that I believe give the greatest insight into Japanese life.

The variation in cuisine from region to region is incredible, and it's all delicious. Japanese food often has an interesting history or story behind it, and it plays a much larger part in local and national culture than in any country I know of.
I love the countryside in Japan because that's where you tend to see some of the most striking cultural differences and meet the most interesting characters. It's also beautiful, with stunning mountainous scenery and impressive coastlines.