Our team at Inside Japan Tours
The sun never sets on the InsideJapan Tours team (well, maybe on Sundays) as we have offices in Bristol (UK), Broomfield, (USA), Brisbane (Australia) and Nagoya (Japan). On this page you can meet the people behind our Japan tours and holidays.
We have a wide range of backgrounds and interests, but you can be sure that the one thing that ties us all together is a love of Japan, Japanese culture and a passionate desire to share that with other people.
From the accounts department, through the travel consultant teams to the tour leaders and guides on the ground, you can rest assured that everything we do is to make sure you have the best possible experience of Japan.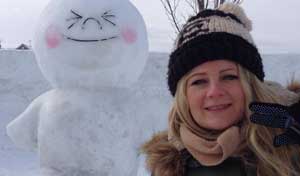 Hailing from a small village in the South Wales Valleys, Rachel is a keen hiker and diving enthusiast who has been working in the travel industry for eight years.
After moving to Spain at the age of 19, where she spent several years working in hotels, Rachel lived in the Canary Islands and Cyprus before moving to the Maldives. Here she spent six wonderful years guiding people around the local islands - where she particularly enjoyed the superb diving conditions and experiencing life in a Muslim society.
It was during her time in the Maldives that Rachel first became interested in Japanese culture, as she spent many hours chatting to her Japanese clients about their country and culture. She found herself particularly drawn to Japan because of the respect and appreciation that the Japanese show for nature and seasonal produce.
With this newfound interest in Japan, Rachel went on to spend five months studying Japanese in Tokyo before joining the JET programme and becoming an English teacher in rural Hokkaido - Japan's northernmost island. Winter temperatures regularly reached -20 degrees Celcius, but at least that meant great skiing and lots of warming bowls of ramen!
Rachel's advice to prospective visitors to Japan is not to be put off by the language barrier, and not to be afraid of going off the beaten track. There is far more to Japan than Tokyo and Kyoto!
Where is your favourite place in Japan, and why?
"My favourite destination in Japan is Shodoshima Island on the Seto Inland Sea. It is small and rugged, with breathtaking ocean views. I ventured there alone to do a little walking and was certainly not disappointed! The locals were especially friendly and intrigued as to why anyone from outside Japan would want to visit such a simple, unassuming place."