Our team at Inside Japan Tours
The sun never sets on the InsideJapan Tours team (well, maybe on Sundays) as we have offices in Bristol (UK), Boulder, (USA), Brisbane (Australia) and Nagoya (Japan). On this page you can meet the people behind our Japan tours and holidays.
We have a wide range of backgrounds and interests, but you can be sure that the one thing that ties us all together is a love of Japan, Japanese culture and a passionate desire to share that with other people.
From the accounts department, through the travel consultant teams to the tour leaders and guides on the ground, you can rest assured that everything we do is to make sure you have the best possible experience of Japan.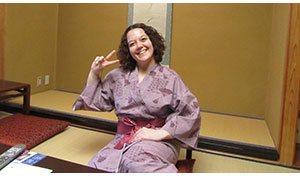 InsideJapan's queen of blogging, we contend that if Ali hasn't written about it then it probably doesn't exist!
Ali first visited Japan for a two-week holiday in 2006 and has never looked back since. When asked about her hobbies, Ali's reply is "Japan, Japan, Japan" - although she also has a keen interest in photography, writing, cooking and historical fiction (set in Japan, of course!).
During her time living in Japan, Ali spent two years teaching English in Nagoya (the home of our Japan office) and a year in Hamamatsu in Shizuoka Prefecture. Though not a usual tourist spot, Nagoya remains one of Ali's favourite destinations. There is so much to see and do in and around the city, and the food (tebasaki chicken wings, miso nikomi udon noodles, and hitsumabushi grilled eel) is one of its top attractions!
Besides Nagoya, Ali highly recommends paying a visit to Tohoku, the little-visited northern area of Japan's main island. She first discovered this area in 2014 when her interest in history and haiku led her to follow the Oku no Hosomichi, or "Narrow Road to the Deep North", originally trodden by the classical poet Matsuo Basho. Her favourite spots in Tohoku include Naruko Onsen, where she stocks up on her collection of kokeshi dolls, and Tono, which she loves for its rich folklore.
Ali's top tip for visitors to Japan is to pack light! Personally, she finds that she always takes too many shoes and never wears them all. And when it comes to shoes - slip-ons are the most practical. She also suggests learning a couple of words in Japanese - even if it's just hello, thank you and excuse me - as Japanese people really appreciate that you've made the effort.
What would you say to persuade someone to choose Japan for their holiday?
"You won't regret it! Visiting Japan changed my life - it was the best thing I ever did. Japan is so different to the UK, so unique, and you just can't experience anything like it anywhere else. If you've ever eaten Tesco sushi and thought it was horrible, visit Japan and find out how sushi should taste!"