Our team at Inside Japan Tours
The sun never sets on the InsideJapan Tours team (well, maybe on Sundays) as we have offices in Bristol (UK), Broomfield, (USA), Brisbane (Australia) and Nagoya (Japan). On this page you can meet the people behind our Japan tours and holidays.
We have a wide range of backgrounds and interests, but you can be sure that the one thing that ties us all together is a love of Japan, Japanese culture and a passionate desire to share that with other people.
From the accounts department, through the travel consultant teams to the tour leaders and guides on the ground, you can rest assured that everything we do is to make sure you have the best possible experience of Japan.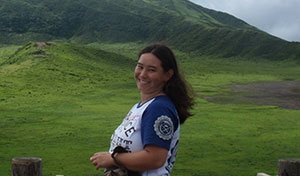 Recognising her knowledge and passion for Japan, as well as her dedication to creating memorable experiences, Amy Tadehara was selected as a Top Travel Specialist by Condé Nast Traveler in 2019.
Originally from Louisville Colorado, Amy's eclectic interests include baseball, reading, movies, the American Civil War and Japanese pop music.
As a fourth-generation Japanese-American, Amy took Japanese at high school to learn more about the culture of her grandparents and great-grandparents - as well as to feed her interest in Japanese history, especially the Heian (794-1185) and Sengoku (1467-1603) periods. (FYI, Amy is not just a Japanese history buff - she is also fascinated by American history and recently participated in a re-enactment of Pickett's Charge in Gettysburg!)
Amy's first visit to Japan was a brief homestay in Yamagata, where she found that her Japanese lessons had paid off and she was beginning to understand what people were talking about! Following this she spent four years teaching English in Sendai from 2007 to 2011, during which time she loved seeing the castles and historical monuments she had studied at college, visiting Japan's Disney parks, listening to J-Pop music and getting around on the super-punctual public transport system (though she did miss having her car at times!).
Amy's favourite destinations in Japan are Mount Koya, for its surreal Okunoin Cemetery and serene atmosphere - and Kanazawa, which is home to Kenrokuen, Amy's favourite garden. When it comes to food, her favourite Japanese dish is okonomiyaki (Osaka-style savoury pancake) and she loves matcha latte drinks - that's a latte flavoured with green tea!
What are your top tips for prospective visitors to Japan?
"No matter what anyone tells you, you have NOT had great sushi until you've been to Japan. Some places can come close, but the real deal is only there. And when you eat 'Kobe' beef, 99% of the time it's not actually Kobe beef. This you can only do in Japan!
"Apart from that, I would advise travellers not to be afraid of 'gaps' or 'empty spots' in their itinerary. Having nothing planned is a great way to slow down and appreciate that you are in an amazing country and that you have the leisure to explore and discover without needing to rush around. Can you pack more into a day? Possibly, but will it make your trip more fun? Not necessarily!"