Our team at Inside Japan Tours
The sun never sets on the InsideJapan Tours team (well, maybe on Sundays) as we have offices in Bristol (UK), Boulder, (USA), Brisbane (Australia) and Nagoya (Japan). On this page you can meet the people behind our Japan tours and holidays.
We have a wide range of backgrounds and interests, but you can be sure that the one thing that ties us all together is a love of Japan, Japanese culture and a passionate desire to share that with other people.
From the accounts department, through the travel consultant teams to the tour leaders and guides on the ground, you can rest assured that everything we do is to make sure you have the best possible experience of Japan.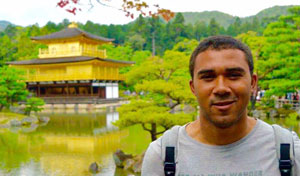 After growing up in Lincolnshire, Aaron has made various parts of the world his home.
Who says television gives you square eyes? Unconventionally it was a BBC documentary about the deer in Nara that opened Aaron's eyes to the wonders of Japan, and he subsequently spent two years working as a teacher in Sendai.
Living abroad was nothing new to him, having spent six months at an internship Cologne, a summer working in Spain and six months in Cuba (where he became a big mojito fan). While mojitos are native to Cuba, Aaron discovered a Japanese regional speciality to rival it, taiyaki. This fish-shaped waffle comes with different fillings such as custard, caramel, chocolate, chicken curry? Not all at once, we assume.
As well as dreaming longingly about this unusual snack, Aaron has particularly fond memories of Yamadera in Yamagata prefecture and konbini. The former is a mountain top temple, with views over a valley that showcase the best of Japan's incredible seasons. The latter is the name of Japanese convenience stores - with free toilets, places to charge your phone and ice cream on offer.
Both charming in different ways.
Now based in Bristol, Aaron's returned to some popular UK pursuits such as playing football, rugby, handball... and the Irish pennywhistle. Apparently the Harry Potter theme tune is coming on a treat, we're eagerly awaiting his debut performance.