Wheelchair access on the bullet train
One of the joys of holidaying in Japan is travelling on the world famous bullet train - and the good news is that it's accessible for all.
Since it first opened in 1964, the Shinkansen or "bullet train" has become just as synonymous with Japan as Mount Fuji, sumo and sushi. With currently 2,400 kilometres of track, the bullet train line acts as the back bone of the country linking the northern tip of the main island, Honshu, to the southern reaches of Kyushu Island. What's more the Shinkansen has excellent accessibility for wheelchair users.
Boarding the train
We recommend getting to the bullet train station a good 15 minutes before departure. All stations have disabled toilets and you may have time to pick up a bento lunchbox for your journey.
You'll need to show your tickets at the gate, and then a member of staff will lead you through the station and up to the platform by elevator. When the train arrives (always ruthlessly punctual), the member of staff will lay out a small ramp and guide you onto the train. Handily in Japan train floors are at the same level as the platforms - no awkward steps up as is often the case in the UK! Crucially, the member of staff will phone ahead to your destination station so someone will be waiting for you on arrival to repeat the process in reverse. Now that's service!
On the train
We will always make advance reservations for all your bullet train journeys. Each train has a special private room that we will book for you. The room is big enough to manoeuvre in a wheelchair and up to two travel companions so you can travel together in relative privacy. Just keep your eyes peeled for that Fuji view!
The private room is close to the train's accessible toilet. Again it's not huge and requires a tight 180° turn, but we reckon it's a lot better than most UK equivalents.
Make an Enquiry
For more information email us: [email protected] or call: + 44 117 244 3380
Important notice: We are pleased to be able to offer so many amazing experiences in Japan. However, we are sorry that we can only include these as a part of a full Japan holiday package which includes your accommodation and transport alongside the experiences presented in this section of the web site.

Wheelchair access on the bullet train
Available throughout Japan
Interested in this Experience? It is included in this tour:
Welcome to one of the most wheelchair-friendly countries in the world. Explore Tokyo, Kyoto, Osaka and more on this exciting 10-night adventure.

Accessible travel to Japan has never been easier. As this 10 night itinerary demonstrates, if you're in a wheelchair, we'll take all the guesswork out of a trip to Japan introducing you to the very best sights in Tokyo, Kyoto, Osaka and beyond.
Enjoy stunning vistas while traversing the Japanese Alps via a series of trains, cable cars, trolley buses, ropeways, tunnels and hiking routes.

Like hailing a yellow cab in NYC or hanging on for dear life in the back of a Thai tuk tuk, taking a taxi in Japan is a memorable travel experience.

Move over Orient Express - this luxury sleepr train combines beautiful, wood-clad carriages, luxurious cabins and French-Japanese fusion cuisine.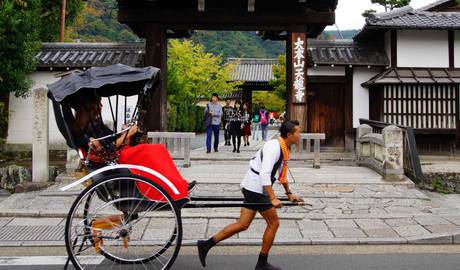 There is no better way to see Kyoto's Arashiyama district than from the seat of a jinrikusha rickshaw.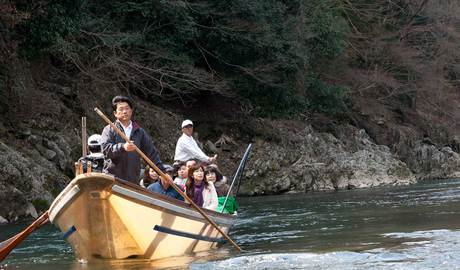 Take a trip down the Hozu River in Kyoto's stunning Arashiyama district.