Self-Guided Adventure
Wheelchair Accessible Golden Route
10 Nights: from US$5434 per person (call us to discuss to requirements)
Trip Code: WAGRC
Accessible travel to Japan has never been easier. As this 10 night itinerary demonstrates, if you're in a wheelchair, we'll take all the guesswork out of a trip to Japan introducing you to the very best sights in Tokyo, Kyoto, Osaka and beyond. Read more >
At InsideJapan Tours our aim has always been to make Japan accessible to all, finding ways to enable everyone to discover the country we are passionate about. This extends to travellers with disabilities or mobility issues - let us know your requirements and we'll do all the research and planning to make your Japan travel dreams a reality.
The itinerary outlined here is based on a trip we planned for a client in an electric wheelchair and his family. We hope this will give you an idea of the kind of trip we can provide and the service level we offer.
But don't just take our word for it! Visit our blog here to read all about the travels of Peter & Suzy who took a tailormade wheelchair accessible trip with InsideJapan Tours.
Fully tailored travel
Of course we're all different, and there are infinite ways we can tailor a holiday to suit your needs and wishes. Perhaps you don't need transfers in a specially-adapted wheelchair accessible vehicle. Or maybe you require more assistance than outlined here; bathroom hoists for example. Maybe you'd prefer to be accompanied by a guide at every step of your journey.
You might be on a tighter budget, in which case we can select simpler hotels for you; or perhaps you'd like to splash out on five-star accommodation for the holiday of a lifetime. Maybe there are different parts of Japan you'd like to experience! We love research, so just let us know what you're looking for and we'll do the rest.
Our Info-Pack and Customer Support
We'll provide a detailed personalised Info-Pack outlining every moment of your itinerary. The family who took the itinerary outlined here followed our Info-Pack instructions making journeys between cities by themselves. We researched every section of their route from airport to hotel to station explaining where to avoid steps and find elevators. We even wrote part of the instructions in Japanese so they could show station staff where they needed to go.
On an InsideJapan Tours trip, you'll also have the back-up of our Customer Support team based in our office in Nagoya. If you have any difficulties, you can call them at any time for advice, on-the-spot-translations or emergency support.
Our partners
Much of what we've learned about accessible travel is thanks to our friends and partners on the ground in Japan. In particular, we owe a huge arigato (thank you) to long-term Tokyo resident Josh Grisdale whose excellent website Accessible Japan provides a wealth of inspiring and useful information.
So go on, travel with us to Japan. Disabled access on public transport is slick and efficient, hotels are well-equipped to assist and so many of the top sights have excellent accessibility. The only danger is that Japan is sure to draw you back time and time again!
What's included
Ten nights' accommodation in Japan

Bullet train tickets between cities

Manaca transport card with 2,500 yen credit for city transport

Four-hour private guide service in Tokyo

Private wheelchair accessible vehicle and driver for sightseeing in Kyoto

Private wheelchair accessible vehicle and driver for day trips to Mount Fuji and Nara

Tokyo Skytree tickets

Pocket wifi device

Your personalised InsideJapan Info-Pack

Breakfast every day

Private airport transfers in a wheelchair accessible vehicle
What's NOT included:
International flights

Local transport (buses, subways, taxis) at any destination unless otherwise specified

Any entrance fees including those for shrines, temples and museums

Baggage handling - you can pay on the day for overnight luggage forwarding between cities
Trip Highlights
Get a birdseye view of Tokyo from the top of the Skytree

Explore Kyoto's famous Golden Temple

Soak up the bright neon lights of Osaka
Gaze at mighty Mount Fuji from Lake Kawaguchi

Feed the cheeky "sacred" deer of Nara

Travel through one of the world's most wheelchair-friendly countries
For more information email us: [email protected] or call: + 44 117 244 3380
What, where, when and how...
Wheelchair Accessible Golden Route - 11 Days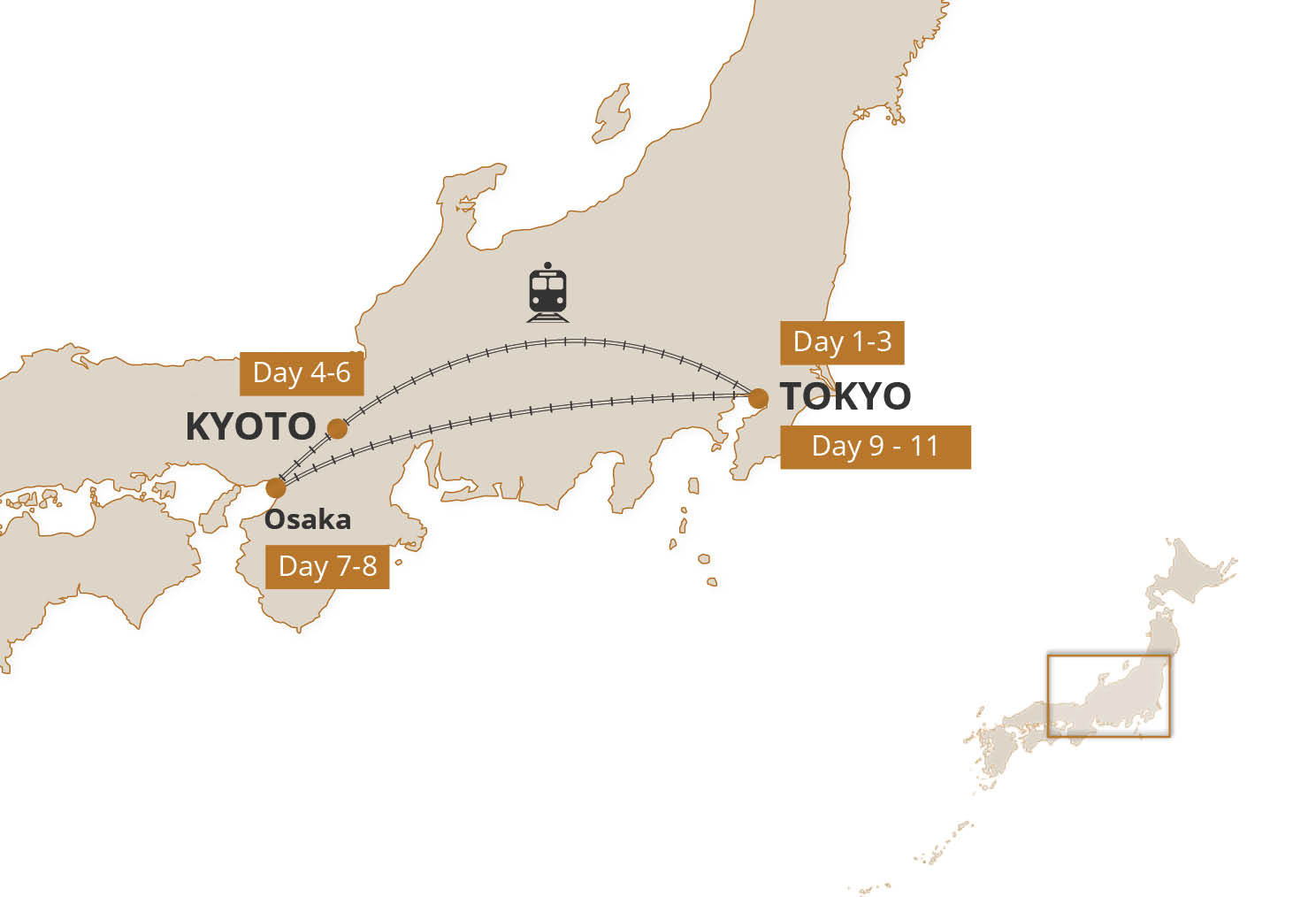 Destinations
Wheelchair Accessible Golden Route - 11 Days - Day by Day
Wheelchair Accessible Golden Route - 11 Days - Accommodation
Wheelchair Accessible Golden Route - 11 Days - Experiences
Day 1-2

Welcome to Tokyo! Explore Senso-ji, the oldest temple in Tokyo and get a birds eye view of the metropolis from the top of the 634m Skytree.

You'll be met on arrival at Tokyo Narita or Haneda Airport by the driver of a wheelchair accessible vehicle. The minivan has a powered lift at the back so you can stay in your chair and drive straight into the vehicle. There's also room for up to 4 passengers and your luggage.
On your second day in Tokyo you will be met at your hotel by a professional guide for a half day city tour. You'll make use of Tokyo's fantastic public transport system to get around the capital and your guide will show you how this all works for wheelchair users ensuring you're comfortable to go it alone later in your trip!
Aside from a lesson in the transport system, your guide will introduce you to the culture and history of Tokyo. The exact sightseeing itinerary is completely flexible and can be tailored to suit your wish list. Some of our top recommendations include Rikugien - a Japanese landscape garden which has many wheelchair routes, Meiji Shrine and the Roppongi electronics district.
Tokyo's museums have excellent access for wheelchair users too - some highlights are the Museum of Modern Art, the Tokyo National Museum and the Edo Tokyo Museum.
Included in your package are tickets to the Tokyo Skytree so you can skip the line and go straight in. The tickets give you access to the first observation deck 350m above ground, but you can pay on the day to go even higher to the second deck 450m up. Both are completely wheelchair accessible. We recommend visiting the Skytree around 30 minutes before sunset so you can take in the metropolis view in both daylight and night time when the neon really starts to glow.

Overnight: Mitsui Garden Hotel Kyobashi

Day 3

Make a day trip from Tokyo to sacred Mount Fuji, Japan's most iconic mountain.

Today we will arrange for a driver to pick you up bright and early from your Tokyo hotel to take you on a private day trip to Mount Fuji. It's about a two hour drive from Tokyo to the 5th station of Mount Fuji and you'll again be travelling in a wheelchair accessible minivan.
Majestic Fuji-san is 3,776 metres tall and the summit is covered in snow most of the year round. It's a notoriously shy mountain though, often hiding behind the clouds, particularly in summer. With a bit of luck the weather will clear for your trip! The driver will take you to the Fuji Subaru 5th station, 2,330m above sea level and the highest point that the road can go! There's an interesting shrine here and an observation desk looking across the Fuji Five Lakes.
After lunch in a rural village (not included), you'll visit Kawaguchiko, the largest of the Fuji Five Lakes. From here you can gaze back at the perfect triangle of Mount Fuji. Later your driver will return you to your hotel in Tokyo.

Overnight: Mitsui Garden Hotel Kyobashi

Day 4-5

Speed west on the bullet train to Kyoto, Japan's cultural epicentre and home to 17 UNESCO World Heritage temples and shrines.

You'll make your first of several journeys on the world famous bullet train today. Please note that this journey is unaccompanied but we'll provide you with detailed transport instructions to help you navigate between hotels and train stations in a wheelchair, highlighting the best route to elevators and ramps. We'll even translate the directions into Japanese so you can show this to station staff who'll guide you on and off the trains.
If you get really stuck, you'll also have the security of the customer support team in our Japan office who are just a phone call away to offer on the spot advice or translations. Included in this package is a pocket WiFi device that you can connect your phone or tablet to on the move. This way you can use Skype to reach our customer support team without incurring any cost.
Your hotel in Kyoto is just a few blocks south of the station and nearby is magnificent Toji Temple with a gorgeous five-storey pagoda.
There's so much to see in Kyoto, but the sights are spread out and the public transport system is not as convenient as in Tokyo or Osaka. That's why we'll arrange for another driver to take you around Kyoto in a wheelchair accessible minivan on your first full day in the city. The itinerary can be tailored to suit your requirements of travel wish list - just let us know what takes your fancy.
Many of Kyoto's best sights have excellent wheelchair access. Some of our favourites include Sanjusangendo which has a long hall of 1,001 gold Buddha statues. Kinkaku-ji, aka the Golden Temple, is also a must see. It's also easy to get around the famous Gion district where you may be lucky to spot a geisha scurrying between teahouses.

Overnight: Intergate Shijo Shinmachi (Accessible Room)

Day 6

Make a day trip south of Kyoto to the charming town of Nara. Nara's home to the Big Buddha of Todai-ji Temple set in a wide-open park full of sacred deer.

Just 40 minutes' drive from Kyoto is the small city of Nara which was Japan's first permanent capital for a short spell from 710 to 784. During this time Buddhism took hold in Japan and many of the country's oldest and largest temples are here.
We'll arrange another driver and wheelchair accessible vehicle to make your day trip from Kyoto to Nara smooth and comfortable. First up on any Nara sightseeing itinerary must be Todai-ji Temple which has great access - wide routes around the temple and ramps. This is the largest wooden structure in the world and houses an impressive bronze Buddha. The Buddha's hand alone is the height of the average human.
Other must-sees in Nara that your driver will take you to include Kashihara-jingu Shrine and the old town wooden streets of the Naramachi district. Connecting all of these is the wide green space of Nara Park. The park is filled with hundreds of deer said to be sacred messengers of the gods. Just watch out that they don't run off with your lunch!
Just outside Nara is the huge temple complex Horyu-ji, Japan's oldest temple built in the 7th century. Recent modifications have made this temple fully wheelchair accessible.

Overnight: Intergate Shijo Shinmachi (Accessible Room)

Day 7-8

Next up is Osaka, just a short hop on the bullet train from Kyoto. Expect bright lights, fantastic street food and outlandish fashions - a great place for people watching.

You'll be back on the bullet train today for the 15 minute hop across to Osaka. You'll then need to take a subway train across Osaka City to reach your hotel in the buzzing Nanba district. This area really comes alive in the evenings as Osakans flock to the shops, street food stalls, restaurants and bars that are all lit up in a cacophony of neon lights.
By this stage of your trip, we're sure you'll be well used to the rhythm of life in Japan and getting around by yourselves. Like Tokyo, Osaka has a fantastic transport system with subway lines and trains connecting all the main sightseeing spots. For this reason, we've not included a guide or driver during your time in Osaka, giving you the freedom to seek out your own discoveries.
Osaka Castle is a great place to begin your city exploration, and has great disabled access. All floors are accessible by lift and the views from the top are excellent. There's a fascinating museum about the castle's history and the samurai era here.
Other recommendations for Osaka include the instant ramen museum where you can design your own cup noodles, Universal Studios Japan and the National Museum of Art.
But most importantly don't miss the famous Osakan street food! Not for nothing is this city known as "Japan's kitchen". Local specialities include okonomiyaki cabbage-filled pancakes, kushikatsu meat skewers and takoyaki octopus dumplings.

Overnight: Holiday Inn Osaka Nanba (Accessible Room)

Day 9-11

Your Japan trip comes full circle as you return to Tokyo today, this time staying amid the blazing lights of the Shinjuku district.

Today it's time for one last bullet train journey from Osaka back to Tokyo which will take around three hours door-to-door. Your last two nights will be in Tokyo's Shinjuku district on the opposite side of the city from where your trip began giving you the chance to explore a different facet of the capital.
On your doorstep is a ton of restaurants as well as some of Japan's most famous department stores with fantastic depachika food floors selling all manner of weird and wonderful produce. Also nearby is Shinjuku Gyoen National Garden - a large park with handy wheelchair access.
You have one last free day by yourselves in Tokyo for further sightseeing or to see anything you may have missed at the beginning of your holiday.
On your final day we will arrange a driver to pick you up from your hotel and drive you to your departure airport in a wheelchair accessible vehicle. We wish you a pleasant journey home.

Overnight: JR Kyushu Blossom Shinjuku (Accessible Room)
View all days
Day 1-2

Welcome to Tokyo! Explore Senso-ji, the oldest temple in Tokyo and get a birds eye view of the metropolis from the top of the 634m Skytree.

You'll be met on arrival at Tokyo Narita or Haneda Airport by the driver of a wheelchair accessible vehicle. The minivan has a powered lift at the back so you can stay in your chair and drive straight into the vehicle. There's also room for up to 4 passengers and your luggage.
On your second day in Tokyo you will be met at your hotel by a professional guide for a half day city tour. You'll make use of Tokyo's fantastic public transport system to get around the capital and your guide will show you how this all works for wheelchair users ensuring you're comfortable to go it alone later in your trip!
Aside from a lesson in the transport system, your guide will introduce you to the culture and history of Tokyo. The exact sightseeing itinerary is completely flexible and can be tailored to suit your wish list. Some of our top recommendations include Rikugien - a Japanese landscape garden which has many wheelchair routes, Meiji Shrine and the Roppongi electronics district.
Tokyo's museums have excellent access for wheelchair users too - some highlights are the Museum of Modern Art, the Tokyo National Museum and the Edo Tokyo Museum.
Included in your package are tickets to the Tokyo Skytree so you can skip the line and go straight in. The tickets give you access to the first observation deck 350m above ground, but you can pay on the day to go even higher to the second deck 450m up. Both are completely wheelchair accessible. We recommend visiting the Skytree around 30 minutes before sunset so you can take in the metropolis view in both daylight and night time when the neon really starts to glow.

Overnight: Mitsui Garden Hotel Kyobashi

Day 3

Make a day trip from Tokyo to sacred Mount Fuji, Japan's most iconic mountain.

Today we will arrange for a driver to pick you up bright and early from your Tokyo hotel to take you on a private day trip to Mount Fuji. It's about a two hour drive from Tokyo to the 5th station of Mount Fuji and you'll again be travelling in a wheelchair accessible minivan.
Majestic Fuji-san is 3,776 metres tall and the summit is covered in snow most of the year round. It's a notoriously shy mountain though, often hiding behind the clouds, particularly in summer. With a bit of luck the weather will clear for your trip! The driver will take you to the Fuji Subaru 5th station, 2,330m above sea level and the highest point that the road can go! There's an interesting shrine here and an observation desk looking across the Fuji Five Lakes.
After lunch in a rural village (not included), you'll visit Kawaguchiko, the largest of the Fuji Five Lakes. From here you can gaze back at the perfect triangle of Mount Fuji. Later your driver will return you to your hotel in Tokyo.

Overnight: Mitsui Garden Hotel Kyobashi

Day 4-5

Speed west on the bullet train to Kyoto, Japan's cultural epicentre and home to 17 UNESCO World Heritage temples and shrines.

You'll make your first of several journeys on the world famous bullet train today. Please note that this journey is unaccompanied but we'll provide you with detailed transport instructions to help you navigate between hotels and train stations in a wheelchair, highlighting the best route to elevators and ramps. We'll even translate the directions into Japanese so you can show this to station staff who'll guide you on and off the trains.
If you get really stuck, you'll also have the security of the customer support team in our Japan office who are just a phone call away to offer on the spot advice or translations. Included in this package is a pocket WiFi device that you can connect your phone or tablet to on the move. This way you can use Skype to reach our customer support team without incurring any cost.
Your hotel in Kyoto is just a few blocks south of the station and nearby is magnificent Toji Temple with a gorgeous five-storey pagoda.
There's so much to see in Kyoto, but the sights are spread out and the public transport system is not as convenient as in Tokyo or Osaka. That's why we'll arrange for another driver to take you around Kyoto in a wheelchair accessible minivan on your first full day in the city. The itinerary can be tailored to suit your requirements of travel wish list - just let us know what takes your fancy.
Many of Kyoto's best sights have excellent wheelchair access. Some of our favourites include Sanjusangendo which has a long hall of 1,001 gold Buddha statues. Kinkaku-ji, aka the Golden Temple, is also a must see. It's also easy to get around the famous Gion district where you may be lucky to spot a geisha scurrying between teahouses.

Overnight: Intergate Shijo Shinmachi (Accessible Room)

Day 6

Make a day trip south of Kyoto to the charming town of Nara. Nara's home to the Big Buddha of Todai-ji Temple set in a wide-open park full of sacred deer.

Just 40 minutes' drive from Kyoto is the small city of Nara which was Japan's first permanent capital for a short spell from 710 to 784. During this time Buddhism took hold in Japan and many of the country's oldest and largest temples are here.
We'll arrange another driver and wheelchair accessible vehicle to make your day trip from Kyoto to Nara smooth and comfortable. First up on any Nara sightseeing itinerary must be Todai-ji Temple which has great access - wide routes around the temple and ramps. This is the largest wooden structure in the world and houses an impressive bronze Buddha. The Buddha's hand alone is the height of the average human.
Other must-sees in Nara that your driver will take you to include Kashihara-jingu Shrine and the old town wooden streets of the Naramachi district. Connecting all of these is the wide green space of Nara Park. The park is filled with hundreds of deer said to be sacred messengers of the gods. Just watch out that they don't run off with your lunch!
Just outside Nara is the huge temple complex Horyu-ji, Japan's oldest temple built in the 7th century. Recent modifications have made this temple fully wheelchair accessible.

Overnight: Intergate Shijo Shinmachi (Accessible Room)

Day 7-8

Next up is Osaka, just a short hop on the bullet train from Kyoto. Expect bright lights, fantastic street food and outlandish fashions - a great place for people watching.

You'll be back on the bullet train today for the 15 minute hop across to Osaka. You'll then need to take a subway train across Osaka City to reach your hotel in the buzzing Nanba district. This area really comes alive in the evenings as Osakans flock to the shops, street food stalls, restaurants and bars that are all lit up in a cacophony of neon lights.
By this stage of your trip, we're sure you'll be well used to the rhythm of life in Japan and getting around by yourselves. Like Tokyo, Osaka has a fantastic transport system with subway lines and trains connecting all the main sightseeing spots. For this reason, we've not included a guide or driver during your time in Osaka, giving you the freedom to seek out your own discoveries.
Osaka Castle is a great place to begin your city exploration, and has great disabled access. All floors are accessible by lift and the views from the top are excellent. There's a fascinating museum about the castle's history and the samurai era here.
Other recommendations for Osaka include the instant ramen museum where you can design your own cup noodles, Universal Studios Japan and the National Museum of Art.
But most importantly don't miss the famous Osakan street food! Not for nothing is this city known as "Japan's kitchen". Local specialities include okonomiyaki cabbage-filled pancakes, kushikatsu meat skewers and takoyaki octopus dumplings.

Overnight: Holiday Inn Osaka Nanba (Accessible Room)

Day 9-11

Your Japan trip comes full circle as you return to Tokyo today, this time staying amid the blazing lights of the Shinjuku district.

Today it's time for one last bullet train journey from Osaka back to Tokyo which will take around three hours door-to-door. Your last two nights will be in Tokyo's Shinjuku district on the opposite side of the city from where your trip began giving you the chance to explore a different facet of the capital.
On your doorstep is a ton of restaurants as well as some of Japan's most famous department stores with fantastic depachika food floors selling all manner of weird and wonderful produce. Also nearby is Shinjuku Gyoen National Garden - a large park with handy wheelchair access.
You have one last free day by yourselves in Tokyo for further sightseeing or to see anything you may have missed at the beginning of your holiday.
On your final day we will arrange a driver to pick you up from your hotel and drive you to your departure airport in a wheelchair accessible vehicle. We wish you a pleasant journey home.

Overnight: JR Kyushu Blossom Shinjuku (Accessible Room)
Close all days
Other trips you may like
Tokyo
Hakone
Kyoto
Hiroshima
Osaka
Takayama
Tokyo

An essential two-week itinerary featuring some of Japan's classic sights, including Tokyo, Kyoto and Mount Fuji.

14 nights: from US$2535 pp (twin share) Read more >

Tokyo
Nikko
Kyoto
Mount Koya
Himeji
Hiroshima
Kanazawa
Shirakawago
Tokyo

With a wide range of incredible World Heritage Sites, Japan is the perfect destination for this classic 17-night cultural and historical adventure.

17 nights: from US$4485 pp (twin share) Read more >

Tokyo
Utoro
Lake Kussharo
Mount Asahi
Biei
Sapporo
Hakodate
Tokyo

This summery itinerary highlights some of the best natural scenery, hikes, and wildlife in Hokkaido, combined with a city stay in Sapporo.

14 nights: from US$5109 pp (twin share) Read more >