Tateyama Kurobe Alpine Route
Enjoy stunning vistas while traversing the Japanese Alps via a series of trains, cable cars, trolley buses, ropeways, tunnels and hiking routes.
The Tateyama Kurobe Alpine Route is a spectacular traverse of the Northern Japanese Alps offering up gorgeous scenery and a smörgåsbord of transportation. From Ogizawa in Nagano Prefecture you'll first take a tunnel trolley bus burrows through the mountain side to the impressive Kurobe Dam, Japan's tallest at 186m. Here you can admire the reservoir and peer over the precipice where the water cascades down to support the towns below. The next section is perhaps the most spectacular, a 488m ascent by cable car to Kurobedaira. The air is starting to get thinner as now you will be at 2,316m above sea level. Another tunnel trolley bus brings you to the highest point of the route at Murodo, a plateau sitting at 2450m. Here you are rewarded with glorious Alpine vistas with Mount Tateyama towering above. What goes up must come down, and you will make the descent by a combination of bus, funicular train and train, eventually arriving at the sea level city of Toyama.

The full journey from Nagano to Toyama takes at least 7 hours, but we recommend breaking the journey with a night in Murodo. This way you can linger at the many view points or even take a detour for a walk in the mountains to steaming volcanic calderas. On a clear night in Murodo the stars are spectacular. From mid-April to mid-June you can take a bus from Murodo through the Tateyama snow corridor, where 20m high walls are carved out of snow.
When to go: The Tateyama Kurobe Alpine Route is usually open from mid-April to late November, but this can change depending on conditions. The trip is very popular with Japanese tourists and can be very crowded over a public holidays as well as weekends in autumn. The autumn leaves are at their most spectacular along the route from late September into early November.
Make an Enquiry
For more information email us: [email protected] or call: + 44 117 244 3380
Important notice: We are pleased to be able to offer so many amazing experiences in Japan. However, we are sorry that we can only include these as a part of a full Japan holiday package which includes your accommodation and transport alongside the experiences presented in this section of the web site.

Tateyama Kurobe Alpine Route
located in Japan Alps
Read more >
Interested in this Experience? It is included in this tour:
Pile into your rental car for an unforgettable family adventure around Japan, including the Japan Alps, and the outdoor adventure mecca of Minakami.

This self-guided family driving trip lets you independently explore some lesser-known spots around central Japan. From the rugged Noto Peninsula to the majestic Alpine Route, followed by hot springs and adventure in Minakami, this is the perfect itinerary for discovering a different side of Japan.
Like hailing a yellow cab in NYC or hanging on for dear life in the back of a Thai tuk tuk, taking a taxi in Japan is a memorable travel experience.

Take a trip down the Hozu River in Kyoto's stunning Arashiyama district.

If James Bond can fly over the volcanic peaks of Kyushu in a helicopter, why shouldn't you?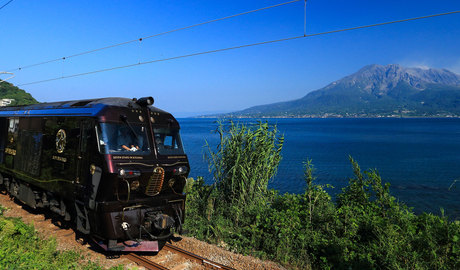 Move over Orient Express - this luxury sleepr train combines beautiful, wood-clad carriages, luxurious cabins and French-Japanese fusion cuisine.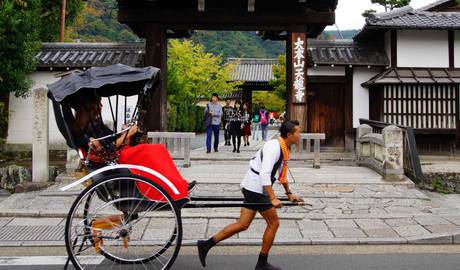 There is no better way to see Kyoto's Arashiyama district than from the seat of a jinrikusha rickshaw.