Fuji Rock
One of the world's best music festivals in a stunning mountain setting, Fuji Rock Festival is like no other festival you've been to before
World class line up, hot spring baths, alpine scenery, woodland walkways adorned with glitter balls and the common goal of just having a great time makes Fuji Rock a music festival like no other.
Still a relatively undiscovered gem on the world festival circuit, Fuji Rock still holds true to the counter culture ideals from which many other world festivals originated but over the years have lost; the word 'alternative' still holds some meaning and consumerism is left at the ticket gate.
The festival site itself snakes its way down the Naeba valley, following the course of the crystal clear river; perfect for a cooling dip on the hotter days. The Japan Alps rise high on all sides creating a breath taking natural amphitheatre for the stages which have hosted acts such as the Red Hot Chilli Peppers, The Stone Roses, Oasis, Eminem and Coldplay to name a few.
The festival attracts the less inhibited and quirkier characters from Japanese society which makes for a really good atmosphere but in contrast it's Japan's need for order and respect which truly makes this festival something special; the portaloos are spotlessly clean with running water, there's no litter or trash to be seen anywhere, smokers carry their own portable ashtrays and festival goers remain relatively fresh and odour free thanks to the hot spring baths.
Fuji Rock is almost the perfect size; big enough to keep you thoroughly entertained all day every day but not so big you spend hours trekking between bands and miss half the fun. And there is, of course, the requisite amount of side-show entertainment with circus performers, comedians, and quirky novelty acts to fill in the gaps between the big name bands.
This three day celebration of music and freedom is held at the end of July and is something not to be missed by festival goers, old and young alike.
When to go: Fuji Rock will take place from Friday 21st to Sunday 23rd August 2020. Tickets usually go on sale from the end of February.

Make an Enquiry
For more information email us: [email protected] or call: + 44 117 244 3380
Important notice: We are pleased to be able to offer so many amazing experiences in Japan. However, we are sorry that we can only include these as a part of a full Japan holiday package which includes your accommodation and transport alongside the experiences presented in this section of the web site.

Interested in this Experience? It is included in this tour:
Experience a world-class music festival with great bands, DJs and all manner of outlandish entertainments in a stunning mountain setting.

The Fuji Rock Festival is one of those magical events. Fantastic food at a great price, no queues to buy beer, all night hot spring baths, a stunning mountain setting, an incredibly friendly crowd and, of course, some of the best in British, American & Japanese indie, dance and world music.
A stately procession of Kyotoites and animals re-enacts the delivery of the Emperor's message to two of Kyoto's most important shrines.

Witness the incredible martial art of horseback archery as the spirit of the samurai lives on.

The most famous of all Japan's festivals, the Gion Matsuri dates back to 898.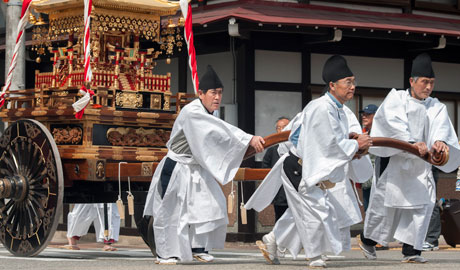 Takayama comes alive in mid-April and mid-October for their annual festivals.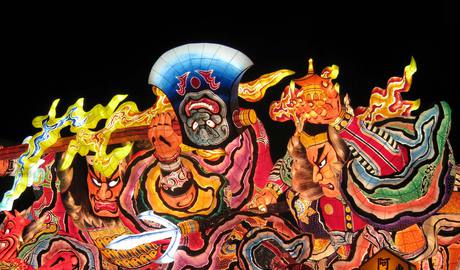 Gigantic illuminated floats take to the streets of Aomori every August.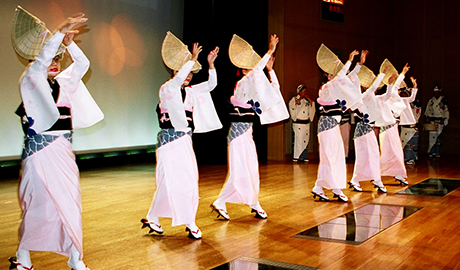 Head to Tokushima for the most famous and boisterous of Shikoku's summer dance festivals.