Self-Guided Adventure
Hiroshima & Miyajima (Group Tour Add-On)
4 Nights: from US$806 per person (twin share)
Trip Code: AOHME
Add a few more days to your Japan trip with two nights in Hiroshima and and a night on the island of Miyajima, followed by a final night in the bustle of Tokyo. Read more >
Your Small Group Tour Tokaido Trail has finished but there's still so much to see, so why not extend your journey in Japan with a Self-Guided trip west to Hiroshima and Miyajima?

You will be familiar with getting around Japan by the end of your Small Group Tour, so in this extension you will travel independently from Tokyo to Hiroshima for three nights. Hiroshima is of course known for the events of 1945 and a stay in the city is not complete without a sobering visit to the Peace Memorial Park and Museum with its powerful message for peace, and the fitting memorial of the A-Bomb Dome. Hiroshima is now a vibrant, modern city with a warm atmosphere and some truly delicious food - a visit to Okonomimura to try okonomiyaki savoury pancakes is a must!

After two nights in the city take the short journey across Hiroshima Bay, past the floating torii gate of Itsukushima Shrine, to Miyajima Island to spend a night in a traditional Japanese inn. Miyajima is a sacred island home to traditional temples, little shops, and some very friendly deer. If the weather is on your side, a hike or cable car ride to the top of Mount Misen will give you spectacular views across the bay.

Your journey back to Tokyo will be on the bullet train, and we've arranged a final night for you in the lively Shinjuku area. Shinjuku is home to Golden Gai, a maze of tiny bars and eateries with a fun atmosphere where you can rub elbows with the friendly locals as you have your last dinner in Japan.

The following day you will take the Narita Express train from Shinjuku Station out to Narita Airport in plenty of time for your flight home. If you would prefer to fly from Haneda Airport instead, don't hesitate to let us know and we can sort out arrangements to suit your plans.
Notes
This extension package is designed to be bolted on to one of our Small Group Tours. It works best when combined with Tokaido Trail. Please note that the extension is Self-Guided. This means you will not be travelling in a group or with a tour leader, but full instructions including details of your journeys and directions to your accommodation will be included in your complimentary InsideJapan Tours' Info-Pack.
What's included
Four nights' accommodation

Breakfast every day and one evening meal

All transport between destinations

Airport transfer to Narita Airport at the end of your trip

Your personalised InsideJapan Info-Pack
What's NOT included:
International flights

Local transport (buses, subways, taxis) at any destinations

Any entrance fees including those for shrines, temples and museums

Baggage handling - you will be expected to carry your own bags for the duration of the trip
Trip Highlights
Speed west on the bullet train between Tokyo and Hiroshima

Travel to the island of Miyajima and watch the sun set behind its iconic floating shrine

Try out Hiroshima's well-loved savoury okonomiyaki pancakes
Spend a day learning more about Hiroshima's tragic past and its bright future

Meet the curious deer on Miyajima and hike to the top of Mount Misen

Enjoy your last night in Japan surrounded by the buzz of Shinjuku
For more information email us: [email protected] or call: + 44 117 244 3380
What, where, when and how...
Hiroshima & Miyajima (Group Tour Add-On) - 5 Days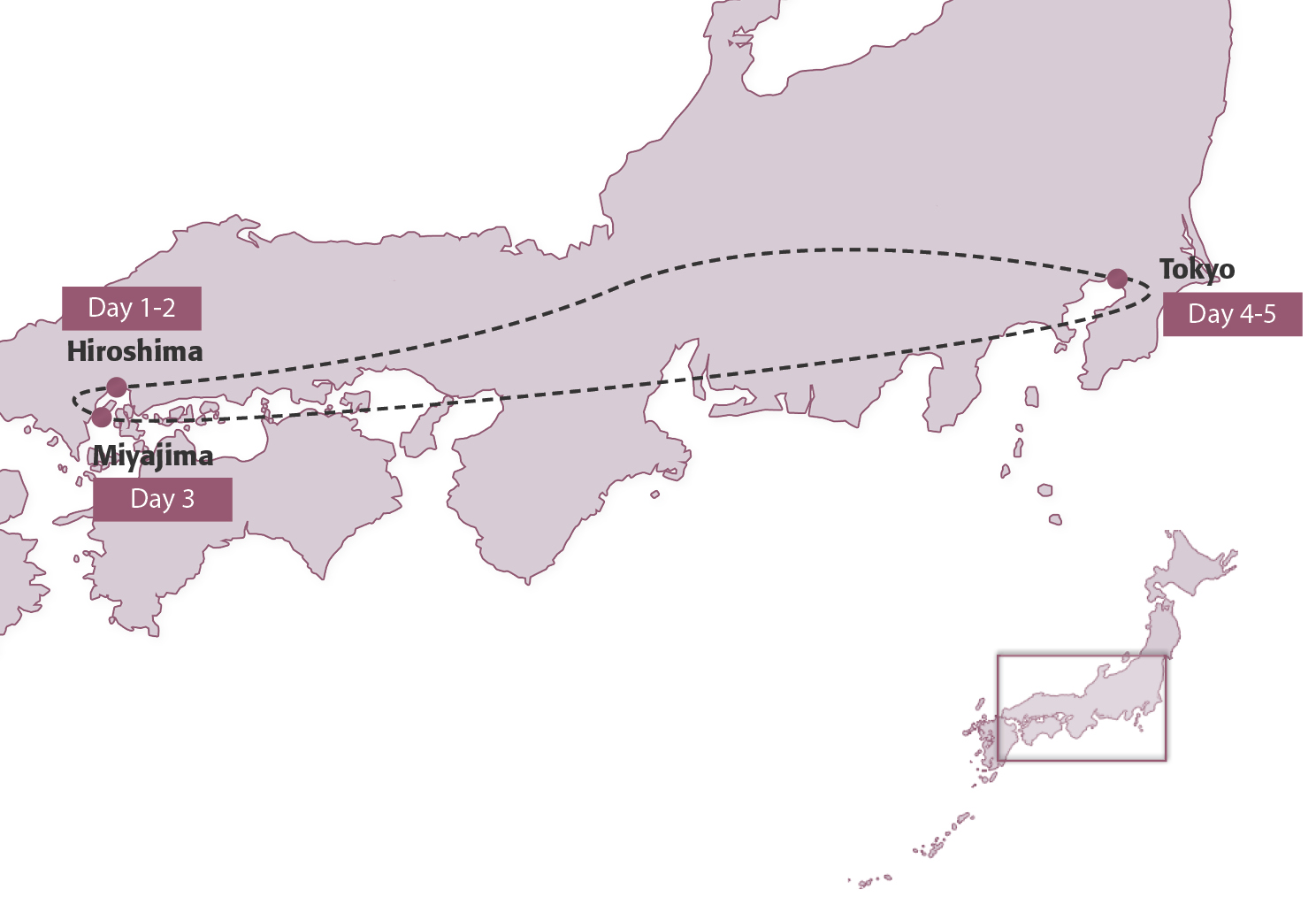 Destinations
Hiroshima & Miyajima (Group Tour Add-On) - 5 Days - Day by Day
Hiroshima & Miyajima (Group Tour Add-On) - 5 Days - Accommodation

Hiroshima & Miyajima (Group Tour Add-On) - 5 Days - Experiences
Day 1-2

Jump on the bullet train and head west for four days of history, culture, and delicious cuisine. In Hiroshima take the time to remember the city's dark past and learn more about its hopes for the future.

This morning you'll say your goodbyes to your tour leader and group in Tokyo and make your own way to the bullet train station. We will extend your Japan Rail Passes and provide full instructions for this journey. In case you missed it while travelling on your Small Group Tour, keep an eye out for views of the famously shy Mount Fuji from the right hand side of the train as you pass through Shizuoka Prefecture.
Your journey to Hiroshima will take roughly five hours in total and will require a simple change at Shin-Osaka Station. Hiroshima has an excellent public transport network with regular buses and trams, so you will be able to get from your hotel to various parts of the city without any trouble.
You will have the rest of the day and the whole of the next to explore Hiroshima and learn more about this fascinating city. The dark events of 1945 will always remain at the forefront of people's minds in Hiroshima, and every visitor to the city should make a stop at the A-Bomb Dome and the haunting Peace Memorial Park and Museum. In the evening we recommend a stop at Okonomi Mura for a Hiroshima-style okonomiyaki – top it with cheese, rice cakes, pork belly, or whatever your heart desires!

Overnight: Intergate Hiroshima

Day 3

Take the ferry to Miyajima and pass the iconic Itsukushima Shrine – one of Japan's top three seaside views.

The next day you will take a local train and ferry across the bay to Miyajima Island where you will spend one night at Morinoyado, a traditional Japanese inn surrounded by peaceful forest and close to the waterfront. The island has plenty to do and see and you can take your time exploring the quiet, winding streets and local shops selling sweet maple-shaped momiji manju buns. If the weather is being agreeable, you can hike up sacred Mount Misen for stunning views of the Seto Inland Sea, or you can always take the ropeway to the top if you'd prefer to take things slow.
In the evening when most of the tourists have returned to the mainland, we suggest heading down to the waterfront to see Itsukushima Shrine and its floating orange torii gate lit up at night.

Overnight: Morinoyado

Day 4-5

Trade Miyajima's island scenery for the bright lights of Shinjuku for your final unforgettable night in Japan.

On the fourth morning of your Self-Guided trip you will retrace your steps back to Tokyo on the bullet train. Your hotel is well located for easy access to Shinjuku Station for some last-minute shopping in the sprawling department stores, or you can head over to the east side of the station to some of the best restaurants and bars. Don't forget to check out your detailed Info-Pack if you want some recommendations of our favourite places to eat in Shinjuku, or other suggestions for places further afield.
Sadly, it's time to fly home. You will use your Japan Rail Passes one last time on the Narita Express train out to Narita Airport or if you would like to fly from Haneda Airport instead, please let us know and we can adjust plans accordingly.

Overnight: Sunroute Plaza Shinjuku
View all days
Day 1-2

Jump on the bullet train and head west for four days of history, culture, and delicious cuisine. In Hiroshima take the time to remember the city's dark past and learn more about its hopes for the future.

This morning you'll say your goodbyes to your tour leader and group in Tokyo and make your own way to the bullet train station. We will extend your Japan Rail Passes and provide full instructions for this journey. In case you missed it while travelling on your Small Group Tour, keep an eye out for views of the famously shy Mount Fuji from the right hand side of the train as you pass through Shizuoka Prefecture.
Your journey to Hiroshima will take roughly five hours in total and will require a simple change at Shin-Osaka Station. Hiroshima has an excellent public transport network with regular buses and trams, so you will be able to get from your hotel to various parts of the city without any trouble.
You will have the rest of the day and the whole of the next to explore Hiroshima and learn more about this fascinating city. The dark events of 1945 will always remain at the forefront of people's minds in Hiroshima, and every visitor to the city should make a stop at the A-Bomb Dome and the haunting Peace Memorial Park and Museum. In the evening we recommend a stop at Okonomi Mura for a Hiroshima-style okonomiyaki – top it with cheese, rice cakes, pork belly, or whatever your heart desires!

Overnight: Intergate Hiroshima

Day 3

Take the ferry to Miyajima and pass the iconic Itsukushima Shrine – one of Japan's top three seaside views.

The next day you will take a local train and ferry across the bay to Miyajima Island where you will spend one night at Morinoyado, a traditional Japanese inn surrounded by peaceful forest and close to the waterfront. The island has plenty to do and see and you can take your time exploring the quiet, winding streets and local shops selling sweet maple-shaped momiji manju buns. If the weather is being agreeable, you can hike up sacred Mount Misen for stunning views of the Seto Inland Sea, or you can always take the ropeway to the top if you'd prefer to take things slow.
In the evening when most of the tourists have returned to the mainland, we suggest heading down to the waterfront to see Itsukushima Shrine and its floating orange torii gate lit up at night.

Overnight: Morinoyado

Day 4-5

Trade Miyajima's island scenery for the bright lights of Shinjuku for your final unforgettable night in Japan.

On the fourth morning of your Self-Guided trip you will retrace your steps back to Tokyo on the bullet train. Your hotel is well located for easy access to Shinjuku Station for some last-minute shopping in the sprawling department stores, or you can head over to the east side of the station to some of the best restaurants and bars. Don't forget to check out your detailed Info-Pack if you want some recommendations of our favourite places to eat in Shinjuku, or other suggestions for places further afield.
Sadly, it's time to fly home. You will use your Japan Rail Passes one last time on the Narita Express train out to Narita Airport or if you would like to fly from Haneda Airport instead, please let us know and we can adjust plans accordingly.

Overnight: Sunroute Plaza Shinjuku
Close all days
Other trips you may like
Yunomine Onsen
Koguchi
Nachi

Add this advanced hiking module to a longer trip and discover the ancient pilgrimage trails of the Kumano Kodo.

3 nights: from US$910 pp (twin share) Read more >

Nagasaki
Kagoshima
Yakushima
Kirishima National Park
Kumamoto
Kurokawa Onsen
Fukuoka

If you're an adventurous traveller who wants to discover a side of Japan rarely seen by outsiders, this itinerary could be the one for you.

13 nights: from US$3406 pp (twin share) Read more >

Japan has a huge range of amazing theme parks and this twelve-night itinerary ticks off the very best.

12 nights: from US$12233 (per family) Read more >