Geisha dance performances
Take a seat for the annual geisha dance shows in Kyoto.
Every year Kyoto's geisha districts hold dance festivals, giving locals and visitors lucky enough to obtain tickets the chance to see the geisha in their full splendour with vibrant kimono and beautiful hair arrangements. There are four geisha districts in Kyoto each with its own theatre. The most famous and largest is Gion (which is actually split in two: Gion Kobu and Gion Higashi), the area featured heavily in Arthur Golden's best-selling novel Memoirs of a Geisha. Next door to Gion is Miyagawacho and nearby Kamishichiken and Pontocho are the other quarters.
The dances themselves are set to a musical accompaniment of shamisen (traditional Japanese guitar) and tell old stories of love and loss, life and death. The colourful backdrops change during the performance to reflect the changing of the seasons: beautiful pink cherry blossom of spring give way to the greens of summer, the flaming golds and reds of autumn and finally the cold white snow of winter.
When to go:
Geisha dance performances take place during late March, throughout the months of April and May, and in the first ten days of November. InsideJapan can obtain tickets, although the more notice we have, the better!

Make an Enquiry
For more information email us: [email protected] or call: + 44 117 244 3380
Important notice: We are pleased to be able to offer so many amazing experiences in Japan. However, we are sorry that we can only include these as a part of a full Japan holiday package which includes your accommodation and transport alongside the experiences presented in this section of the web site.

Interested in this Experience? It is included in this tour:
From neon cityscapes to towering mountains and back, Spring Elegance provides an excellent balance of superb experiences and value for money.

Spring is when Japan casts off its winter blanket and really lets its hair down. Every park is packed with revellers gathered to view the cherry blossom, festivals are underway across the country and nearly everyone embraces the party-like atmosphere – this really is a wonderful time to travel.
Meet a maiko over dinner in one of Kyoto's best rooftop beer gardens.

Become a maiko yourself with a wonderful makeover including white make-up, a black wig and a beautiful kimono.

Gion comes alive as night falls and the geisha go out to entertain at tea house parties.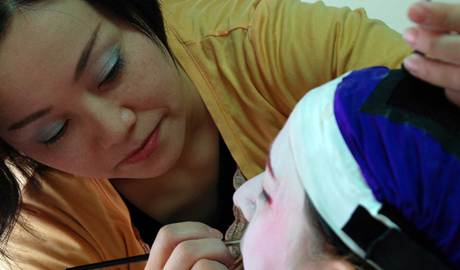 Get the geisha or samurai look in Tokyo's historic Asakusa district.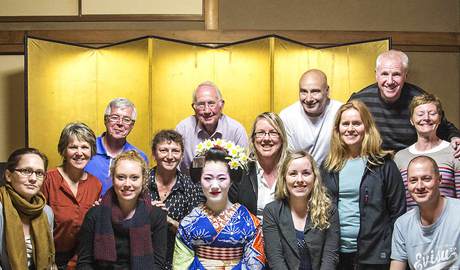 InsideJapan are proud to offer an exclusive, private meeting with a Kyoto maiko.