Hiraizumi
Hiraizumi is a town with a long and distinguished history. Once the seat of power for the Fujiwara clan, today Hiraizumi is a quiet backwater town. But the spectacular Konjiki-do Golden Hall and serene stillness of the gardens of Motsuji are reminders of a more refined and glorious age.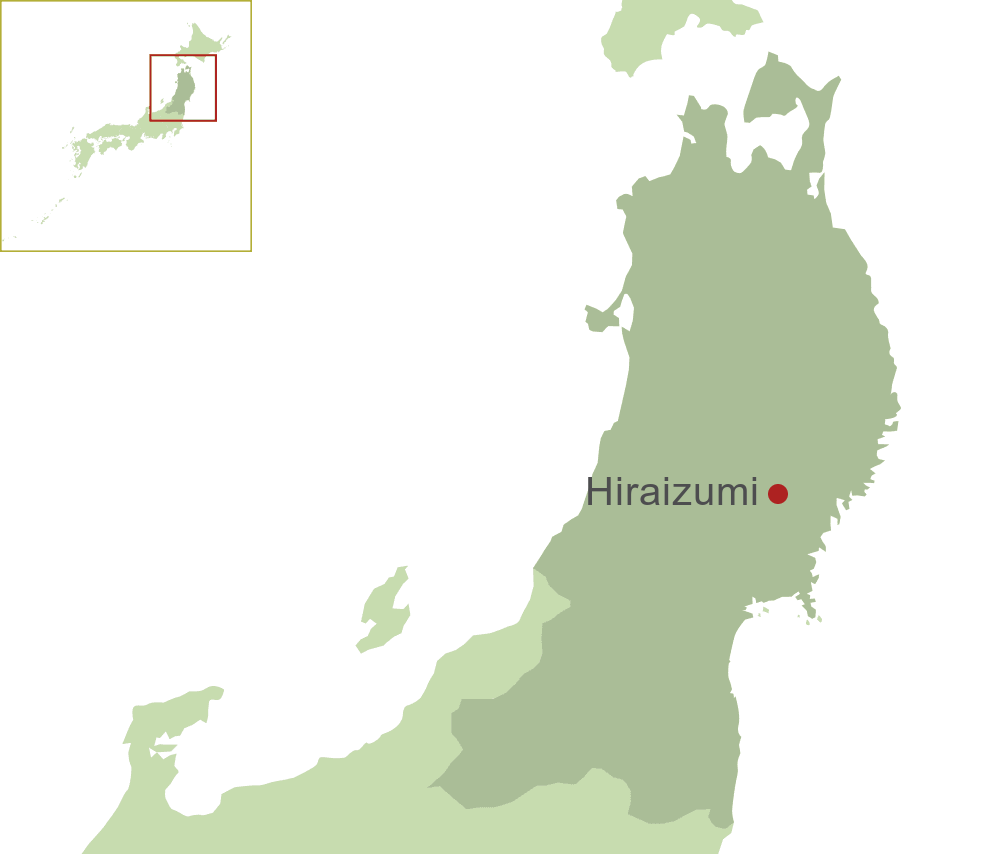 "Now a sleepy backwater in northern Japan, Hiraizumi has a long and proud heritage. Here history and the spirit of the samurai feels extremely close"
Alastair Donnelly, Director
Throughout the 12th century Hiraizumi prospered as a peaceful, idyllic place for Buddhism and under the patronage of the powerful Fujiwara dynasty many impressive religious structures were built. During this period, Hiraizumi was second only to Kyoto in size.
Although many of the temple complexes were destroyed by the wars that brought about the collapse of Fujiwara power, some fine examples remain including the gardens of Motsu-ji temple and the golden hall of Konjiki-do.
A designated National Treasure, Konjiki-do is truly spectacular. Packed with ornate gold embellishments, black lacquer work and inlaid mother of pearl, this small hall acts as a fine mausoleum to the Fujiwara clan, the remains of whom lie mummified within. The Pure Land garden at Motsu-ji meanwhile gives a good impression of the luxurious lifestyle of the ruling classes all those years ago.
A short cycle ride from Motsu-ji (bikes are available for rental from the station) lies a curious temple built into the wall of a cliff in the ninth century and dedicated to Bishamon, the guardian deity of warriors. If you have a little more time, then a bus ride away from town is the impressive Geibi-kei gorge. This narrow ravine is best viewed by a fun boat trip on which, as well as punting you along, the boatmen find the energy to belt out local songs and regale you with legends. It's all in Japanese of course - but the atmosphere is infectious!
Experiences in Hiraizumi
Hiraizumi offers a wealth of exciting experiences that will help you get beneath the surface of Japan's fascinating culture. See below for a few of our favourites
Weather in Hiraizumi
The Climate Guide for Hiraizumi, Japan is perfect for planning your holiday. Monthly weather averages give the best indication of what the weather is usually like for every month of the year including figures for temperature, rainfall and sunshine.
Jan
Feb
Mar
Apr
May
Jun
Jul
Aug
Sep
Oct
Nov
Dec
Max Daytime Temperature (°C)
3
3
7
13
18
21
25
27
23
18
12
6
Min Night-time Temperature (°C)
-4
-4
-2
3
8
14
18
19
15
8
3
-2
Hours of Sunshine (Daily)
4
5
6
6
7
5
5
6
4
5
4
4
Hours of Daylight (Daily)
10
11
12
13
14
15
15
14
12
11
10
10
Heat and Humidity Discomfort
None
None
None
None
None
None
Low
Moderate
None
None
None
None
Days with some Rainfall
23
21
21
17
16
18
20
19
19
17
18
21
Monthly Rainfall (mm)
44
63
79
118
116
144
169
182
176
112
75
40
UV Index (Maximum)
2
3
4
6
8
9
9
9
7
4
2
2
Featured trips including Hiraizumi
Tokyo
Nikko
Hiraizumi
Naruko Onsen
Ishinomaki
Sendai
Niigata
Sado Island
Tokyo

Discover the beautiful yet little-visited region of Tohoku, home to rugged national parks, historic cities, and enchanting hot spring towns.

14 nights: US$6240 Read more >