Nyuto Onsen
This is the ultimate onsen experience, and if you left the big cities alarmed at the pace of modern Japanese life, a visit to Nyuto Onsen will reassure you that traditional ways are very much alive and well in Japan.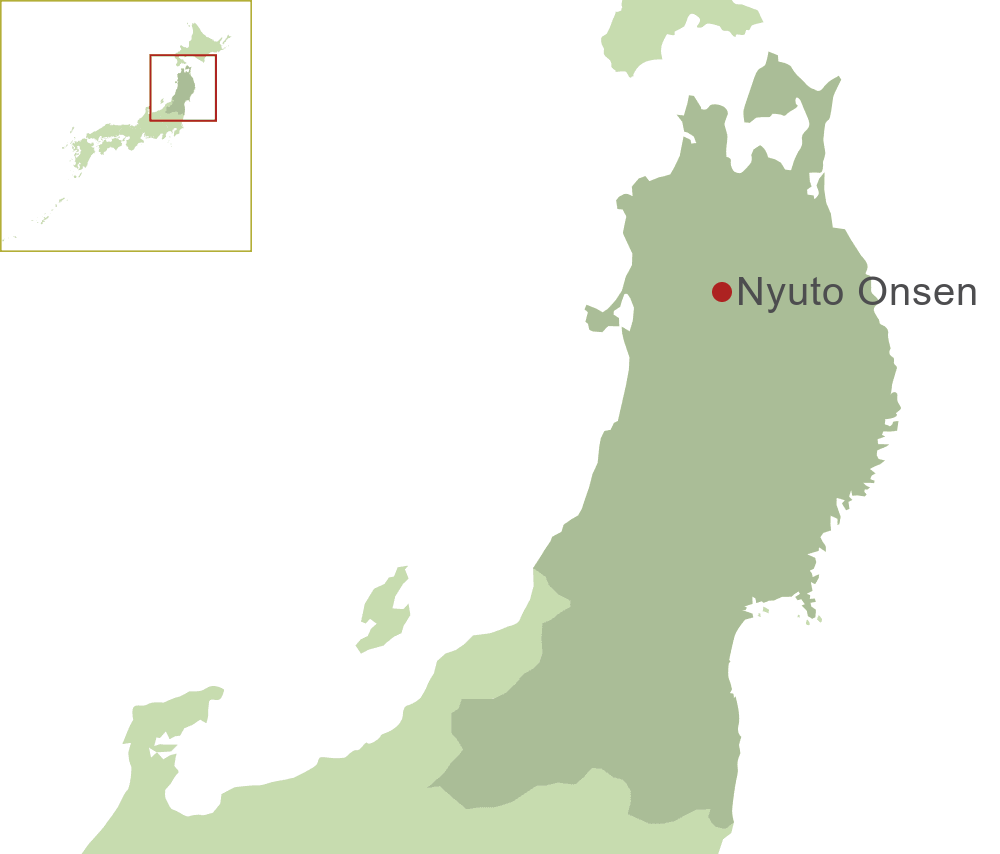 "If you long for a traditional onsen (hot-spring) experience in Japan, nothing can beat an overnight stay in one of Nyuto Onsen's tiny resort villages – remote, picturesque and serene"
Matt Spiller, Agents Manager
Northern Tohoku is one of Japan's most mountainous areas and nestled between the peaks are many of the country's finest traditional onsen (hot-spring) resorts and villages.
Nyuto Onsen is a collection of half a dozen tiny onsen villages in the mountains of Akita Prefecture, close to the border with neighbouring Iwate. An overnight stay in one of these tucked away spots will make you wonder if you didn't just happen to step into a time machine on your way from Tokyo; ramshackle old wooden buildings surrounded by woodland, steaming pools of milky white water, locals quietly making their way from bath to bath or taking a stroll in their yukata (cotton kimono) and geta (wooden sandals).
Our favourite of the tiny resorts is Tsuru-no-yu, a collection of dark wooden buildings, hidden away at the end of a 2km dirt track with only a small sign on the main road indicating its presence. The resort is surrounded by wooded hills on all sides and has a wonderful old-world atmosphere. There are a range of both indoor and outdoor baths to enjoy, with the largest outdoor bath being used by both men and women together; the milky-white water making this less of an ordeal than it might sound!
If you are not quite up for this extra experience then there are plenty of the usual sex-segregated baths to enjoy. The resort provides traditional Japanese-style rooms and hearty local cuisine.
Recommended Accommodation in Nyuto Onsen
The following are our favourites from among the western-style hotels and Japanese-style inns of Nyuto Onsen.

Experiences in Nyuto Onsen
Nyuto Onsen offers a wealth of exciting experiences that will help you get beneath the surface of Japan's fascinating culture. See below for a few of our favourites
Weather in Nyuto Onsen
The Climate Guide for Nyuto Onsen, Japan is perfect for planning your holiday. Monthly weather averages give the best indication of what the weather is usually like for every month of the year including figures for temperature, rainfall and sunshine.
Jan
Feb
Mar
Apr
May
Jun
Jul
Aug
Sep
Oct
Nov
Dec
Max Daytime Temperature (°C)
-1
0
4
11
17
21
24
26
21
15
9
2
Min Night-time Temperature (°C)
-7
-7
-4
1
6
12
16
18
13
6
0
-4
Hours of Sunshine (Daily)
3
4
5
6
7
6
5
5
5
5
4
3
Hours of Daylight (Daily)
10
11
12
13
14
15
15
14
12
11
10
9
Heat and Humidity Discomfort
None
None
None
None
None
None
None
Low
None
None
None
None
Days with some Rainfall
29
26
26
19
18
19
21
21
20
20
23
29
Monthly Rainfall (mm)
78
72
84
109
113
145
192
211
175
122
115
92
UV Index (Maximum)
2
2
4
6
7
9
9
9
7
4
2
1
Featured trips including Nyuto Onsen
Tokyo
Nikko
Sendai
Nyuto Onsen
Kakunodate
Mount Haguro
Tokyo

Journey through the lush rural landscapes in Tohoku, a land steeped in tradition and mystery, on this classic two-week itinerary.

13 nights: from US$3419 pp (twin share) Read more >

Tokyo
Nikko
Sendai
Nyuto Onsen
Kakunodate
Mount Haguro
Tokyo

Journey through the lush rural landscapes of Tohoku, the region that stretches 500 miles north from Tokyo, on this superior two-week itinerary.

13 nights: from US$5512 pp (twin share) Read more >