Lake Tazawa
Lake Tazawa (Tazawa-ko in Japanese) is situated in the heart of rural Akita Prefecture in northern Tohoku. The lake is Japan's deepest at over 400m, and is surrounded by gently sloping hills and farmland, with a couple of small villages dotted around the edge of the lake.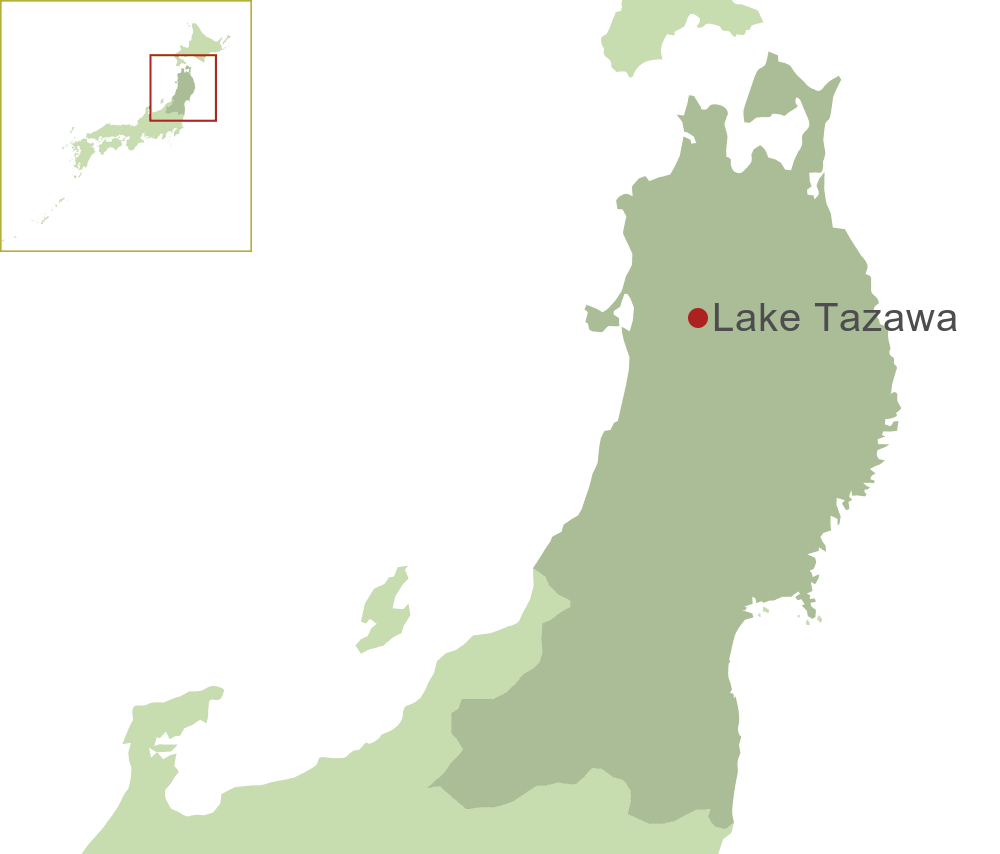 "This is what the far north of Honshu is all about; fantastic scenery, rural farmland, great walking and hiking and some of Japan's best onsen for a relaxing soak afterwards"
Harry Sargant, Marketing & Agents Manager
The minor road that circles the lake can be navigated by rental cycle (1-2hrs) or even on foot (several hours!), but stopping off along the way this circumnavigation makes for a pleasant full day.
You can get out on the lake itself, with several options for cruises, plus a range of row-boats and pedal-boats (in cute animal form!) for those who would like to do things under their own steam. In summer the lake also attracts swimmers and sunbathers to its ?beach' area. The slopes that rise up from the lake come together to form several lofty peaks that offer some fine walking and hiking options, with beautiful views back across the lake. In winter the same peaks become some of the region's best ski resorts.
On the southwestern side of the lake you will find a gold statue of a beautiful girl named Tatsuko. The legend of Tatsuko has several variations; one says that she wished for her beauty and youth to be preserved forever but was turned into a dragon and sank to the bottom of the lake, where she remains; another claims that the dragon is in fact her husband who she lives with in the depths of the lake, and it is their energetic lovemaking that ensures that the lake never freezes overm even in the depths of winter! Take a look at the statue and make up your own mind.
The underground volcanic activity in this part of Japan (or perhaps the energetic lovemaking!) mean the area of also blessed with an abundance of onsen (hot-spring baths). An excursion up into the hills is well worth it to discover some of the wonderfully traditional onsen, oozing with ?Old Japan' atmosphere. The farmland and villages around the lake give a great insight into life in rural Japan. The farm machinery might have moved on a bit and there are a few more cars now than animals, but the basic way of life has changed little over the centuries; a day or two around Tazawa-ko and the bright lights of Tokyo will seem a very long way away.
Weather in Lake Tazawa
The Climate Guide for Lake Tazawa, Japan is perfect for planning your holiday. Monthly weather averages give the best indication of what the weather is usually like for every month of the year including figures for temperature, rainfall and sunshine.
Jan
Feb
Mar
Apr
May
Jun
Jul
Aug
Sep
Oct
Nov
Dec
Max Daytime Temperature (°C)
-1
0
4
11
17
21
24
26
21
15
9
2
Min Night-time Temperature (°C)
-7
-7
-4
1
6
12
16
18
13
6
0
-4
Hours of Sunshine (Daily)
3
4
5
6
7
6
5
6
5
5
3
3
Hours of Daylight (Daily)
10
11
12
13
14
15
15
14
12
11
10
9
Heat and Humidity Discomfort
None
None
None
None
None
None
None
Low
None
None
None
None
Days with some Rainfall
29
26
26
19
18
19
21
21
20
20
23
29
Monthly Rainfall (mm)
78
72
84
109
113
145
192
211
175
122
115
92
UV Index (Maximum)
2
2
4
6
7
9
9
9
7
4
2
1