Red-crowned cranes
Observe the amazing spectacle that is the annual red-crowned crane mating dance.
The tancho or red-crown crane are believed to represent longevity and have long played a special part in Japanese mythology. Sadly, however, in recent years their numbers have diminished due to urbanisation. Today half the world's tancho population make their winter home in the safety of Tsurui's crane sanctuary and this is a beautiful spot to experience the cranes' famous mating dance. The red-crowned crane stands 1.5 metre tall with a wing span of 2.5 metres.
InsideJapan are delighted to work with a certified Hokkaido guide and wildlife photography expert based in Tsurui who can ensure visitors have the best bird watching experience possible.
When to go: The best time to see the red-crowned cranes is in winter, ideally in February. However, due to the protection they have been afforded in this area the cranes no longer migrate so can be seen all year round
Make an Enquiry
For more information email us: [email protected] or call: + 44 117 244 3380
Important notice: We are pleased to be able to offer so many amazing experiences in Japan. However, we are sorry that we can only include these as a part of a full Japan holiday package which includes your accommodation and transport alongside the experiences presented in this section of the web site.

Interested in this Experience? It is included in this tour:
Japan in the winter is a magical destination, blanketed in snow and free from the crowds that throng the cultural hotspots in summer.

From incredible snowy landscapes and rare birds in Hokkaido to snow monkeys and cultural treasures on Honshu; this tour demonstrates the myriad attractions of the winter season on Japan's two largest islands.
Dive off the coast of Ishigaki Island to see huge Pacific manta rays

Take a small ice breaker cruise into the ice flows of the Nemuro Straits to photograph Steller's sea eagles fishing for Pacific cod.

Fancy swimming amid a school of hammerhead sharks?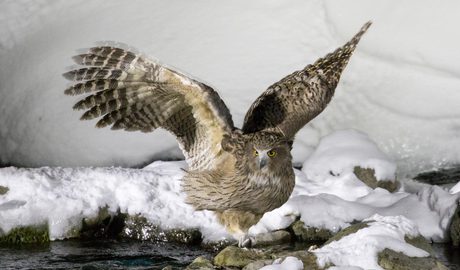 Meet Blakiston's fish owl, the largest owl in the world, which feed on river fish around the Shiretoko Peninsula.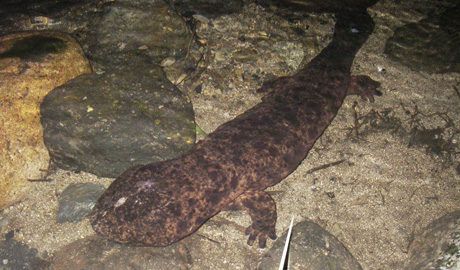 Wade into the clear rivers of remote Tottori Prefecture for a wildlife research experience with Japanese giant salamanders.