Winter Highlights
14 Nights: from US$5810
Trip Code: WH
Hokkaido Japan's northernmost outpost, is remote but breathtaking. Here you'll wander vast, windswept plains and wild peninsulas where still-smoking volcanoes provide the backdrop, with a litany of rare birds to be spotted.
In Tsurui you'll receive an introduction to Hokkaido's avian residents accompanied by an expert birding guide, and whilst in Rausu you'll take an icebreaker cruise amongst the creaking floes of the Okhotsk Sea. With a bit of luck on your side, the cruise will bring you within range of magnificent Steller's sea eagles, a fantastic opportunity for keen wildlife photographers.
Before returning to the mainland you'll stop for three nights in Sapporo, Hokkaido's capital and home to the famous snow festival, during which approximately 400 giant snow sculptures occupy the city's spaces. Sapporo is famous for beer as well as snow, so in addition to enjoying the festival you'll take a tour of one of the city's breweries.
Honshu is Japan's main island and offers a very different experience from Hokkaido. In Tokyo you'll take a cruise on the Sumida River and warm your hands around a bowl of green tea at Hamarikyu Gardens, whilst in Kyoto you might be lucky enough to enjoy the enchanting sight of the Golden Pavilion wreathed in snow. You will also have a private audience with a maiko (trainee geisha), which is sure to be a highlight of your trip.
Finally, one of the highlights of your tour comes in Yudanaka - where you'll witness the Japanese macaques as they stave off the cold in the mountain hot springs.
If this sounds good and makes you want to see even more, why not extend your tour in Japan!
The tour leader will be staying at the first hotel for two nights before the tour starts so they will be available for advice if you choose to book pre tour nights. We recommend booking at least one extra night to check in and relax before the tour begins.
Important Tour Information
04 Feb 2020 & 06 Feb 2020 departures: Please note that due to operational reasons, the itinerary route in the Hokkaido portion of these departures will differ from what's listed on our website. However, all tours will still include the same experiences, destinations and inclusions. For further details please speak to your travel consultant.
Group Size: 4 - 14
Single Supplement: This tour has a single supplement. This guarantees a single room throughout the tour.

Fitness: Even when not using public transport, sightseeing in Japan often involves walking between sights, climbing up steps in temples and being 'on the go' for much of the day. To enjoy any of our Small Group Tours you should be of moderate fitness, able to walk and climb stairs without difficulty and able to maintain a pace that is comfortable for the majority of the group.
Transport: We will have use of a private bus for our first 3 days on Hokkaido. Please note that many transfers are by public transport making use of Japan's first-rate transport network. All the hotels and ryokan have been chosen for their location close to the nearest station. However, you will have to carry your bags for short distances and some stations do not have escalators.

Luggage: We highly recommend that to make your stay more enjoyable you pack reasonably light. Large suitcases will be an inconvenience to you. A small case or bag with wheels or a rucksack are most appropriate for this tour as you will have to carry your bags for short distances and some stations do not have escalators or elevators/lifts. You will need a small overnight bag (e.g. backpack) for use when we forward our main bags to the next location.
Weather and clothing: We will be spending 6 days in Japan's northern island of Hokkaido and you should be aware that it will be extremely cold here. Night-time temperatures can get below minus 20 degrees centigrade. There are many days on which the temperature drops below 0 degrees centigrade all day long. You will need heavy overcoats, caps, gloves, scarves, etc. in addition to sweaters and jackets. Our accommodation will of course be heated but for the outdoors you will also need shoes that are suitable for walking on snow or ice, and rubber crampons.
Accommodation: All of the accommodation except for in Tsurui are equipped with full en-suite facilities (attached bath / shower and toilet). The hotel in Tsurui has shared facilities (single sex).

International Flights: This tour starts and finishes in Tokyo for arrivals and departures at Tokyo's Narita or Haneda Airport.

Check-in: Please note that rooms at the Tokyo hotel are only available from 3pm. (You can, however, securely leave your luggage at the front desk at any time).



What's included
Full-time services of your InsideJapan tour leader

14 nights' accommodation

Breakfast every day and eight evening meals

Your InsideJapan Info-Pack

All transport between destinations in Japan, including airport transfers and domestic flights and an IC transport card with 2,500 yen credit

Sumida river bus ride and entrance to Hamarikyu Gardens in Tokyo

Bird-watching guide in Tsurui

Entrance to the Blakiston's fish owl reserve

Icebreaker cruise on the Okhotsk Sea

Brewery tour in Sapporo

Afternoon tea with a maiko in Kyoto
Included visit to see the onsen-bathing Snow Monkeys in Yudanaka

Luggage forwarding from Tsurui to Sapporo & from Kyoto to Tokyo

Shared portable Wi-Fi access throughout trip
What's NOT included:
International flights

Any entrance fees (including those for temples, shrines and museums) unless otherwise specified

Any local transport in each destination unless otherwise specified

Baggage handling & luggage forwarding unless otherwise specified
Tour Price Information
Tour Price:

From US$5810

Single Supplement:

From US$504
Extra Nights
Pre-Tour:

Twin Share From US$100 pp

Single From US$109 pp

Post-Tour:

Twin Share From US$130 pp

Single From US$158 pp
2020
Tour Price:

From US$6013

Single Supplement:

From US$882
Extra Nights
Pre-Tour:

Twin Share From US$99 pp

Single From US$128 pp

Post-Tour:

Twin Share From US$120 pp

Single From US$147 pp
Disclaimer Message: Please note: Prices displayed above are all "From" prices as individual prices vary depending on time of year travelling. For full pricing information on specific departures please speak to your Travel Consultant.
Tour Highlights
Take an icebreaker cruise on the Okhotsk Sea and keep a lookout for Steller's sea eagles

Visit the famous onsen-bathing monkeys of Yudanaka

Meet an apprentice geisha in Kyoto

Go red-crowned crane spotting with a nature expert and professional photographer on the Kushiro Marshes
Visit the Sapporo Snow Festival and enjoy a tour of one of Sapporo's breweries

Take a cruise down the Sumida River in Tokyo and sip tea in Hamarikyu Gardens

A chance to spot the rare Blakiston's Fish Owl

If all this sounds great and makes you want to see even more, why not extend your stay in Japan!
For more information email us: [email protected] or call: 303 952 0379
What, where, when and how...
Winter Highlights - 15 Days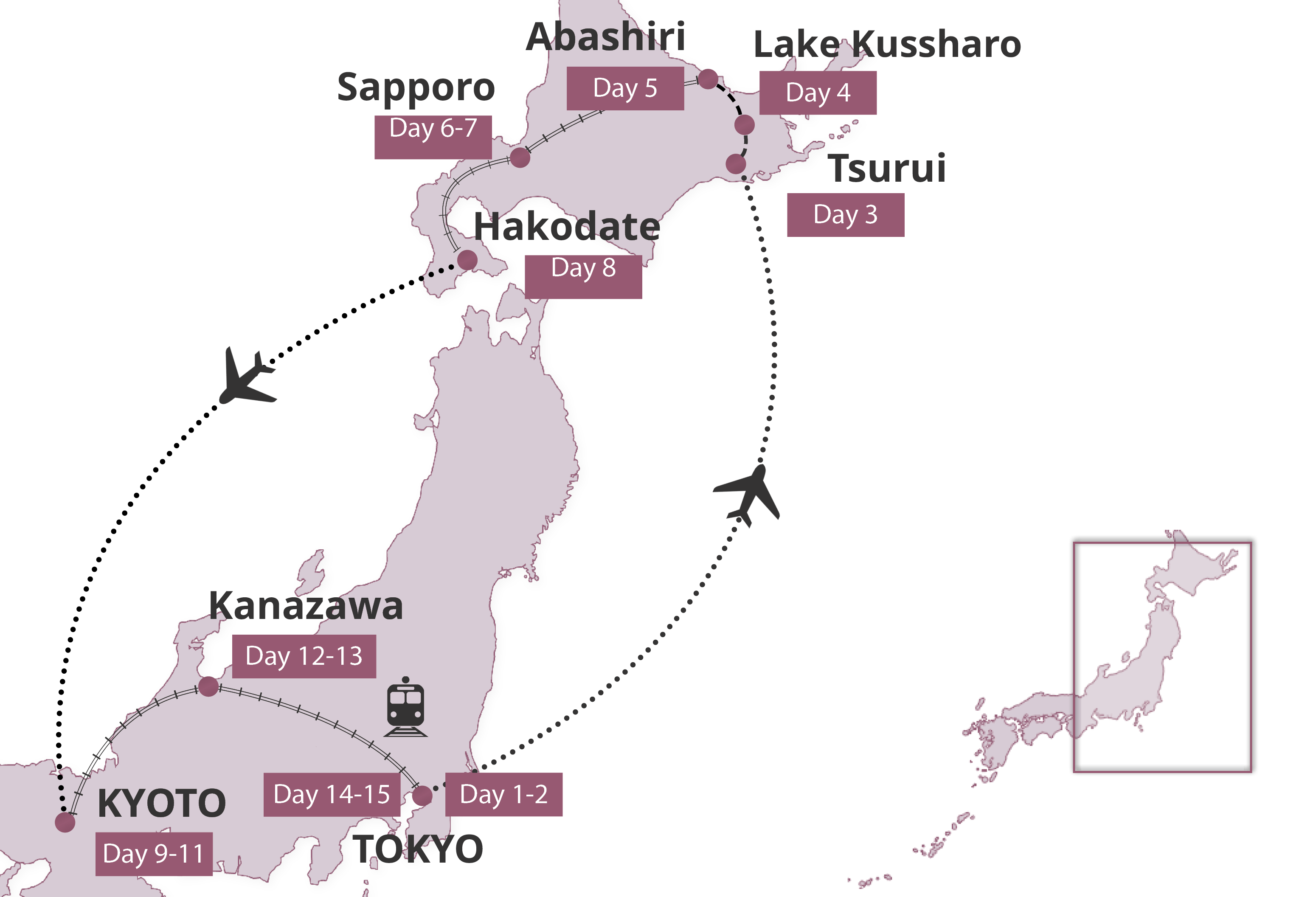 Winter Highlights - 15 Days - Day by Day
Winter Highlights - 15 Days - Accommodation
Winter Highlights - 15 Days - Booking
Single supplement from US$882
Day 1-2

Ride on the Sumida river bus and sip green tea in the tranquil environs of Hamarikyu Gardens, an unlikely oasis in the centre of the Tokyo Metropolis.

On arrival in Tokyo you will be met at the airport by your driver and travel to your hotel in the traditional Asakusa district of the city by shared shuttle. Your tour leader will be waiting to welcome you in the lobby, and this evening you will convene with your group for an orientation meeting and a fabulous included meal at one of the area's great restaurants.
On day two of your itinerary we hope you're rested and ready for a tour of Tokyo's many exciting attractions. You will probably begin by exploring Asakusa's low-rise market stalls and its temple, Senso-ji, then go on to discover some of Tokyo's other distinct districts – perhaps the electronics shops of Akihabara, or the famous scramble crossing of Shibuya.
A ride on the Sumida River bus will be included today, along with entrance and a cup of green tea at the beautiful Hamarikyu Gardens – an oasis in the centre of the metropolis.

Overnight: Asakusa Via Inn

Day 3

Fly north to Hokkaido, Japan's second-largest island and home to spectacular wildlife and scenery.

Today you will hop aboard a private bus and head out of the city to Haneda Airport for your flight to Hokkaido. Hokkaido is the second-largest of Japan's four main islands, and yet it remains unvisited by most international visitors – and even by most Japanese! Known for its rare wildlife, rugged sweeping plains, volcanic landscapes and amazing snow festival, Hokkaido is a superb winter destination and definitely off the beaten track.
You will land in Kushiro and transfer by private coach to Tsurui , where you'll be spending your first night in Hokkaido. A delicious home-cooked dinner will be included at your accommodation this evening.
Please note, there are limited en suite facilities on site and some guests will be required to share toilet, shower and hot spring facilities (separated by gender).

Overnight: Woody Hotel & Restaurant Yumekobo

Day 4

Witness the mating dance of the famous red-crowned crane in Tsurui and keep your eyes peeled for Blakiston's fish owls in Rausu.

Tsurui is famous as a breeding-ground for the rare red-crowned crane, and this morning you will have the services of an expert local guide in addition to your tour leader as you take a bird-watching tour of the area. Hopefully you'll be lucky enough to see the cranes perform their incredible mating dance – don't forget to bring your camera!
This afternoon you'll transfer by private coach to Rausu, where this afternoon you'll have a chance to spot the rare Blakiston's fish owl and visit Notsuke Visitors Centre. A wonderful Japanese-style dinner will be included again this evening at your accommodation – where we also recommend that you take advantage of the onsen hot spring baths.

Overnight: Dai-ichi Hotel

Day 5

Take an icebreaker cruise amongst the ice floes of the Okhotsk Sea and visit one of Abashiri's fascinating museums.

This morning it's time to board an icebreaker for a cruise on the Okhotsk Sea. From your boat you'll be able to appreciate the wild scenery of the Shiretoko Peninsula and perhaps even get up close to a flock of Steller's Sea Eagles as they congregate on the ice floes.
Later on you will once again climb aboard a private coach and make your way to Abashiri, where this afternoon you'll visit the Abashiri Prison Museum, an interesting set of buildings that were constructed during the Meiji era (1868-1912). Dinner will be included tonight, at the hotel.

Overnight: Hokuten no Oka

Day 6-8

Marvel at the giant snow sculptures at Sapporo's famous Yuki Matsuri, or snow festival.

Today you will take the train from Abashiri to Sapporo, Hokkaido's capital city. The train ride will be an experience in itself, offering fantastic views of Hokkaido's vast, windswept snowscapes as you journey across country.
In Sapporo you'll have a chance to slow your pace a little and relax, with three nights in your hotel located conveniently next to Sapporo station.
We have timed your trip to coincide with Sapporo's Yuki Matsuri, or snow festival, a truly spectacular celebration during which the city plays host to hundreds of enormous ice and snow sculptures. On day seven you'll have a chance to join in the festivities, including an ice maze, tobogganing, sledge rides and even an ice bar. The city is well known in Japan for producing the country's best beer, and this evening you'll take a tour of the Asahi brewery and indulge in an included meal there.
On day eight you have another full day to enjoy the winter wonderland of Sapporo. We recommend visiting the Nijo Fish Market, checking out the Ainu Museum about Hokkaido's indigenous people, or perhaps scaling the TV tower for great views of the city.
If you're a keen skier or boarder, you could use this free day to hit the slopes of the Kiroro Ski Resort, just one hour away by bus. Your tour leader will be happy to help you organise a great value package including ski hire and a lift pass if this is up your street.

Overnight: Cross Hotel Sapporo

Day 9-11

Explore Kyoto, Japan's ancient capital, where you'll visit ancient temples and shrines and enjoy an exclusive audience with a trainee geisha.

Today it's time to leave Hokkaido behind and return to Honshu, Japan's main island, by plane. Flying from Sapporo to Kansai Airport, you'll then take the train to Kyoto, Japan's cultural heart and capital for over a millennium, from 794 until 1868.On arrival in the city you will drop off your luggage at your hotel in time to enjoy a delicious included meal with your group.
Kyoto's illustrious history as the seat of Imperial rule has left it with a bounty of ancient temples, shrines, palaces and gardens. In fact, Kyoto's heritage was considered so significant that it was spared bombing raids during World War Two, meaning that many of these historical treasures remain intact to this day.
On day ten your tour leader will take you on an extensive tour of the city, introducing you to some of its famous sites as well as some of its lesser-known treasures. This afternoon you will have the privilege of an exclusive audience with a maiko - or trainee geisha. This is a rare opportunity to ask questions and discover what life is like in this notoriously secretive world.
Finally, on day eleven, you will be free to continue exploring the countless sights of the city, or to make a day trip to one of the fascinating destinations within easy reach by rail. Your tour leader may be leading a tour of the former capital, Nara, just an hour's train ride away. You can choose to accompany the group, or make alternative plans if there is something else you'd like to see.

Overnight: Mitsui Garden Kyoto Shinmachi Bettei

Day 12-13

Visit the hot spring-bathing snow monkeys of Yudanaka, a tiny town in the Japanese Alps.

Today you'll swap Japan's ancient capital for mountain scenery as you journey by limited express train into the Japanese Alps to Yudanaka Onsen, a quaint hot spring town that has retained its historical feel, with crooked alleys and wooden buildings.
In Yudanaka you'll be spending two nights at a traditional ryokan inn, where futon mattresses are laid out for you on tatami-mat floors. A beautiful Japanese-style meal will be included on both nights of your stay.
On day 13 you will walk on snowy paths through the forest to Jigokudani Monkey Park, where you'll find Japan's most famous simian residents. The monkeys here have learnt to keep themselves warm by bathing in the natural hot spring waters, and even have fun throwing snowballs at one another from time to time!
When you return to your ryokan tonight, we recommend that you follow the monkeys' example and have a nice long soak in the inn's onsen hot spring baths.

Overnight: Ryokan View (Biyu No Yado)

Day 14-15

Spend a final night in the buzzing entertainment hub of Shinjuku, Tokyo.

Finally it's time for you to return to Tokyo for one last evening in the city. Hopefully you should arrive in time for a little last-minute souvenir shopping! Dinner is not included this evening, but we highly recommend that you join your tour leader and group for a farewell meal at one of the area's fantastic restaurants. You'll be staying in Shinjuku, a buzzing entertainment hub, so options are plentiful!
On day 15 you'll head to Shinjuku Station and catch the included airport bus to take you to the airport for your flight home. Have a safe trip!

Overnight: Sunroute Plaza Shinjuku
View all days
Day 1-2

Ride on the Sumida river bus and sip green tea in the tranquil environs of Hamarikyu Gardens, an unlikely oasis in the centre of the Tokyo Metropolis.

On arrival in Tokyo you will be met at the airport by your driver and travel to your hotel in the traditional Asakusa district of the city by shared shuttle. Your tour leader will be waiting to welcome you in the lobby, and this evening you will convene with your group for an orientation meeting and a fabulous included meal at one of the area's great restaurants.
On day two of your itinerary we hope you're rested and ready for a tour of Tokyo's many exciting attractions. You will probably begin by exploring Asakusa's low-rise market stalls and its temple, Senso-ji, then go on to discover some of Tokyo's other distinct districts – perhaps the electronics shops of Akihabara, or the famous scramble crossing of Shibuya.
A ride on the Sumida River bus will be included today, along with entrance and a cup of green tea at the beautiful Hamarikyu Gardens – an oasis in the centre of the metropolis.

Overnight: Asakusa Via Inn

Day 3

Fly north to Hokkaido, Japan's second-largest island and home to spectacular wildlife and scenery.

Today you will hop aboard a private bus and head out of the city to Haneda Airport for your flight to Hokkaido. Hokkaido is the second-largest of Japan's four main islands, and yet it remains unvisited by most international visitors – and even by most Japanese! Known for its rare wildlife, rugged sweeping plains, volcanic landscapes and amazing snow festival, Hokkaido is a superb winter destination and definitely off the beaten track.
You will land in Kushiro and transfer by private coach to Tsurui , where you'll be spending your first night in Hokkaido. A delicious home-cooked dinner will be included at your accommodation this evening.
Please note, there are limited en suite facilities on site and some guests will be required to share toilet, shower and hot spring facilities (separated by gender).

Overnight: Woody Hotel & Restaurant Yumekobo

Day 4

Witness the mating dance of the famous red-crowned crane in Tsurui and keep your eyes peeled for Blakiston's fish owls in Rausu.

Tsurui is famous as a breeding-ground for the rare red-crowned crane, and this morning you will have the services of an expert local guide in addition to your tour leader as you take a bird-watching tour of the area. Hopefully you'll be lucky enough to see the cranes perform their incredible mating dance – don't forget to bring your camera!
This afternoon you'll transfer by private coach to Rausu, where this afternoon you'll have a chance to spot the rare Blakiston's fish owl and visit Notsuke Visitors Centre. A wonderful Japanese-style dinner will be included again this evening at your accommodation – where we also recommend that you take advantage of the onsen hot spring baths.

Overnight: Dai-ichi Hotel

Day 5

Take an icebreaker cruise amongst the ice floes of the Okhotsk Sea and visit one of Abashiri's fascinating museums.

This morning it's time to board an icebreaker for a cruise on the Okhotsk Sea. From your boat you'll be able to appreciate the wild scenery of the Shiretoko Peninsula and perhaps even get up close to a flock of Steller's Sea Eagles as they congregate on the ice floes.
Later on you will once again climb aboard a private coach and make your way to Abashiri, where this afternoon you'll visit the Abashiri Prison Museum, an interesting set of buildings that were constructed during the Meiji era (1868-1912). Dinner will be included tonight, at the hotel.

Overnight: Hokuten no Oka

Day 6-8

Marvel at the giant snow sculptures at Sapporo's famous Yuki Matsuri, or snow festival.

Today you will take the train from Abashiri to Sapporo, Hokkaido's capital city. The train ride will be an experience in itself, offering fantastic views of Hokkaido's vast, windswept snowscapes as you journey across country.
In Sapporo you'll have a chance to slow your pace a little and relax, with three nights in your hotel located conveniently next to Sapporo station.
We have timed your trip to coincide with Sapporo's Yuki Matsuri, or snow festival, a truly spectacular celebration during which the city plays host to hundreds of enormous ice and snow sculptures. On day seven you'll have a chance to join in the festivities, including an ice maze, tobogganing, sledge rides and even an ice bar. The city is well known in Japan for producing the country's best beer, and this evening you'll take a tour of the Asahi brewery and indulge in an included meal there.
On day eight you have another full day to enjoy the winter wonderland of Sapporo. We recommend visiting the Nijo Fish Market, checking out the Ainu Museum about Hokkaido's indigenous people, or perhaps scaling the TV tower for great views of the city.
If you're a keen skier or boarder, you could use this free day to hit the slopes of the Kiroro Ski Resort, just one hour away by bus. Your tour leader will be happy to help you organise a great value package including ski hire and a lift pass if this is up your street.

Overnight: Cross Hotel Sapporo

Day 9-11

Explore Kyoto, Japan's ancient capital, where you'll visit ancient temples and shrines and enjoy an exclusive audience with a trainee geisha.

Today it's time to leave Hokkaido behind and return to Honshu, Japan's main island, by plane. Flying from Sapporo to Kansai Airport, you'll then take the train to Kyoto, Japan's cultural heart and capital for over a millennium, from 794 until 1868.On arrival in the city you will drop off your luggage at your hotel in time to enjoy a delicious included meal with your group.
Kyoto's illustrious history as the seat of Imperial rule has left it with a bounty of ancient temples, shrines, palaces and gardens. In fact, Kyoto's heritage was considered so significant that it was spared bombing raids during World War Two, meaning that many of these historical treasures remain intact to this day.
On day ten your tour leader will take you on an extensive tour of the city, introducing you to some of its famous sites as well as some of its lesser-known treasures. This afternoon you will have the privilege of an exclusive audience with a maiko - or trainee geisha. This is a rare opportunity to ask questions and discover what life is like in this notoriously secretive world.
Finally, on day eleven, you will be free to continue exploring the countless sights of the city, or to make a day trip to one of the fascinating destinations within easy reach by rail. Your tour leader may be leading a tour of the former capital, Nara, just an hour's train ride away. You can choose to accompany the group, or make alternative plans if there is something else you'd like to see.

Overnight: Mitsui Garden Kyoto Shinmachi Bettei

Day 12-13

Visit the hot spring-bathing snow monkeys of Yudanaka, a tiny town in the Japanese Alps.

Today you'll swap Japan's ancient capital for mountain scenery as you journey by limited express train into the Japanese Alps to Yudanaka Onsen, a quaint hot spring town that has retained its historical feel, with crooked alleys and wooden buildings.
In Yudanaka you'll be spending two nights at a traditional ryokan inn, where futon mattresses are laid out for you on tatami-mat floors. A beautiful Japanese-style meal will be included on both nights of your stay.
On day 13 you will walk on snowy paths through the forest to Jigokudani Monkey Park, where you'll find Japan's most famous simian residents. The monkeys here have learnt to keep themselves warm by bathing in the natural hot spring waters, and even have fun throwing snowballs at one another from time to time!
When you return to your ryokan tonight, we recommend that you follow the monkeys' example and have a nice long soak in the inn's onsen hot spring baths.

Overnight: Ryokan View (Biyu No Yado)

Day 14-15

Spend a final night in the buzzing entertainment hub of Shinjuku, Tokyo.

Finally it's time for you to return to Tokyo for one last evening in the city. Hopefully you should arrive in time for a little last-minute souvenir shopping! Dinner is not included this evening, but we highly recommend that you join your tour leader and group for a farewell meal at one of the area's fantastic restaurants. You'll be staying in Shinjuku, a buzzing entertainment hub, so options are plentiful!
On day 15 you'll head to Shinjuku Station and catch the included airport bus to take you to the airport for your flight home. Have a safe trip!

Overnight: Sunroute Plaza Shinjuku
Close all days
Kyoto
Mount Mitoku
Misasa Onsen
Oki Islands
Matsue
Hagi
Hiroshima
Kyoto

An adventurous Small Group Tour for those who want to discover a beautiful yet little-visited rural area of Japan away from the tourist trail.

13 nights: US$5593 Read more >

Kyoto
Nagasaki
Unzen
Kumamoto
Mount Aso
Kagoshima
Yakushima
Kyoto

Get off the beaten track as you explore the cosmopolitan cities, traditional hot spring towns and primeval forests of Japan's third-biggest island.

13 nights: US$5285 Read more >

Tokyo
Hakone
Osaka
Kyoto
Takayama
Kamikochi
Tokyo

Classic Japan is a two-week trip that promises to introduce you to Japan's most iconic destinations and experiences.

13 nights: US$5033 Read more >