Pilgrim's stay on Haguro-san
Make your own pilgrimage to sacred Mount Haguro and stay in Buddhist temple lodgings.
Three mountains each with a shrine at the summit make up the sacred region Dewa Sanzan. This has long been an area of pilgrimage for followers of Shugendo, a folk religion based on mountain worship in a syncretic blend of Buddhism and Shintoism.
Of the three mountains Haguro is the most accessible with a toll road to the summit, however true pilgrims take the 2,446 steps which wind up through a cedar forest to Haguro-san Shrine. The shrine symbolises birth and is the first mountain shrine visited by pilgrims. (The other shrines on Mount Gas and Mount Yudono represent death and rebirth and are usually visited in that order.)
It's possible to overnight on Mount Haguro in a shukubo: special Buddhist lodgings for visiting pilgrims. Rooms are simple Japanese style with futon bedding on tatami mat floors. Breakfast and dinner are included and both are shojin-ryori, strict vegetarian cuisine which is traditional in Buddhism. In the morning guests are welcome to watch the shrine's early morning ceremony.
Make an Enquiry
For more information email us: [email protected] or call: + 44 117 244 3380
Important notice: We are pleased to be able to offer so many amazing experiences in Japan. However, we are sorry that we can only include these as a part of a full Japan holiday package which includes your accommodation and transport alongside the experiences presented in this section of the web site.

Pilgrim's stay on Haguro-san
located in Mount Haguro
Read more >
Interested in this Experience? It is included in this tour:
Journey through the lush rural landscapes of Tohoku, the region that stretches 500 miles north from Tokyo, on this superior two-week itinerary.

Japan's Tohoku region stretches 500 miles north of the capital and, in stark contrast to the modern skyscrapers of Tokyo, boasts outstanding natural beauty and well-preserved history – a reminder that traditional ways are still very much alive and well in Japan.
For a beautiful memento, why not keep a shuuin stamp book to record each temple you have visited?

An inspiring introduction to meditation with a Zen priest in a tranquil temple setting.

Spend a night in shukubo temple lodgings; a fantastic way to understand the simple, traditional lifestyle of Japan's Buddhist monks.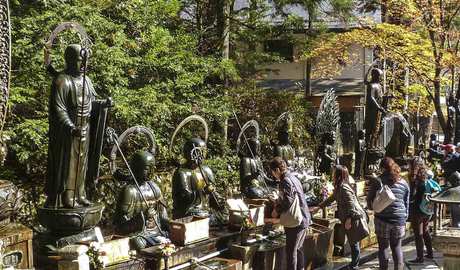 "Understanding fully the true nature of your own mind is equal to understanding everything." – From the Dainichi-kyo, Shingon Buddhist sutras.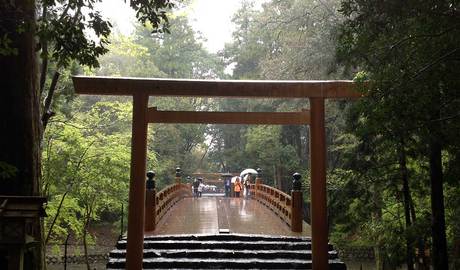 Ise's famous Shinto shrines are rebuilt every 20 years.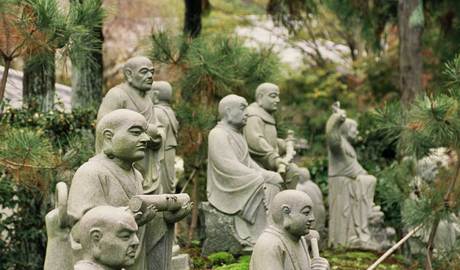 Temple number 19 of Shikoku's 88 temple circuit, Tatsue-ji offers overnight stays in simple shukubo lodgings.