Zazen meditation
An inspiring introduction to meditation with a Zen priest in a tranquil temple setting.
Buddhism first came to Japan from China in the 6th century. Of the many schools of Buddhism that took root in Japan, Zen is the most well known overseas and perhaps the most synonymous with Japanese culture. Tea ceremony, ikebana flower arranging, garden design and marital arts are all seen as direct expressions of Zen spirit. Bushido, the strict samurai code, was also heavily influenced by Zen Buddhism.
One of the most important teachings of Zen Buddhism is that one can achieve self enlightenment through meditation. InsideJapan are delighted to be able to offer visitors a unique meditation at one of Kyoto's most beautiful Zen temples. The meditation experience can also be combined with a tea ceremony at the temple.
Accompanied by a guide who will translate for you, the temple's chief priest will explain how to sit, breath and focus before initiating a 10 minute zazen (seated) meditation. Later the priest will continue his explanation of the ways of Zen before beginning another period of contemplation. At the end of the session the priest will take you on a tour of the temple and you can ask any questions you may have about Zen Buddhism, meditation of temple life in general.
Make an Enquiry
For more information email us: [email protected] or call: 303 952 0379
Important notice: We are pleased to be able to offer so many amazing experiences in Japan. However, we are sorry that we can only include these as a part of a full Japan holiday package which includes your accommodation and transport alongside the experiences presented in this section of the web site.

Interested in this Experience? It is included in this tour:
A deluxe tour covering Japan's classic sights in the very best of style, with luxury accommodation and a range of exclusive included experiences.

Explore Japan's classic sights in luxurious style on this deluxe group tour, with five-star hotels, top-quality cuisine and an array of exclusive cultural experiences arranged especially for your group. We organise departures on request, and can tailor an itinerary to your preferences.
Make your own pilgrimage to sacred Mount Haguro and stay in Buddhist temple lodgings.

Ise's famous Shinto shrines are rebuilt every 20 years.

Squeeze through the Buddha's nostril for enlightenment in your next life!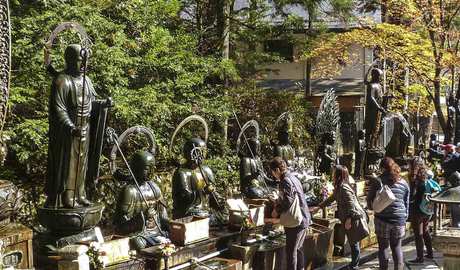 "Understanding fully the true nature of your own mind is equal to understanding everything." – From the Dainichi-kyo, Shingon Buddhist sutras.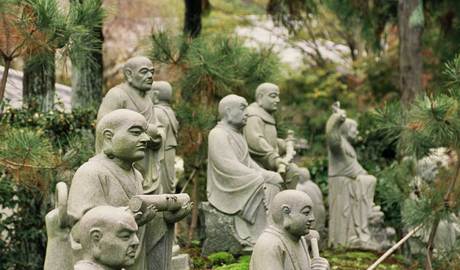 Temple number 19 of Shikoku's 88 temple circuit, Tatsue-ji offers overnight stays in simple shukubo lodgings.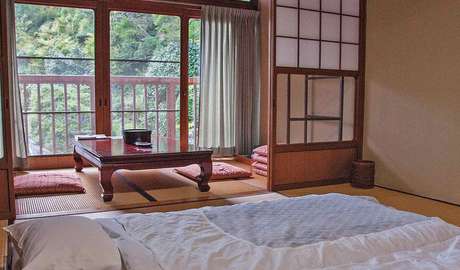 Spend a night in shukubo temple lodgings; a fantastic way to understand the simple, traditional lifestyle of Japan's Buddhist monks.