Kumamoto
Located on the west coast of Kyushu Island, Kumamoto is a city rich in samurai history and provides an excellent base for exploring Kumamoto Prefecture's many areas of great natural beauty.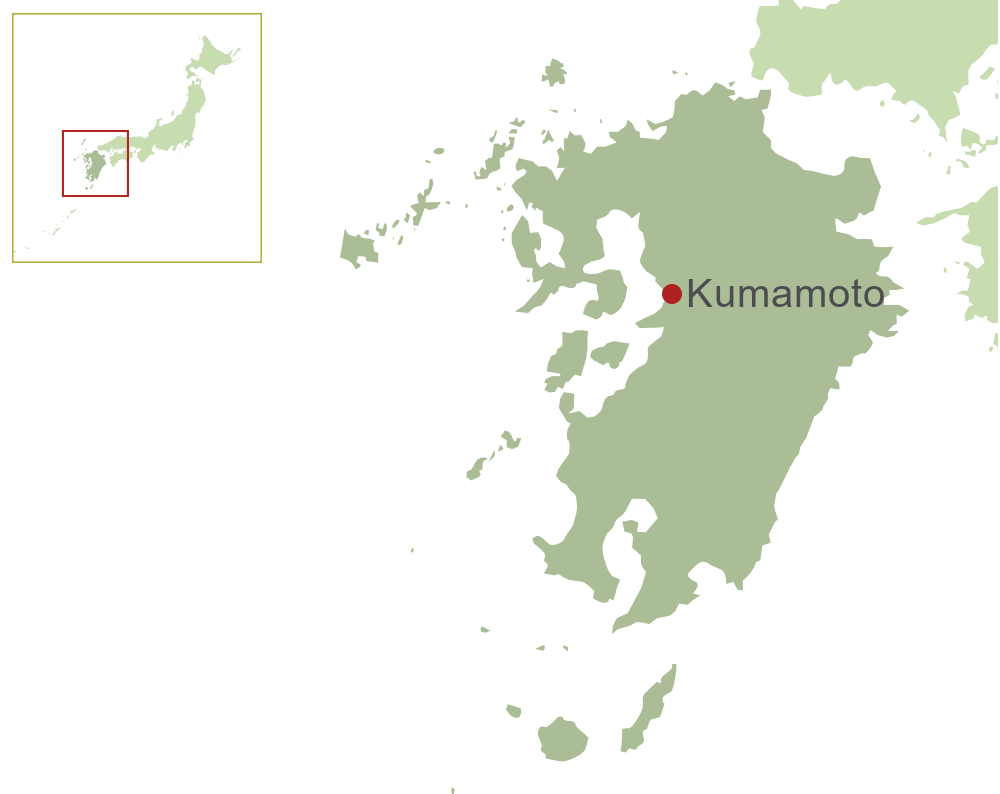 "Located between beaches, mountains and rural Japan, volcanic Kumamoto is a vibrant city you'll remember for great food, amazing hot springs, friendly locals, and a nightlife as rich as the city's long history."
Sophie Walker, Sustainability Coordinator
The city's signature landmark, Kumamoto Castle, is officially designated one of the top three original castles in Japan, and is most famous for its musha gaeshi curved stone walls, which offered maximum protection against attackers throughout the city's great history.
The castle is a great place to enjoy cherry blossom viewing (hanami), as is Suizenji Park - a group of traditional Japanese gardens which feature a miniature version of Mount Fuji and a teahouse brought all the way from the Kyoto Imperial Palace. Suizenji Park is a short tram ride out of the city and a nice place to relax and take in the beauty of a meticulous Japanese garden.
Other attractions in Kumamoto are its shrines and temples, the Hosokawa Samurai Residence, and Mount Kinpo - a mountain on the outskirts of town from which expansive views across the city and surrounding mountains can be enjoyed.
Legendary author and one of Japan's greatest swordsmen, Musashi Miyamoto, spent his last years of life in Kumamoto. It is said that he wrote his most famous work from the austere surroundings of Reigando Cave, now just outside the city centre, surrounded by tangerine trees.
Kumamoto is one of the few cities in Japan where the train station is not at the heart of the city. A short tram ride will see you in downtown Kumamoto and at the entrance to Shimotori and Kamitori shopping arcades. Filled with a great of array of restaurants, bars and shops, life in this relatively small city is 24/7 and there is always something to do.
If you want to get away from the urban hubbub, Kumamoto Prefecture has a lot to offer. Mount Aso, the largest active volcano in Japan and one of the largest calderas in the world, makes for a great day trip. It's even possible to take a short helicopter ride over the steaming cone for fantastic views of the area!
Meanwhile, for a relaxing ryokan stay, the renowned hot spring resort of Kurokawa Onsen is a fantastic choice - and the beautiful beaches of the nearby Amakusa islands are a well-kept secret well worth checking out. Few visitors to Japan make it this far down south, but for those who do Kumamoto has much to offer.
Recommended Accommodation in Kumamoto
The following are our favourites from among the western-style hotels and Japanese-style inns of Kumamoto.

Experiences in Kumamoto
Kumamoto offers a wealth of exciting experiences that will help you get beneath the surface of Japan's fascinating culture. See below for a few of our favourites
Weather in Kumamoto
The Climate Guide for Kumamoto, Japan is perfect for planning your holiday. Monthly weather averages give the best indication of what the weather is usually like for every month of the year including figures for temperature, rainfall and sunshine.
Jan
Feb
Mar
Apr
May
Jun
Jul
Aug
Sep
Oct
Nov
Dec
Max Daytime Temperature (°C)
8
10
13
19
23
26
29
30
27
22
16
11
Min Night-time Temperature (°C)
-1
0
4
9
13
18
22
22
18
12
7
1
Hours of Sunshine (Daily)
4
4
5
5
6
5
6
7
5
6
5
4
Hours of Daylight (Daily)
10
11
12
13
14
14
14
13
12
11
10
10
Heat and Humidity Discomfort
None
None
None
None
None
Low
High
High
Moderate
None
None
None
Days with some Rainfall
18
17
18
17
16
20
21
18
17
13
13
16
Monthly Rainfall (mm)
75
96
170
190
219
485
462
247
204
102
77
48
UV Index (Maximum)
3
5
7
9
10
11
11
11
9
6
4
3
Featured trips including Kumamoto
Nagasaki
Kagoshima
Yakushima
Kirishima National Park
Kumamoto
Kurokawa Onsen
Fukuoka

Discover the impressive landscapes and vibrant cities of Kyushu on this journey from the forests of Yakushima to Kurokawa Onsen's hot springs

13 nights: from US$5252 pp (twin share) Read more >

Nagasaki
Kagoshima
Yakushima
Kirishima National Park
Kumamoto
Kurokawa Onsen
Fukuoka

If you're an adventurous traveller who wants to discover a side of Japan rarely seen by outsiders, this itinerary could be the one for you.

13 nights: from US$3406 pp (twin share) Read more >