Self-Guided Adventure
Kyushu Adventure
14 Nights: from US$4312 per person (twin share)
Trip Code: KAC
Stand in the shade of a thousand-year-old Japanese cedar, visit a Bond villain's lair on an abandoned island and investigate a volcanic caldera lake on this spectacular exploration of Japan's rural south-western region. Read more >
Kyushu is the third biggest of Japan's four main islands, lying to the southwest of the country. Kyushu's cities are excellent proof that there is plenty of outstanding scenery, history and local cuisine to be found outside their famous cousins on Japan's main island. This is why your adventure will begin in the exciting hub of Fukuoka, not Tokyo, allowing you more time to see more of this little-visited region.
After fun-loving Fukuoka you'll visit Kumamoto - home of the ever-popular "Kumamon" mascot, stunning Suizenji Garden and Kumamoto Castle.
Nagasaki, famous as the second city to be hit by an atomic bomb during World War Two, is now a vibrant and cosmopolitan city. During Japan's long period of isolation it was the only port open to foreign trade, a fact that is still evident in the distinctly European atmosphere and style of architecture at Glover Gardens and Dejima "Exit Island".
Whilst here you'll take a cruise to the tiny island of Gunkanjima, or "Battleship Island". Once a densely-populated coal mine; now a haunting and dilapidated ghost town - this fascinating island served as the inspiration for the villain's lair in the 2012 James Bond film Skyfall.
Woven between these city stays you'll be introduced to lush countryside - from the ancient forests of Yakushima Island, the inspiration for Miyazaki's seminal animated film Princess Mononoke, to the wonderfully evocative traditional hot spring town of Kurokawa Onsen in the shadow of the still-steaming Aso volcano.
What's included
14 nights' accommodation in Japan

Breakfast every day and six evening meals

Airport transfers by private car

All transport between destinations including bus, train and ferry tickets

Car hire in Kurokawa Onsen and Yakushima

Domestic flight from Yakushima to Fukuoka

Half-day private guide service in Nagasaki and Yakushima

Cruise to Gunkanjima Island

Pocket WiFi device

Your personalised InsideJapan Info-Pack
What's NOT included:
International flights

Any local transport (taxis, buses, subways) unless otherwise specified

Any entrance fees (including those for temples, shrines and museums) unless otherwise specified

Baggage handling & luggage forwarding
Trip Highlights
Investigate a volcanic caldera lake on Mount Aso

Take a tour of Gunkanjima "ghost island"

Experience life in the vibrant cities of Japan's southwest
Trek to Jomon sugi, the oldest tree on Yakushima

Visit the beautiful Suizenji Garden in Kumamoto
For more information email us: [email protected] or call: + 44 117 244 3380
What, where, when and how...
Kyushu Adventure - 15 Days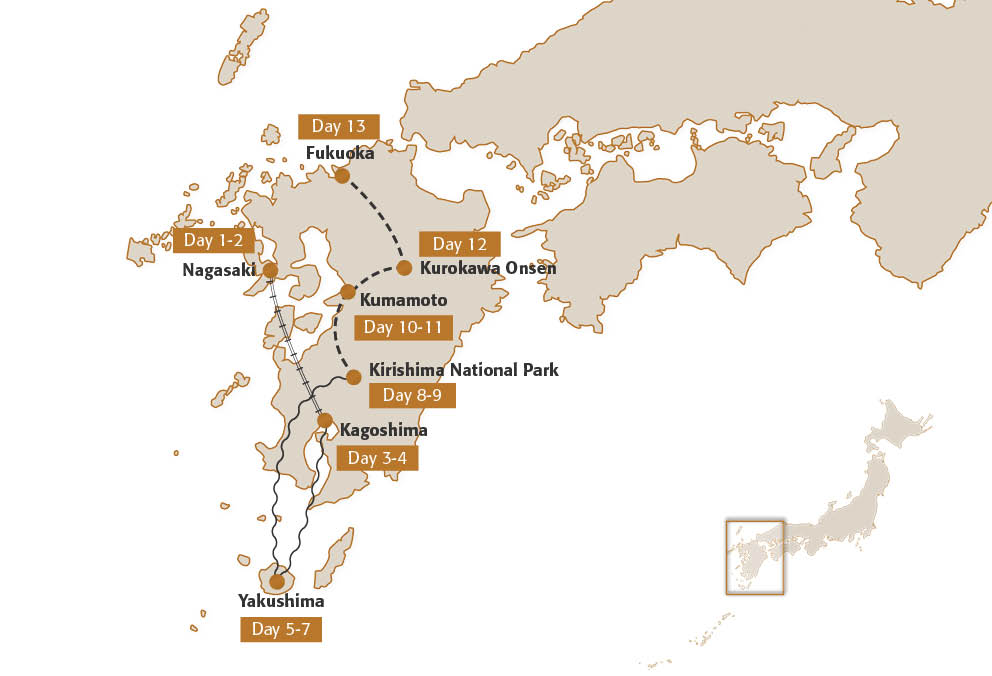 Kyushu Adventure - 15 Days - Day by Day
Kyushu Adventure - 15 Days - Accommodation
Kyushu Adventure - 15 Days - Experiences
Day 1-2

Today you will touch down in Fukuoka, the largest city on Kyushu Island.

A private car and diver will meet you at the airport and escort you to your first hotel. Though the overwhelming majority of travellers to Japan arrive in Tokyo, this trip takes you on a more unusual route - demonstrating that there is much more to Japan than its famous capital.
Your first two days will be spent discovering the many charms of Fukuoka while you adjust to life in Japan. Because of its proximity to the Asian mainland, Fukuoka has historically had an important role in overseas trade. It is known throughout Japan for its excellent food, so be sure to visit the yatai food stalls on the seafront and try a bowl of delicious hakata ramen noodles. On day two you can choose between continuing to explore Fukuoka and taking an optional day trip to a different location - like the nearby town of Dazaifu, Yanagawa, or the amazing giant reclining Buddha of Nanzoi-in – an astounding 41 m long and 11 m high!

Overnight: JR Kyushu Hotel Blossom Hakata Chuo

Day 3-4

Today you will jump aboard a limited express train and make your way to Nagasaki, another of Kyushu's lively and exciting port cities.

After your arrival you will have the rest of the day to explore the city, which has one of the most diverse histories of anywhere in Japan – from the Portuguese missionaries in the 16th century to the atomic bomb that finally ended Japan's involvement in World War Two. Your tailor-made Info-Pack will be full of great tips as to how to make the most of your time today.
On day four you will have the services of a private local guide who will spend four hours showing you around Nagasaki. Highlights may include Glover Gardens (home to the oldest Western-style building in Japan); Dejima trading post, where Dutch and Portguese traders used to land during Japan's period of isolation; and the Peace Park and Museum, which tell the story of the atomic bomb. The morning's itinerary will be up to you, though the guide will have plenty of great suggestions.
In the afternoon you will be boarding a boat for a cruise to Gunkanjima. Once the most densely populated piece of land on earth, Gunkanjima was a thriving mining community until it was suddenly deserted by all its inhabitants – leaving a creepy ghost town that remains abandoned to this day.

Overnight: Hotel Forza Nagasaki

Day 5

Soak in volcanic hot springs at Unzen Onsen, home to an active volcano and part of Japan's first national park.

Travelling by bus and train south, you will arrive in the rural hot spring resort of Unzen, set amongst a Martian landscape of reddish colours and bellowing clouds of sulphuric gas. Take a walk alongside the bubbling waters of Jigokudani "Hell Valley", or soak in a mineral-rich bath- the choice is yours. Your accommodation tonight will be in a traditional Japanese ryokan inn with a delicious kaiseki-style meal included in your stay.

Day 6

Your next destination is the small town of Kumamoto, reached by bus and ferry from Unzen.

Kumamoto boasts its own rich samurai history centring around Kumamoto Castle, one of Japan's most impressive castles. Although the main keep is a reconstruction (like most in Japan), several original wooden buildings dating from the seventeenth century unusually remain. Spectacular Suizenji garden is also well worth a visit this afternoon.
Kumamoto is also home to one of Japan's most famous and popular prefecture mascots, the lovable bear Kumamon, whose face you will no doubt spot embellishing goods throughout the city.

Overnight: Mitsui Garden Hotel Kumamoto

Day 7-8

Today you will pick up your hire car in Kumamoto and make your way by road to the Aso region, a volcanic caldera 75 miles in circumference created by massive eruptions at Mount Aso 300,000 years ago.

This afternoon you should have plenty of time to explore the area or just relax at your hotel – from which there are spectacular views of the Aso mountains. A delicious meal is included at your accommodation this evening.
With a full day to get to know the Aso area on day seven, make the most of the fantastic hiking opportunities around the caldera or take the cable car up to the crater of active Nake-Dake volcano to gaze at the smoke billowing out. From the steaming slopes of Mount Aso, you will get a close-up reminder of the powerful forces of nature lying just beneath Japan's surface.
Relax in your hotel this evening which offers fabulous hot spring baths and another kaiseki-style dinner tonight.

Overnight: Okunoyu Ryokan

Day 9-10

Today you'll travel by car and Shinkansen bullet train to Kagoshima, which is often compared with its Italian sister city, Naples, for its similar balmy climate, palm-lined streets and Sakurajima – Kagoshima's Vesuvius.

This afternoon you'll have time to begin familiarising yourself with the city of Kagoshima, Kyushu's southernmost major city. There is an excellent collection of yatai food stands near the station that is a great place for sampling some traditional street food for dinner.
After a night at your hotel, you'll have a further full day to continue your exploration. With a full day in Kagoshima today, you could visit Senganen garden to the north of the city or Shiroyama from where there are spectacular views of the volcano. Spend a few hours at one of the museums, the ruins of the castle or take a ferry across the bay to the volcano itself where there are some beautiful viewpoints and a relaxing (free) outdoor foot onsen bath.
If you are feeling more adventurous you may like to make a day trip north into the Kirishima National Park, a beautiful area famous for its volcanic scenery and colourful lakes or perhaps south along the coast to Ibusuki, famed for the sunamushi onsen on the beach. Here you will be buried in hot volcanic sand up to your head before enjoying the indoor hot spring baths.

Overnight: Richmond Kinseicho Kagoshima

Day 11-13

Speed across the sea to Yakushima, an island off the Kyushu coast that is known for its primeval forests filled with thousand-year-old Japanese cedar trees.

From Kagoshima you will be taking the speedy jetfoil ferry to the World Heritage site of Yakushima Island from which there are wonderful views of Cape Sata and the near perfect cone of Mount Kaimon. Yakushima is one of Japan's most treasured natural wonders boasting a stunning ancient forest containing 1900 species of flora and dating back thousands of years.
Over the course of your three days on the island you will be staying close to the sea and the ancient forests, allowing you to enjoy and absorb the atmosphere of this magical island – with a delicious evening meal included on every night of your stay. Day 12 will include a guided trek through Yakusugi Land, a nature park filled with Japanese cedar trees (sugi) – some of which have been growing for over a thousand years.
Whilst on Yakushima you will also have the convenience of a hire car, allowing you to explore at your own pace on day thirteen, when you'll have a free day to explore the island under your own steam. Perhaps you'd like to make your way to see one of the beautiful local waterfalls, or try out a hot spring on the beach!

Overnight: Shiki no Yado Onoaida

Day 14-15

Fly from Yakushima to Fukuoka for a final night in one of Japan's most vibrant cities.

On day 14 you'll need to drop you hire car off at tiny Yakushima Airport before flying back to Fukuoka, where your trip comes full circle. Use your final evening in the city to make the most of the famed local cuisine and perhaps even head out for a night of karaoke for a really Japanese final night in Japan! Finally, on day 15 it's time to head back to Fukuoka Airport by private car for your flight home. We hope to see you again soon!

Overnight: Richmond Fukuoka Tenjin
View all days
Day 1-2

Today you will touch down in Fukuoka, the largest city on Kyushu Island.

A private car and diver will meet you at the airport and escort you to your first hotel. Though the overwhelming majority of travellers to Japan arrive in Tokyo, this trip takes you on a more unusual route - demonstrating that there is much more to Japan than its famous capital.
Your first two days will be spent discovering the many charms of Fukuoka while you adjust to life in Japan. Because of its proximity to the Asian mainland, Fukuoka has historically had an important role in overseas trade. It is known throughout Japan for its excellent food, so be sure to visit the yatai food stalls on the seafront and try a bowl of delicious hakata ramen noodles. On day two you can choose between continuing to explore Fukuoka and taking an optional day trip to a different location - like the nearby town of Dazaifu, Yanagawa, or the amazing giant reclining Buddha of Nanzoi-in – an astounding 41 m long and 11 m high!

Overnight: JR Kyushu Hotel Blossom Hakata Chuo

Day 3-4

Today you will jump aboard a limited express train and make your way to Nagasaki, another of Kyushu's lively and exciting port cities.

After your arrival you will have the rest of the day to explore the city, which has one of the most diverse histories of anywhere in Japan – from the Portuguese missionaries in the 16th century to the atomic bomb that finally ended Japan's involvement in World War Two. Your tailor-made Info-Pack will be full of great tips as to how to make the most of your time today.
On day four you will have the services of a private local guide who will spend four hours showing you around Nagasaki. Highlights may include Glover Gardens (home to the oldest Western-style building in Japan); Dejima trading post, where Dutch and Portguese traders used to land during Japan's period of isolation; and the Peace Park and Museum, which tell the story of the atomic bomb. The morning's itinerary will be up to you, though the guide will have plenty of great suggestions.
In the afternoon you will be boarding a boat for a cruise to Gunkanjima. Once the most densely populated piece of land on earth, Gunkanjima was a thriving mining community until it was suddenly deserted by all its inhabitants – leaving a creepy ghost town that remains abandoned to this day.

Overnight: Hotel Forza Nagasaki

Day 5

Soak in volcanic hot springs at Unzen Onsen, home to an active volcano and part of Japan's first national park.

Travelling by bus and train south, you will arrive in the rural hot spring resort of Unzen, set amongst a Martian landscape of reddish colours and bellowing clouds of sulphuric gas. Take a walk alongside the bubbling waters of Jigokudani "Hell Valley", or soak in a mineral-rich bath- the choice is yours. Your accommodation tonight will be in a traditional Japanese ryokan inn with a delicious kaiseki-style meal included in your stay.

Day 6

Your next destination is the small town of Kumamoto, reached by bus and ferry from Unzen.

Kumamoto boasts its own rich samurai history centring around Kumamoto Castle, one of Japan's most impressive castles. Although the main keep is a reconstruction (like most in Japan), several original wooden buildings dating from the seventeenth century unusually remain. Spectacular Suizenji garden is also well worth a visit this afternoon.
Kumamoto is also home to one of Japan's most famous and popular prefecture mascots, the lovable bear Kumamon, whose face you will no doubt spot embellishing goods throughout the city.

Overnight: Mitsui Garden Hotel Kumamoto

Day 7-8

Today you will pick up your hire car in Kumamoto and make your way by road to the Aso region, a volcanic caldera 75 miles in circumference created by massive eruptions at Mount Aso 300,000 years ago.

This afternoon you should have plenty of time to explore the area or just relax at your hotel – from which there are spectacular views of the Aso mountains. A delicious meal is included at your accommodation this evening.
With a full day to get to know the Aso area on day seven, make the most of the fantastic hiking opportunities around the caldera or take the cable car up to the crater of active Nake-Dake volcano to gaze at the smoke billowing out. From the steaming slopes of Mount Aso, you will get a close-up reminder of the powerful forces of nature lying just beneath Japan's surface.
Relax in your hotel this evening which offers fabulous hot spring baths and another kaiseki-style dinner tonight.

Overnight: Okunoyu Ryokan

Day 9-10

Today you'll travel by car and Shinkansen bullet train to Kagoshima, which is often compared with its Italian sister city, Naples, for its similar balmy climate, palm-lined streets and Sakurajima – Kagoshima's Vesuvius.

This afternoon you'll have time to begin familiarising yourself with the city of Kagoshima, Kyushu's southernmost major city. There is an excellent collection of yatai food stands near the station that is a great place for sampling some traditional street food for dinner.
After a night at your hotel, you'll have a further full day to continue your exploration. With a full day in Kagoshima today, you could visit Senganen garden to the north of the city or Shiroyama from where there are spectacular views of the volcano. Spend a few hours at one of the museums, the ruins of the castle or take a ferry across the bay to the volcano itself where there are some beautiful viewpoints and a relaxing (free) outdoor foot onsen bath.
If you are feeling more adventurous you may like to make a day trip north into the Kirishima National Park, a beautiful area famous for its volcanic scenery and colourful lakes or perhaps south along the coast to Ibusuki, famed for the sunamushi onsen on the beach. Here you will be buried in hot volcanic sand up to your head before enjoying the indoor hot spring baths.

Overnight: Richmond Kinseicho Kagoshima

Day 11-13

Speed across the sea to Yakushima, an island off the Kyushu coast that is known for its primeval forests filled with thousand-year-old Japanese cedar trees.

From Kagoshima you will be taking the speedy jetfoil ferry to the World Heritage site of Yakushima Island from which there are wonderful views of Cape Sata and the near perfect cone of Mount Kaimon. Yakushima is one of Japan's most treasured natural wonders boasting a stunning ancient forest containing 1900 species of flora and dating back thousands of years.
Over the course of your three days on the island you will be staying close to the sea and the ancient forests, allowing you to enjoy and absorb the atmosphere of this magical island – with a delicious evening meal included on every night of your stay. Day 12 will include a guided trek through Yakusugi Land, a nature park filled with Japanese cedar trees (sugi) – some of which have been growing for over a thousand years.
Whilst on Yakushima you will also have the convenience of a hire car, allowing you to explore at your own pace on day thirteen, when you'll have a free day to explore the island under your own steam. Perhaps you'd like to make your way to see one of the beautiful local waterfalls, or try out a hot spring on the beach!

Overnight: Shiki no Yado Onoaida

Day 14-15

Fly from Yakushima to Fukuoka for a final night in one of Japan's most vibrant cities.

On day 14 you'll need to drop you hire car off at tiny Yakushima Airport before flying back to Fukuoka, where your trip comes full circle. Use your final evening in the city to make the most of the famed local cuisine and perhaps even head out for a night of karaoke for a really Japanese final night in Japan! Finally, on day 15 it's time to head back to Fukuoka Airport by private car for your flight home. We hope to see you again soon!

Overnight: Richmond Fukuoka Tenjin
Close all days
Other trips you may like
Tokyo
Miyajima
Matsue
Kinosaki Onsen
Kyoto
Tokyo

Japan's hot spring bathing culture and scenic countryside make it a wonderfully romantic setting for a honeymoon.

12 nights: from US$7714 pp (twin share) Read more >

Tokyo
Kyoto
Hiroshima
Miyajima
Osaka
Tokyo

Travelling by yourself to Japan? Look no further than our Japan Solo itinerary to take all the guesswork and stress out of your holiday planning.

11 nights: from US$3570 pp Read more >

The constant bad economic news has been getting everyone a bit down, so we've created this bargain seven-night Japanese getaway to beat the blues!

7 nights: from US$1428 pp (twin share) Read more >