Self-Guided Adventure
Kyushu Adventure
13 Nights: from US$3406 per person (twin share)
Trip Code: KAC
Discover the impressive landscapes and vibrant cities of Kyushu on this journey from the forests of Yakushima to Kurokawa Onsen's hot springs Read more >
Kyushu is the third biggest of Japan's four main islands, lying to the southwest of the country. Kyushu's cities are excellent proof that there is plenty of outstanding scenery, history and local cuisine to be found outside their famous cousins on Japan's main island.
You'll begin in Nagasaki, infamous as the second city to be hit by an atomic bomb during World War Two, is now a vibrant and cosmopolitan city. During Japan's long period of isolation, it was the only port open to foreign trade, a fact that is still evident in the distinctly European atmosphere and style of architecture at Glover Gardens and Dejima "Exit Island".
Next up is Kagoshima, a seaside city looking out over an active volcano, Sakurajima. Here you can learn about the political importance of Kagoshima and the powerful samurai clans who ruled here up until the late 19th century.
After Kagoshima you'll be introduced to lush countryside - from the ancient forests of Yakushima Island, the inspiration for Miyazaki's seminal animated film Princess Mononoke, to the wild beauty of Kirishima National Park, with dozens of hiking trails and hot spring baths.
Kumamoto will be your next base for visiting the castle and beautiful gardens, and for a day trip out to one of Kyushu's most impressive natural spots: Takachiho Gorge.
Before ending in Fukuoka, home of some of the best street food in the region, you'll spend one night in our favourite hot spring town on Kyushu: Kurokawa Onsen, in the shadow of the still-steaming Aso volcano. Exquisite seasonal cuisine, steaming baths, and warm hospitality await you here.
Start and finish: This itinerary is designed to start in Nagasaki and finish in Fukuoka. We can make arrangements for you before arriving in Nagasaki, and can tailor an add-on to take you up to one of the international airports in Osaka or Tokyo for your flight home. Alternatively, if you're interested in exploring more of Asia, Fukuoka is one of the main gateways to South Korea, with flights and ferries connecting the two. Head on over to our sister brand, InsideAsia Tours, for more details on a multi-country trip. Our Best of Korea & Japan self-guided itinerary shows off the best of both countries, or you can eat your way across Asia on A Taste of Japan & South Korea.
Transport: Our itinerary includes two lots of car hire: once on Yakushima Island where public transport is limited, and again from Kirishima National Park to Fukuoka. We provide full directions and your car will have English sat-nav. Although there's a main Shinkansen bullet train line running north to south through Kyushu, it only connects the main cities. In order to get the best experience and see as much of Kyushu's natural beauty as possible, a car is the best way to explore. If you'd prefer to use other transport such as private cars, we can arrange that for you - just let us know.
Driving in Japan: Please note that to drive in Japan you will need to obtain an International Driving Permit (IDP) before you leave your home country.
What's included
13 nights' accommodation in Japan (six nights Japanese-style)

Breakfast every day and six evening meals

Airport transfers by private car

All transport between destinations including bus, train and ferry tickets

10 days' car hire

Pocket WiFi device

Your personalised InsideJapan Info-Pack
What's NOT included:
International flights

Any local transport (taxis, buses, subways) unless otherwise specified

Any entrance fees (including those for temples, shrines and museums) unless otherwise specified

Baggage handling & luggage forwarding

Petrol (gas) for car hire
Trip Highlights
Explore the wild beauty of Kirishima National Park

Learn about the feudal history of Kagoshima

Boat down Takachiho Gorge
Trek through the ancient forests of Yakushima Island

Visit the beautiful Suizenji Garden in Kumamoto

Soak in the hot spring baths of Kurokawa Onsen
For more information email us: [email protected] or call: + 44 117 244 3380
What, where, when and how...
Kyushu Adventure - 14 Days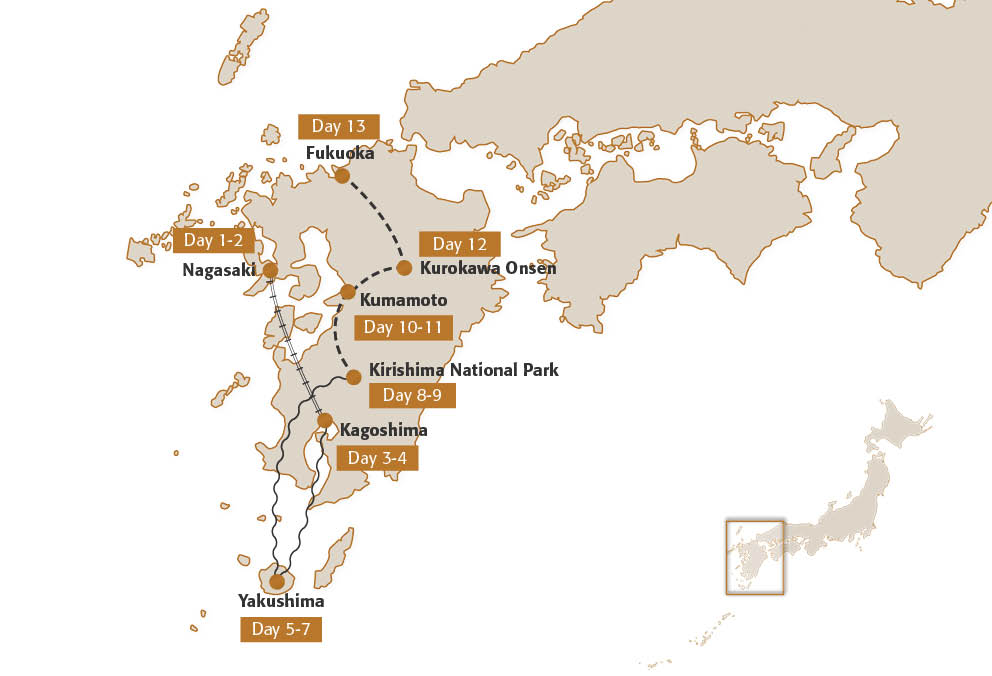 Kyushu Adventure - 14 Days - Day by Day
Kyushu Adventure - 14 Days - Accommodation
Kyushu Adventure - 14 Days - Experiences
Day 1-2

Kick-off your Kyushu Adventure in this cosmopolitan coastal city.

After your arrival you will have the rest of the day to explore the city, which has one of the most diverse histories of anywhere in Japan – from the Portuguese missionaries in the 16th century to the atomic bomb that finally ended Japan's involvement in World War Two. Your tailor-made Info-Pack will be full of great tips as to how to make the most of your time today.
You'll have the following day at leisure to explore. Highlights include Glover Gardens (home to the oldest Western-style building in Japan); Dejima trading post, where Dutch and Portuguese traders used to land during Japan's period of isolation; and the Peace Park and Museum, which tell the story of the atomic bomb.

Overnight: Hotel Forza Nagasaki

Day 3-4

Take the Shinkansen bullet train south to Kagoshima, and marvel at smoking Sakurajima from Sengan-en's gardens.

After a 3-hour train ride on the sleek Shinkansen bullet train, you'll have the afternoon to begin familiarising yourself with the city of Kagoshima, Kyushu's southernmost major city. To start with, we recommend a visit to Sengan-en, a sprawling mansion that belongs to the Shimadzu clan who were once one of the most powerful samurai families in the region – and the whole of Japan. After wandering through the gardens and learning about the history, you can enjoy a late lunch or afternoon treat in the café overlooking Sakurajima volcano out in the bay.
For dinner there is an excellent collection of yatai food stands near the station that is a great place for sampling some traditional street food.
On your second day, if you are feeling adventurous you may like to make a day trip south along the coast to Ibusuki, famed for the sunamushi onsen on the beach. Here you will be buried in hot volcanic sand up to your head before enjoying the indoor hot spring baths. Rest up, you've got a few days of hiking and island exploration awaiting you!

Overnight: Richmond Kinseicho Kagoshima

Day 5-7

Speed across the sea to Yakushima, an island off the Kyushu coast that is known for its primeval forests filled with thousand-year-old Japanese cedar trees.

From Kagoshima you will be taking the speedy jetfoil ferry to the World Heritage site of Yakushima Island from which there are wonderful views of Cape Sata and the near perfect cone of Mount Kaimon. Yakushima is one of Japan's most treasured natural wonders boasting a stunning ancient forest containing 1900 species of flora and dating back thousands of years.
Over the course of your three days on the island you will be staying close to the sea and the ancient cedar forests, allowing you to enjoy and absorb the atmosphere of this magical island – with a delicious evening meal included on every night of your stay.
Yakushima has some incredible hiking routes: Yakusugi Land is a good option if you want something short yet scenic. Shiratani Unsuikyo has longer routes and its moss forests were the inspration behind Studio Ghibli's Princess Mononoke film. If you reach Taiko Iwa (drum rock) at the summit – and it's not raining! - you'll be treated to views across the island. If you're feeling very adventurous, the day-long hike to Jomon-sugi, the huge cedar that's believed to be between 3,000 and 7,000 years old, is well worth it. Just be ready for 10 hours of hiking.
Whilst on Yakushima you will also have the convenience of a hire car, allowing you to explore at your own over two full days. In addition to hiking, you might like to make your way to see one of the beautiful local waterfalls, or try out a hot spring on the beach!

Overnight: Shiki no Yado Onoaida

Day 8-9

Return to the mainland and head north to the rugged beauty of Kirishima National Park.

The first half of the day will see you drop off your car, take a ferry back to Kagoshima, and pick up another rental car for the 1.5-hour drive north to Kirishima National Park where you'll have a day and a half at leisure.
The sprawling region is made up of rugged mountains, highland plateaus, volcanic lakes and hot springs, which combine to make a beautiful hiking destination. The routes vary in difficulty and length, from a two-hour lake course to a short but rewarding trek up Mount Kurinodake for views all the way to Sakurajima, the volcano island off the coast of Kagoshima city, so you're bound to find something to fit your level.
If you'd prefer to leave the hiking boots behind, there's plenty to draw your interest. Kirishima-Jingu Shrine is one of the most important in the country and even features in the Japanese national anthem; if you visit in spring or autumn you'll be treated to cherry blossom or deep red autumn leaves. Art fans are sure to enjoy the open-air museum which features pieces from artists like Yayoi Kusama and James Turrell. And if you're a fan of a hot spring bath, there are plenty scattered across the area – perfect at the end of a day of hiking or simply as a relaxing treat!

Overnight: Kirishima Seiryuso

Day 10-11

Visit Kumamoto castle and take a day trip out to Takachiho Gorge.

Next up is the small castle town of Kumamoto, which was heavily damaged in an earthquake in 2016. In addition to the restored castle, Suizenji is well worth a visit as a beautiful example of a traditional Japanese garden.
The following day you can hop back in your rental car and travel east for a trip to visit Takachiho Gorge, where sheer basalt cliffs line the Gokase River. There are two ways to enjoy the views; you can rent a boat and row along to get up-close views of the waterfall, or you can walk along the cliffside path which is around a one-hour round trip.
On your way back to Kumamoto in the afternoon, you might like to stop off at the Kunimigaoka viewing platform, which offers views across the mountainous countryside; if you're visiting in the autumn, you might be lucky enough to see the "unkai" phenomenon where the valleys is filled with a "sea of clouds".

Overnight: Mitsui Garden Hotel Kumamoto

Day 12

Relax in the restorative hot spring waters of Kurokawa Onsen.

The drive between Kumamoto and Kurokawa Onsen will take you past Mount Aso, an active volcano and one of the most impressive natural sights in Kyushu. Due to volcanic activity, access to the caldera is sometimes stopped but you can still enjoy views from afar.
Then it's on to the hot spring town of Kurokawa Onsen. You'll be staying in a traditional ryokan inn where you can tuck into an extensive kaiseki meal of seasonal dishes, before bedding down on futon mattresses for the night.

Overnight: Okunoyu Ryokan

Day 13-14

Round off your Kyushu trip in Fukuoka, the largest city on the island.

The drive to Fukuoka takes a little over two hours; you can drive direct or stop off in Dazaifu, a small town that used to be the administrative heart of the whole of Kyushu for over five centuries. The main draw is Dazaifu Tenmangu Shrine which dates back to the end of the 16th century, and the shrine approach is full of traditional dessert cafes and little shops selling good luck charms and other souvenirs.
You'll have the rest of the day at leisure in Fukuoka. We recommend heading to the Tenjin area to check out the yatai street food stalls to celebrate the end of your Kyushu trip.

Overnight: Mitsui Garden Hotel Fukuoka Gion
View all days
Day 1-2

Kick-off your Kyushu Adventure in this cosmopolitan coastal city.

After your arrival you will have the rest of the day to explore the city, which has one of the most diverse histories of anywhere in Japan – from the Portuguese missionaries in the 16th century to the atomic bomb that finally ended Japan's involvement in World War Two. Your tailor-made Info-Pack will be full of great tips as to how to make the most of your time today.
You'll have the following day at leisure to explore. Highlights include Glover Gardens (home to the oldest Western-style building in Japan); Dejima trading post, where Dutch and Portuguese traders used to land during Japan's period of isolation; and the Peace Park and Museum, which tell the story of the atomic bomb.

Overnight: Hotel Forza Nagasaki

Day 3-4

Take the Shinkansen bullet train south to Kagoshima, and marvel at smoking Sakurajima from Sengan-en's gardens.

After a 3-hour train ride on the sleek Shinkansen bullet train, you'll have the afternoon to begin familiarising yourself with the city of Kagoshima, Kyushu's southernmost major city. To start with, we recommend a visit to Sengan-en, a sprawling mansion that belongs to the Shimadzu clan who were once one of the most powerful samurai families in the region – and the whole of Japan. After wandering through the gardens and learning about the history, you can enjoy a late lunch or afternoon treat in the café overlooking Sakurajima volcano out in the bay.
For dinner there is an excellent collection of yatai food stands near the station that is a great place for sampling some traditional street food.
On your second day, if you are feeling adventurous you may like to make a day trip south along the coast to Ibusuki, famed for the sunamushi onsen on the beach. Here you will be buried in hot volcanic sand up to your head before enjoying the indoor hot spring baths. Rest up, you've got a few days of hiking and island exploration awaiting you!

Overnight: Richmond Kinseicho Kagoshima

Day 5-7

Speed across the sea to Yakushima, an island off the Kyushu coast that is known for its primeval forests filled with thousand-year-old Japanese cedar trees.

From Kagoshima you will be taking the speedy jetfoil ferry to the World Heritage site of Yakushima Island from which there are wonderful views of Cape Sata and the near perfect cone of Mount Kaimon. Yakushima is one of Japan's most treasured natural wonders boasting a stunning ancient forest containing 1900 species of flora and dating back thousands of years.
Over the course of your three days on the island you will be staying close to the sea and the ancient cedar forests, allowing you to enjoy and absorb the atmosphere of this magical island – with a delicious evening meal included on every night of your stay.
Yakushima has some incredible hiking routes: Yakusugi Land is a good option if you want something short yet scenic. Shiratani Unsuikyo has longer routes and its moss forests were the inspration behind Studio Ghibli's Princess Mononoke film. If you reach Taiko Iwa (drum rock) at the summit – and it's not raining! - you'll be treated to views across the island. If you're feeling very adventurous, the day-long hike to Jomon-sugi, the huge cedar that's believed to be between 3,000 and 7,000 years old, is well worth it. Just be ready for 10 hours of hiking.
Whilst on Yakushima you will also have the convenience of a hire car, allowing you to explore at your own over two full days. In addition to hiking, you might like to make your way to see one of the beautiful local waterfalls, or try out a hot spring on the beach!

Overnight: Shiki no Yado Onoaida

Day 8-9

Return to the mainland and head north to the rugged beauty of Kirishima National Park.

The first half of the day will see you drop off your car, take a ferry back to Kagoshima, and pick up another rental car for the 1.5-hour drive north to Kirishima National Park where you'll have a day and a half at leisure.
The sprawling region is made up of rugged mountains, highland plateaus, volcanic lakes and hot springs, which combine to make a beautiful hiking destination. The routes vary in difficulty and length, from a two-hour lake course to a short but rewarding trek up Mount Kurinodake for views all the way to Sakurajima, the volcano island off the coast of Kagoshima city, so you're bound to find something to fit your level.
If you'd prefer to leave the hiking boots behind, there's plenty to draw your interest. Kirishima-Jingu Shrine is one of the most important in the country and even features in the Japanese national anthem; if you visit in spring or autumn you'll be treated to cherry blossom or deep red autumn leaves. Art fans are sure to enjoy the open-air museum which features pieces from artists like Yayoi Kusama and James Turrell. And if you're a fan of a hot spring bath, there are plenty scattered across the area – perfect at the end of a day of hiking or simply as a relaxing treat!

Overnight: Kirishima Seiryuso

Day 10-11

Visit Kumamoto castle and take a day trip out to Takachiho Gorge.

Next up is the small castle town of Kumamoto, which was heavily damaged in an earthquake in 2016. In addition to the restored castle, Suizenji is well worth a visit as a beautiful example of a traditional Japanese garden.
The following day you can hop back in your rental car and travel east for a trip to visit Takachiho Gorge, where sheer basalt cliffs line the Gokase River. There are two ways to enjoy the views; you can rent a boat and row along to get up-close views of the waterfall, or you can walk along the cliffside path which is around a one-hour round trip.
On your way back to Kumamoto in the afternoon, you might like to stop off at the Kunimigaoka viewing platform, which offers views across the mountainous countryside; if you're visiting in the autumn, you might be lucky enough to see the "unkai" phenomenon where the valleys is filled with a "sea of clouds".

Overnight: Mitsui Garden Hotel Kumamoto

Day 12

Relax in the restorative hot spring waters of Kurokawa Onsen.

The drive between Kumamoto and Kurokawa Onsen will take you past Mount Aso, an active volcano and one of the most impressive natural sights in Kyushu. Due to volcanic activity, access to the caldera is sometimes stopped but you can still enjoy views from afar.
Then it's on to the hot spring town of Kurokawa Onsen. You'll be staying in a traditional ryokan inn where you can tuck into an extensive kaiseki meal of seasonal dishes, before bedding down on futon mattresses for the night.

Overnight: Okunoyu Ryokan

Day 13-14

Round off your Kyushu trip in Fukuoka, the largest city on the island.

The drive to Fukuoka takes a little over two hours; you can drive direct or stop off in Dazaifu, a small town that used to be the administrative heart of the whole of Kyushu for over five centuries. The main draw is Dazaifu Tenmangu Shrine which dates back to the end of the 16th century, and the shrine approach is full of traditional dessert cafes and little shops selling good luck charms and other souvenirs.
You'll have the rest of the day at leisure in Fukuoka. We recommend heading to the Tenjin area to check out the yatai street food stalls to celebrate the end of your Kyushu trip.

Overnight: Mitsui Garden Hotel Fukuoka Gion
Close all days
Other trips you may like
Nagasaki
Kagoshima
Yakushima
Kirishima National Park
Kumamoto
Kurokawa Onsen
Fukuoka

Discover the impressive landscapes and vibrant cities of Kyushu on this journey from the forests of Yakushima to Kurokawa Onsen's hot springs

13 nights: from US$5252 pp (twin share) Read more >

An amazing week at perhaps Japan's top winter sports resort. Fantastic snow conditions and a vibrant international atmosphere.

8 nights: from US$2366 pp (twin share) Read more >

Tokyo
Matsumoto
Takayama
Kyoto
Osaka
Tokyo

The whole family can get stuck in to Japanese culture with this hands-on activity holiday.

12 nights: from US$11648 (per family) Read more >