Tokyo sumo
The chance to experience all the excitement and ritual of Japan's oldest sport, sumo wrestling.
Sumo wrestling is the ancient traditional sport of Japan and provides a fascinating and at times dramatic spectacle for anyone lucky enough to make it to a basho or tournament. Fights can be over in a matter of seconds as one wrestler hauls his opponent over the straw bales and out of the ring or thrusts him to the ground. Yet this does not make for a lack of excitement; the tension in the arena builds to a climax as the wrestlers engage in the ritual face off before each bout begins with a thunderous clash of heads. Despite their often gargantuan size these guys can move like ballerinas, pirouetting in the ring to circle the opponent or spinning on tip toes to evade a violent thrusting attack.

Out of six annual tournaments, three take place in Tokyo in January, May and September. Tokyo's sumo stadium is the Kokugikan; search for it on Google street view and you'll see all the wrestlers lined up outside! The stadium can accommodate 13,000 spectators either in masu seki seats which are tatami mat squares with four cushions or isu seki Western-style stadium seats.
When to go: The Tokyo sumo tournament takes place three times a year in January, May and September.

Make an Enquiry
For more information email us: [email protected] or call: + 44 117 244 3380
Important notice: We are pleased to be able to offer so many amazing experiences in Japan. However, we are sorry that we can only include these as a part of a full Japan holiday package which includes your accommodation and transport alongside the experiences presented in this section of the web site.

Try this modern martial art drawing on traditional Japanese swordsmanship techniques.

Try your hand at Japanese archery in Kyoto

Join an hour long lesson in the art of ninja espionage in a Kyoto dojo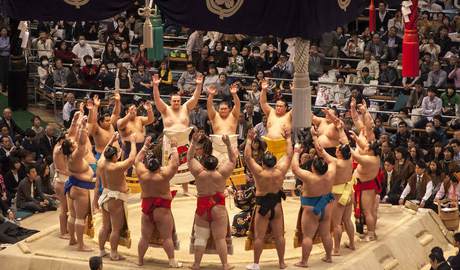 Visit Osaka for the spring sumo tournament which takes place in the city's Nanba district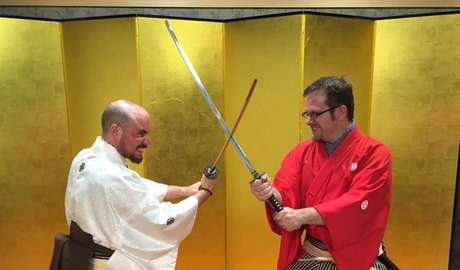 Learn to wave a katana sword in the style of the samurai