Self-Guided Adventure
Golden Route
9 Nights: from US$4732 per person (twin share)
Trip Code: GRS
The Golden Route traces the path of the ancient Tokaido Highway, starting with the skyscrapers of ultra-modern Tokyo, stopping at the hot spring town of Hakone and traversing the country to Japan's cultural heart at Kyoto. Read more >
With a total of four nights in Tokyo you'll have plenty of time to experience what this eclectic city has to offer - from the historical Asakusa district to the towering high-rises around Shinjuku - as well as a potential day trip out of the city to coastal Kamakura or Mount Takao.
A stark contrast to the capital, the beautiful hot spring town of Hakone is only a short Shinkansen ride from the city and boasts some stunning mountain scenery, relaxing onsen hot spring baths and a collection of excellent museums. Keep your camera handy and your eyes peeled for a glimpse of Mount Fuji, Japan's tallest and most sacred mountain - visible only in good weather!
Moving down the east coast on the world famous bullet train, you will arrive at the magnificent Kyoto Station - one of Japan's largest buildings and a real feat of modern architecture. Here, in the "City of Ten Thousand Temples," you will find the country's most famous shrines, temples and gardens - as well as the mysterious world of the geisha.
The Japan Rail Pass included in your trip offers you lots of flexibility, meaning that you can easily plan a day trip from Kyoto to vibrant Osaka, magnificent Himeji Castle or the fascinating Peace Park and Museum in Hiroshima - to name but a few possibilities.
What's included
Nine nights' accommodation

Breakfast every day, two evening meals and two lunches

All transport between destinations

Airport transfers by private car

Seven-day Japan Rail Pass

Hakone Free Pass for local transport in the Hakone region

Manaca transport card with 2,500 yen credit for city transport

Eight-hour private guide service in Tokyo and Kyoto including lunch and entrance fees

Private walking tour of Kyoto's Gion geisha district

Pocket WiFi device

Your personalised InsideJapan Info-Pack
What's NOT included:
International flights

Local transport (buses, subways, taxis) unless otherwise specified

Any entrance fees including those for shrines, temples and museums

Baggage handling and luggage forwarding
Trip Highlights
Visit the Golden Temple and Kiyomizu-dera in Kyoto

Enjoy hot spring baths in Hakone

Take a day trip to Nara, Osaka or Hiroshima
Discover Tokyo with a private local guide

Travel first class on the iconic Shinkansen bullet train

Enjoy views of Mount Fuji from Lake Ashi
For more information email us: [email protected] or call: + 44 117 244 3380
What, where, when and how...
Golden Route - 10 Days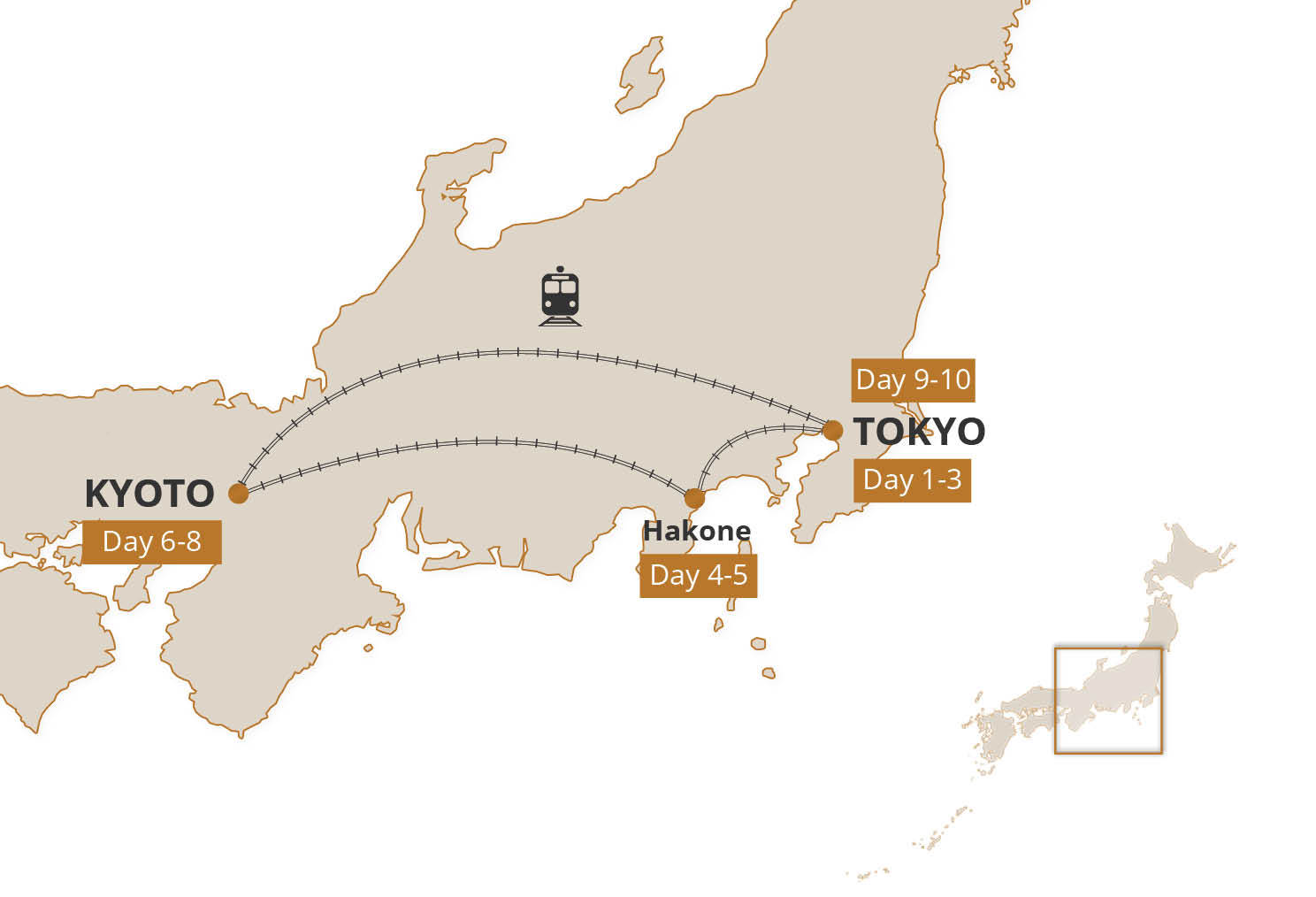 Destinations
Golden Route - 10 Days - Day by Day
Golden Route - 10 Days - Accommodation
Day 1-3

Discover Tokyo's many faces with the help of a private tour guide and take an optional day trip to Nikko, Kamakura or Mount Takao.

Welcome to Japan! On arrival at the airport you will be whisked by private car to your hotel in the historic Asakusa district.

Here you'll be well placed to explore this bustling, low-rise area of the city – home to both Tokyo's oldest temple and its newest landmark – the 634m Skytree! We recommend spending the afternoon wandering around the quaint shops and food outlets here.

On your first full day in the city you will be met at your hotel by a private local tour guide who will help you discover the major sights and lesser-known locales of Tokyo. Armed with many years of experience, your guide will have lots of recommendations and will help you ensure that you maximise your time!

The itinerary is very flexible and can be decided on the day – just let us know if you have any specific requests. We recommend trying a tea ceremony at Hamarikyu Gardens, browsing the electronics shops in Akihabara, or wandering around Harajuku's Yoyogi Park.

After your tour of Tokyo, your next day will be free to either explore more of the city on your own or take a day trip to one of the surrounding areas.

Head to upmarket Ginza for some shopping; scale the Skytree for stunning vistas of the city; visit Kamakura's giant Buddha; hike up Mount Takao – the possibilities are truly endless! Just let us know if anything particularly appeals to you and we will include details in your Info-Pack.

Overnight: Gate Hotel Kaminarimon

Day 4-5

Leave behind the energy of Tokyo for a relaxing two days in Hakone National Park, famed for its hot springs, natural beauty and stunning views of Mount Fuji.

Leaving the capital behind today, you will set off on the bullet train from Tokyo station to Odawara, the gateway to the Fuji-Hakone National Park.

Famed for its hot springs and beautiful mountain scenery, two nights here will give you a fantastic break from the city and a glimpse of another side of Japan. With so many traditional inns in the area, Hakone is the perfect place to relax and enjoy the unique ryokan experience – exquisite food, superb service and incredible hot spring baths will all be included in your stay.

After a thoroughly relaxing night at your ryokan you will have a full day to continue exploring Hakone, equipped with your Hakone Free Pass. Your pass allows you to make use of the variety of buses, trains, cable cars, funicular railways – and even a pirate ship – to get around Hakone.

Despite not having seen an eruption for 3,000 years, Hakone is full of volcanic activity so be sure to visit Owakudani to see the plumes of sulphur rising from the crater and eat one of the black eggs boiled in the hot spring water.

Aside from the fantastic views, there is also a wide range of excellent museums to visit, including the superb open-air sculpture park.

After a long day of sightseeing, you will return to your ryokan for another delicious kaiseki meal and a reviving soak in the onsen in preparation for the next leg of your journey.

Overnight: Kowakien Tenyu

Day 6-8

Discover the beating cultural heart of Japan as you explore ancient temples, wander through gardens and sip green tea in the illustrious former Imperial capital - Kyoto.

Hop aboard the bullet train once again today as you speed westwards to Kyoto using your first class (green) Japan Rail Pass. The 267-mile journey takes only two hours and ten minutes, so you will have the afternoon free to start exploring Kyoto using the recommendations in your Info-Pack to inspire you!

With so many options it can be difficult to know where to start, but a visit to the Zen garden at Ryoan-ji Temple, a cup of green tea at Kinkaku-ji's Golden Pavilion or wander around the Nijo castle grounds would all be excellent choices.

On your second day in Kyoto you will have a full day with a private local guide to explore some of Japan's most well known temples and shrines, such as the exquisite hilltop Kiyomizu-dera or the iconic red gates of Fushimi Inari Shrine.

There are cultural treasures hiding around every corner in Kyoto, so as well as taking you to the famous destinations your guide will be able to recommend some more unusual spots. If you have any particular preferences we can pass these onto the guide in advance to help them tailor the activities to your personal interests.

On day eight of your trip the programme is completely up to you. You could spend another day exploring the panoply of sights in Kyoto or, alternatively, make a day trip to one of the many amazing destinations within reach of the bullet train.

The city of Hiroshima, for example, is a poignant reminder of the barbarities of war but also a powerful symbol of the resilience of the human spirit. Miyajima Island on the other hand is a haven of tranquillity, where you can survey stunning views of the Inland Sea and marvel at the sunset behind the floating torii gate of Itsukushima shrine.

Closer to Kyoto lies Nara, home to thousands of deer and the giant Buddha at Todaiji Temple, and Uji, known for green tea and Byodo-in – the temple that appears on the 10 yen coin.

Overnight: Celestine Kyoto Gion

Day 9-10

End your time in Japan with a night in Shinjuku, the energetic business and entertainment hub of Tokyo.

A final trip on the bullet train brings your experience full circle as you return to Tokyo – either in the morning to allow you more time in the capital or in the afternoon if you prefer to spend the day in Kyoto.

For your final night in this sprawling city you will be staying in the vibrant Shinjuku district, with thousands of shops, bars and restaurants on your doorstep. Be sure to check your Info-Pack for some great recommendations for this final evening.

As with all good things, your trip must eventually come to an end. On your last day in Japan you will be met at your hotel by your private driver, who will take you in comfort to the airport in time for your flight home.

Overnight: Century Southern Tower
View all days
Day 1-3

Discover Tokyo's many faces with the help of a private tour guide and take an optional day trip to Nikko, Kamakura or Mount Takao.

Welcome to Japan! On arrival at the airport you will be whisked by private car to your hotel in the historic Asakusa district.

Here you'll be well placed to explore this bustling, low-rise area of the city – home to both Tokyo's oldest temple and its newest landmark – the 634m Skytree! We recommend spending the afternoon wandering around the quaint shops and food outlets here.

On your first full day in the city you will be met at your hotel by a private local tour guide who will help you discover the major sights and lesser-known locales of Tokyo. Armed with many years of experience, your guide will have lots of recommendations and will help you ensure that you maximise your time!

The itinerary is very flexible and can be decided on the day – just let us know if you have any specific requests. We recommend trying a tea ceremony at Hamarikyu Gardens, browsing the electronics shops in Akihabara, or wandering around Harajuku's Yoyogi Park.

After your tour of Tokyo, your next day will be free to either explore more of the city on your own or take a day trip to one of the surrounding areas.

Head to upmarket Ginza for some shopping; scale the Skytree for stunning vistas of the city; visit Kamakura's giant Buddha; hike up Mount Takao – the possibilities are truly endless! Just let us know if anything particularly appeals to you and we will include details in your Info-Pack.

Overnight: Gate Hotel Kaminarimon

Day 4-5

Leave behind the energy of Tokyo for a relaxing two days in Hakone National Park, famed for its hot springs, natural beauty and stunning views of Mount Fuji.

Leaving the capital behind today, you will set off on the bullet train from Tokyo station to Odawara, the gateway to the Fuji-Hakone National Park.

Famed for its hot springs and beautiful mountain scenery, two nights here will give you a fantastic break from the city and a glimpse of another side of Japan. With so many traditional inns in the area, Hakone is the perfect place to relax and enjoy the unique ryokan experience – exquisite food, superb service and incredible hot spring baths will all be included in your stay.

After a thoroughly relaxing night at your ryokan you will have a full day to continue exploring Hakone, equipped with your Hakone Free Pass. Your pass allows you to make use of the variety of buses, trains, cable cars, funicular railways – and even a pirate ship – to get around Hakone.

Despite not having seen an eruption for 3,000 years, Hakone is full of volcanic activity so be sure to visit Owakudani to see the plumes of sulphur rising from the crater and eat one of the black eggs boiled in the hot spring water.

Aside from the fantastic views, there is also a wide range of excellent museums to visit, including the superb open-air sculpture park.

After a long day of sightseeing, you will return to your ryokan for another delicious kaiseki meal and a reviving soak in the onsen in preparation for the next leg of your journey.

Overnight: Kowakien Tenyu

Day 6-8

Discover the beating cultural heart of Japan as you explore ancient temples, wander through gardens and sip green tea in the illustrious former Imperial capital - Kyoto.

Hop aboard the bullet train once again today as you speed westwards to Kyoto using your first class (green) Japan Rail Pass. The 267-mile journey takes only two hours and ten minutes, so you will have the afternoon free to start exploring Kyoto using the recommendations in your Info-Pack to inspire you!

With so many options it can be difficult to know where to start, but a visit to the Zen garden at Ryoan-ji Temple, a cup of green tea at Kinkaku-ji's Golden Pavilion or wander around the Nijo castle grounds would all be excellent choices.

On your second day in Kyoto you will have a full day with a private local guide to explore some of Japan's most well known temples and shrines, such as the exquisite hilltop Kiyomizu-dera or the iconic red gates of Fushimi Inari Shrine.

There are cultural treasures hiding around every corner in Kyoto, so as well as taking you to the famous destinations your guide will be able to recommend some more unusual spots. If you have any particular preferences we can pass these onto the guide in advance to help them tailor the activities to your personal interests.

On day eight of your trip the programme is completely up to you. You could spend another day exploring the panoply of sights in Kyoto or, alternatively, make a day trip to one of the many amazing destinations within reach of the bullet train.

The city of Hiroshima, for example, is a poignant reminder of the barbarities of war but also a powerful symbol of the resilience of the human spirit. Miyajima Island on the other hand is a haven of tranquillity, where you can survey stunning views of the Inland Sea and marvel at the sunset behind the floating torii gate of Itsukushima shrine.

Closer to Kyoto lies Nara, home to thousands of deer and the giant Buddha at Todaiji Temple, and Uji, known for green tea and Byodo-in – the temple that appears on the 10 yen coin.

Overnight: Celestine Kyoto Gion

Day 9-10

End your time in Japan with a night in Shinjuku, the energetic business and entertainment hub of Tokyo.

A final trip on the bullet train brings your experience full circle as you return to Tokyo – either in the morning to allow you more time in the capital or in the afternoon if you prefer to spend the day in Kyoto.

For your final night in this sprawling city you will be staying in the vibrant Shinjuku district, with thousands of shops, bars and restaurants on your doorstep. Be sure to check your Info-Pack for some great recommendations for this final evening.

As with all good things, your trip must eventually come to an end. On your last day in Japan you will be met at your hotel by your private driver, who will take you in comfort to the airport in time for your flight home.

Overnight: Century Southern Tower
Close all days
Other trips you may like
Takahara
Nonaka
Yunomine Onsen
Koguchi
Kii-Katsuura

A challenging five-night walking module introducing the ancient trails of the Kumano Kodo pilgrimage network.

5 nights: from US$1781 pp (twin share) Read more >

Tokyo
Matsumoto
Tsumago
Narai
Kyoto
Yunomine Onsen
Koguchi
Nachi
Osaka

From sacred pilgrimage trails to ancient samurai routes, this itinerary showcases some of the best multi-day hiking routes in Japan.

14 nights: from US$3458 pp (twin share) Read more >

Tokyo
Kanazawa
Shirakawago
Takayama
Matsumoto
Tsumago
Kyoto
Tokyo

Enjoy the very best in traditional Japanese hospitality as you discover old Japan through a range of exclusive experiences on this deluxe 14-day trip.

14 nights: from US$11375 pp (twin share) Read more >