Self-Guided Adventure
Golden Route
9 Nights: from US$9555 per person (twin share)
Trip Code: GRD
Following the path of the old Tokaido Road, the Golden Route will take you from the hustle and bustle of Tokyo to Kyoto, Japan's ancient capital and the true cultural heart of the country. With the hot springs of Hakone in between, this itinerary is a perfect introductory taste of Japan. Read more >
Home to 35 million people, Tokyo is one of the world's largest urban centres. Yet alongside the throngs of commuters at Shinjuku Station and the glaring, neon signs of Akihabara's electronics stores, the city has more to tranquillity to offer than the first-time visitor might expect.
Based in Tokyo's premier accommodation, you will be perfectly placed to get to know the many faces that Tokyo has to offer.
Leaving the metropolis behind, you will be whisked away to fill your lungs with mountain air in Hakone National Park, with its steaming volcanoes and picturesque Lake Ashi presided over by the iconic (but notoriously shy) Mount Fuji.
After sweeping down the coast on the world famous Shinkansen bullet train you will glide into Kyoto, a modern city with a thoroughly traditional heart. Despite its contemporary façade, this city offers a window to the majesty of old Imperial Japan and is the epicentre of Japanese history and culture.
Venturing into the traditional districts you will discover cultural treasures at every turn, and during a private audience with a maiko (apprentice geisha) you will be offered a privileged look into one of the world's most secretive communities.
Combining world-class super-deluxe hotels, Japan's most luxurious traditional ryokan inns, first class travel and exclusive cultural experiences - the Golden Route is sure to be a trip to remember.
What's included
Nine nights' accommodation in deluxe hotels and ryokan

Breakfast every day, three evening meals and two lunches

All transport between destinations (first class where available)

Airport transfers by private car

Tour the Fuji Five Lakes region with a private driver and guide

Hakone Free Pass for local transport in the Hakone region

Manaca transport card with 2,500 yen credit for city transport

Eight-hour private guide and driver in Tokyo and Kyoto, including lunch and any entrance fees

Tokyo izakaya dinner experience with an InsideJapan tour leader

An audience with an apprentic geisha

Pocket WiFi device

Your personalised InsideJapan Info-Pack
What's NOT included:
International flights

Local transport (buses, subways, taxis) at any destination unless otherwise specified

Baggage handling and luggage forwarding
Trip Highlights
Get to know Tokyo by night with one of our "Insider" experts

Relax at the Four Seasons Kyoto

Speed across the country on the iconic bullet train
Spend an evening with an apprentice geisha

Stay at a private ryokan inn in Hakone

Explore the ancient temples of Kyoto
For more information email us: [email protected] or call: + 44 117 244 3380
What, where, when and how...
Golden Route - 10 Days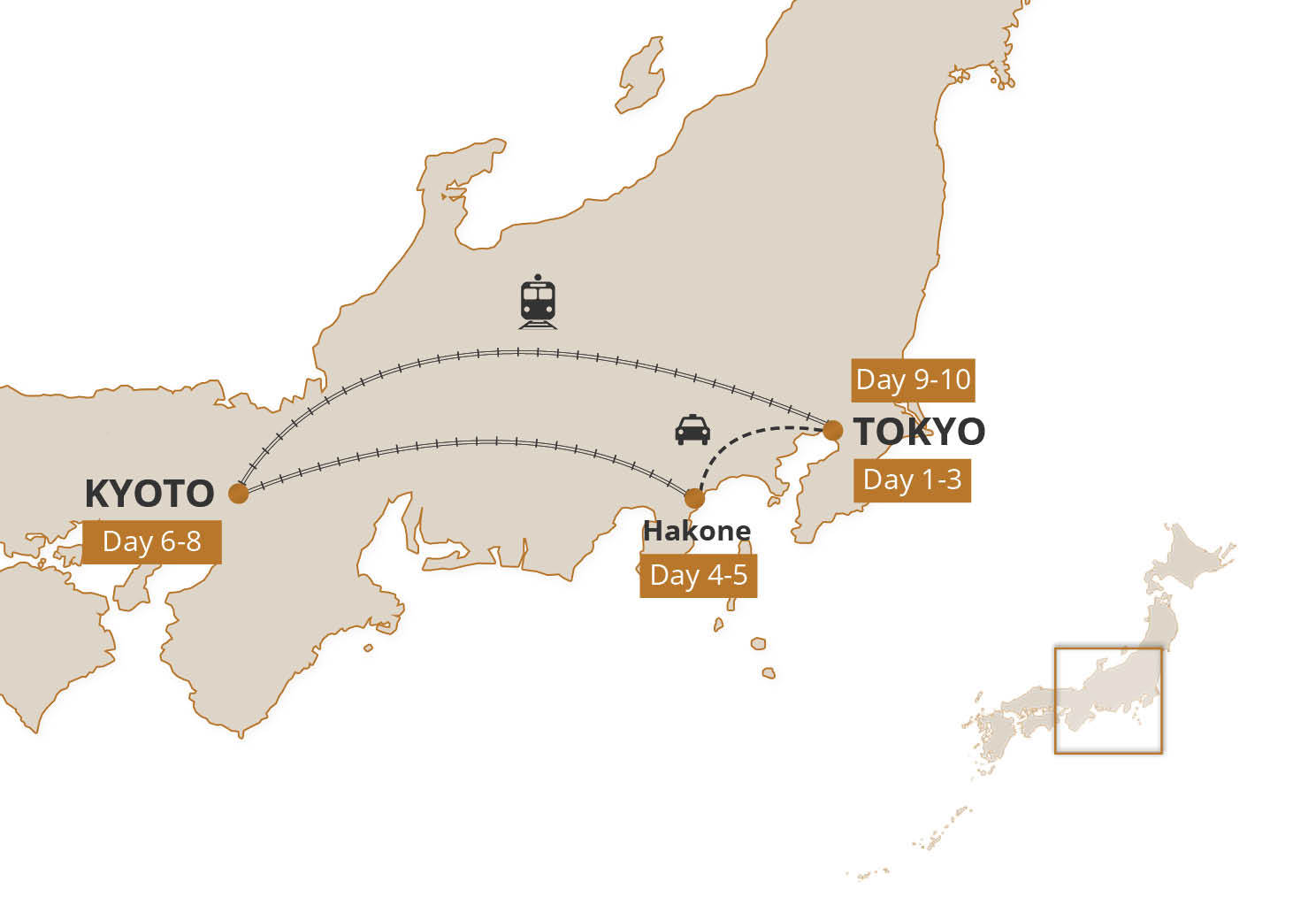 Destinations
Golden Route - 10 Days - Day by Day
Golden Route - 10 Days - Accommodation
Day 1-3

Enjoy an exclusive izakaya experience with one of our "Insiders" and discover the best of Japan's most famous metropolis as you are whisked through the streets of Tokyo with a private guide.

Welcome to Japan! On arrival at the you will be escorted to your hotel in the comfort of a private car. The rest of your day will be free for you to relax in your hotel or to start exploring the city.

Head to the traditional Asakusa district to explore the low-rise shopping streets around Senso-ji, Tokyo's oldest temple, or cross the river to the towering Skytree, the newest addition to the Tokyo skyline.

Your first full day in Tokyo will be spent with a private local tour guide who will accompany you as you visit the best of the city's sights by private car. With years of experience behind them your guide will have lots of suggestions for the day's itinerary, which will be fully flexible to cater for your tastes and interests.

This evening you'll be in for a fabulous experience with one of our very own Insider staff who will take you for some drinks at a local bar followed by dinner at a tradition Japanese izakaya. This is the kind of experience it is very difficult to find on your own, so make sure you make the most of your Insider's expert local knowledge!

On day three you will have another full day to explore the city under your own steam, armed with your personalised Info-Pack. Take a trip on the water bus to Hamarikyu gardens for a tea ceremony, catch sight of a wedding party at the Meiji Shrine or perhaps treat yourself to a spot of shopping in glitzy Ginza or Omotesando, where you'll get to see some architectural delights at the same time.

If you'd prefer to head out of the city today, the giant stone Buddha at Kamakura is well worth a visit – or perhaps you might choose the stunning vistas at Mount Takao. We can of course arrange a private guide for any day trips, so do let us know if you're interested.

Overnight: Palace Tokyo

Day 4-5

Kick back in luxury as you soak in an onsen bath, sample kaiseki cuisine prepared by Japan's top chefs and enjoy true Japanese hospitality - all surrounded by the natural splendour of Hakone National Park.

Today a private guide and driver will be waiting to take you to the Fuji Five Lakes district, one of the most beautiful areas around Mount Fuji. If time and weather allow, a drive up to the fifth station at Mount Fuji, nearly 2,000 metres above sea level, is bound to impress you with its spectacular views of the surrounding area.

Later this evening you'll be dropped off at the hot spring town of Hakone, where you'll be staying at one of the most exclusive retreats in the world. Here you're in for an exceptional evening of relaxation, with onsen baths and a multi-course exquisite kaiseki Perfect!

On the fifth day of your trip, you will have a full day to explore the Hakone National Park equipped with your Hakone Free Pass. This pass will allow you to make use of all the public transport in the area – from buses and trains to cable cars, funicular railways and even a pirate ship!

Sailing across Lake Ashi offers another chance to see Mount Fuji, whilst the Picasso collection and unusual sculptures at the Hakone Open Air Museum make for an enjoyable afternoon. Another sumptuous dinner at your ryokan inn is included tonight.

Overnight: Gen

Day 6-8

Discover cultural gems behind every corner and catch a rare glimpse into the secret world of geisha in Japan's former Imperial capital, Kyoto.

A visit to Japan is simply not complete without a ride on the world-famous Shinkansen, known in English as the bullet train. Speeding westwards in first class comfort today, you will arrive in the cultural heart of Japan in just 2 hours and 10 minutes.

On arrival at the impressive Kyoto station you will travel by car to your luxury hotel.

On the seventh day of your trip you will have a tour of Kyoto by private car with a professional guide. This will be a fantastic introduction to the city and a great opportunity to ask your guide any questions you may have about Kyoto and life in Japan.

Kyoto is a modern city, but it is also a place where the rich heritage of Japan's past reveals itself like nowhere else. With 17 UNESCO World Heritage Sites to explore, you'll find ancient temples and exquisite gardens hiding around every corner.

Though your tour is bound to be eye-opening, the real highlight of the day will come this afternoon, when you will be granted a private audience with a maiko (apprentice geisha). As a rare glimpse into a secretive world, this is sure to be one of the most memorable of all your time in Japan.

Another full day of getting to know Kyoto lies ahead, and your Info-Pack will be brimming with fantastic suggestions for day eight of your adventure. Have a moment of reflection in one of the many Zen gardens, take a cycle around the Imperial Palace grounds, or try out the "nightingale" floor designed to ward off assassins at Nijo castle.

Overnight: Four Seasons

Day 9-10

Return to Tokyo for a final dose of city life amongst the futuristic skyscrapers of Shinjuku.

Today you will return to Tokyo, this time riding first class on the Nozomi (the very fastest of the bullet trains!) reaching a top speed of 300 kph (186 mph) for 35 minutes of your journey.

You can choose to spend the morning in Kyoto or take an early train back to the capital to finish off exploring Tokyo. For your final night you will be staying in Shinjuku, the business and entertainment hub of Tokyo, where you can catch your final dose of the city's vibrant shops, restaurants, bars and karaoke booths.

Finally it's time to say sayonara to Japan. A private car and driver will be waiting for you this morning to take you from your hotel to the airport in time for your flight.

Overnight: Park Hyatt
View all days
Day 1-3

Enjoy an exclusive izakaya experience with one of our "Insiders" and discover the best of Japan's most famous metropolis as you are whisked through the streets of Tokyo with a private guide.

Welcome to Japan! On arrival at the you will be escorted to your hotel in the comfort of a private car. The rest of your day will be free for you to relax in your hotel or to start exploring the city.

Head to the traditional Asakusa district to explore the low-rise shopping streets around Senso-ji, Tokyo's oldest temple, or cross the river to the towering Skytree, the newest addition to the Tokyo skyline.

Your first full day in Tokyo will be spent with a private local tour guide who will accompany you as you visit the best of the city's sights by private car. With years of experience behind them your guide will have lots of suggestions for the day's itinerary, which will be fully flexible to cater for your tastes and interests.

This evening you'll be in for a fabulous experience with one of our very own Insider staff who will take you for some drinks at a local bar followed by dinner at a tradition Japanese izakaya. This is the kind of experience it is very difficult to find on your own, so make sure you make the most of your Insider's expert local knowledge!

On day three you will have another full day to explore the city under your own steam, armed with your personalised Info-Pack. Take a trip on the water bus to Hamarikyu gardens for a tea ceremony, catch sight of a wedding party at the Meiji Shrine or perhaps treat yourself to a spot of shopping in glitzy Ginza or Omotesando, where you'll get to see some architectural delights at the same time.

If you'd prefer to head out of the city today, the giant stone Buddha at Kamakura is well worth a visit – or perhaps you might choose the stunning vistas at Mount Takao. We can of course arrange a private guide for any day trips, so do let us know if you're interested.

Overnight: Palace Tokyo

Day 4-5

Kick back in luxury as you soak in an onsen bath, sample kaiseki cuisine prepared by Japan's top chefs and enjoy true Japanese hospitality - all surrounded by the natural splendour of Hakone National Park.

Today a private guide and driver will be waiting to take you to the Fuji Five Lakes district, one of the most beautiful areas around Mount Fuji. If time and weather allow, a drive up to the fifth station at Mount Fuji, nearly 2,000 metres above sea level, is bound to impress you with its spectacular views of the surrounding area.

Later this evening you'll be dropped off at the hot spring town of Hakone, where you'll be staying at one of the most exclusive retreats in the world. Here you're in for an exceptional evening of relaxation, with onsen baths and a multi-course exquisite kaiseki Perfect!

On the fifth day of your trip, you will have a full day to explore the Hakone National Park equipped with your Hakone Free Pass. This pass will allow you to make use of all the public transport in the area – from buses and trains to cable cars, funicular railways and even a pirate ship!

Sailing across Lake Ashi offers another chance to see Mount Fuji, whilst the Picasso collection and unusual sculptures at the Hakone Open Air Museum make for an enjoyable afternoon. Another sumptuous dinner at your ryokan inn is included tonight.

Overnight: Gen

Day 6-8

Discover cultural gems behind every corner and catch a rare glimpse into the secret world of geisha in Japan's former Imperial capital, Kyoto.

A visit to Japan is simply not complete without a ride on the world-famous Shinkansen, known in English as the bullet train. Speeding westwards in first class comfort today, you will arrive in the cultural heart of Japan in just 2 hours and 10 minutes.

On arrival at the impressive Kyoto station you will travel by car to your luxury hotel.

On the seventh day of your trip you will have a tour of Kyoto by private car with a professional guide. This will be a fantastic introduction to the city and a great opportunity to ask your guide any questions you may have about Kyoto and life in Japan.

Kyoto is a modern city, but it is also a place where the rich heritage of Japan's past reveals itself like nowhere else. With 17 UNESCO World Heritage Sites to explore, you'll find ancient temples and exquisite gardens hiding around every corner.

Though your tour is bound to be eye-opening, the real highlight of the day will come this afternoon, when you will be granted a private audience with a maiko (apprentice geisha). As a rare glimpse into a secretive world, this is sure to be one of the most memorable of all your time in Japan.

Another full day of getting to know Kyoto lies ahead, and your Info-Pack will be brimming with fantastic suggestions for day eight of your adventure. Have a moment of reflection in one of the many Zen gardens, take a cycle around the Imperial Palace grounds, or try out the "nightingale" floor designed to ward off assassins at Nijo castle.

Overnight: Four Seasons

Day 9-10

Return to Tokyo for a final dose of city life amongst the futuristic skyscrapers of Shinjuku.

Today you will return to Tokyo, this time riding first class on the Nozomi (the very fastest of the bullet trains!) reaching a top speed of 300 kph (186 mph) for 35 minutes of your journey.

You can choose to spend the morning in Kyoto or take an early train back to the capital to finish off exploring Tokyo. For your final night you will be staying in Shinjuku, the business and entertainment hub of Tokyo, where you can catch your final dose of the city's vibrant shops, restaurants, bars and karaoke booths.

Finally it's time to say sayonara to Japan. A private car and driver will be waiting for you this morning to take you from your hotel to the airport in time for your flight.

Overnight: Park Hyatt
Close all days
Other trips you may like
Tokyo
Matsumoto
Takayama
Kyoto
Osaka
Tokyo

The whole family can get stuck in to Japanese culture with this hands-on activity holiday.

12 nights: from US$11648 (per family) Read more >

Kawayu Onsen
Yunomine Onsen
Kii-Katsuura

This walking module presents a taster of what the Kumano Kodo has to offer at a gentle pace designed to make this amazing region accessible to all.

3 nights: from US$1287 pp (twin share) Read more >

Tokyo
Nagano
Kusatsu
Minakami
Lake Chuzenji
Nikko
Tokyo

Discover splendid mountain scenery and hot spring towns in this intrepid driving itinerary along the famous Romantic Road.

10 nights: from US$3211 pp (twin share) Read more >