Self-Guided Adventure
Japanese Ikigai and the Path to Happiness
13 Nights: from US$4030 per person (twin share)
Trip Code: JIPH
Find new meaning in Japan's old ways on a special cultural trip that explores Japanese philosophical concepts from wabi sabi to the bushido samurai code and ikigai. Read more >
In our experience, a good holiday should last longer than your out of office message. When you get back to your desk, you need more than rosy travel memories to help you tackle your inbox. Instead you want to feel invigorated and revitalised - you need new ways of living to take home to your everyday life.

This itinerary promises all of that and more. On this trip we make use of those beautiful, almost untranslatable concepts that pepper the Japanese language, as a lens through which to explore Japan.

Take ikigai for example. Often cited as the Japanese answer to happiness, ikigai is that sweet spot where what the world needs, what you can be paid for, what you're good at and what you love doing intersect. In other words, it's your purpose in life, and it's a great concept to discuss with the many people you'll meet on this trip from the young owners of a beautifully restored farmhouse, to the family who have been running an indigo dyeing studio for generations.

You'll also encounter chefs and artisans who embody kodawari or a relentless devotion to their craft. Wabi sabi is about accepting transience and imperfection, and is epitomised by the art of kintsugi, using powdered gold to fashion broken ceramics into something new, which you'll try your hand at in Tokyo.

Onkochishin or finding new wisdom in old ways continues in Kyoto. Here you'll be guided in zazen seated meditation by a head priest, and a local professional guide will walk you through the principles of Japanese Buddhism and Shintoism.

While following in the footsteps of samurai on the old Nakasendo highway, we urge you to slow down and absorb your surroundings in the art known as shinrin-yoku or forest bathing. Hadaka no tsukiai offers relaxation in another way: 'naked communion' is the free-flowing conversation that can only be found in the hot spring baths of your traditional ryokan inn stay.

Japanese culture has endless things to teach us and that's precisely why we love it. It's our hope that this journey will stimulate the mind as well as the senses, making a long-lasting impression on you. If your trip succeeds in this way, we will have achieved our own ikigai.

Please note: There are some small traditional inns included in this itinerary which do get booked up quickly. We recommend planning this trip far in advance to avoid disappointment. The route also works best if you arrive in Japan on a Sunday.
What's included
Airport transfers

14-day Japan Rail Pass

13 nights' accommodation in Japan

Breakfast every day and four evening meals

All transport between destinations

Manaca transport card with 2,500 yen credit for city transport

Insider sightseeing walking tour in Tokyo

Kintsugi craft experinece

Zen meditation experience

Roketsu indigo dyeing lesson

Tea ceremony

Home cooking class

Soba noodle making lesson

Insider evening food tour in Tokyo

Pocket WiFi device

Your personalised InsideJapan Info-Pack
What's NOT included:
International flights

Local transport (buses, subways, taxis) at any destination unless otherwise specified

Any entrance fees including those for shrines, temples and museums

Baggage handling - you will be expected to carry your own bags for the duration of the trip
Trip Highlights
Stay in a family-run rural farmhouse

Try your hand at kintsugi gold repair

Rest your muscles in onsen hot springs

Slow down and experience forest bathing
Meditate with a temple priest in Kyoto

Eat healthy, hearty Japanese cuisine

Trace Japan's old ways of living on the Nakasendo

Encounter expert guides, chefs and artisans
For more information email us: [email protected] or call: + 44 117 244 3380
What, where, when and how...
Japanese Ikigai and the Path to Happiness - 14 Days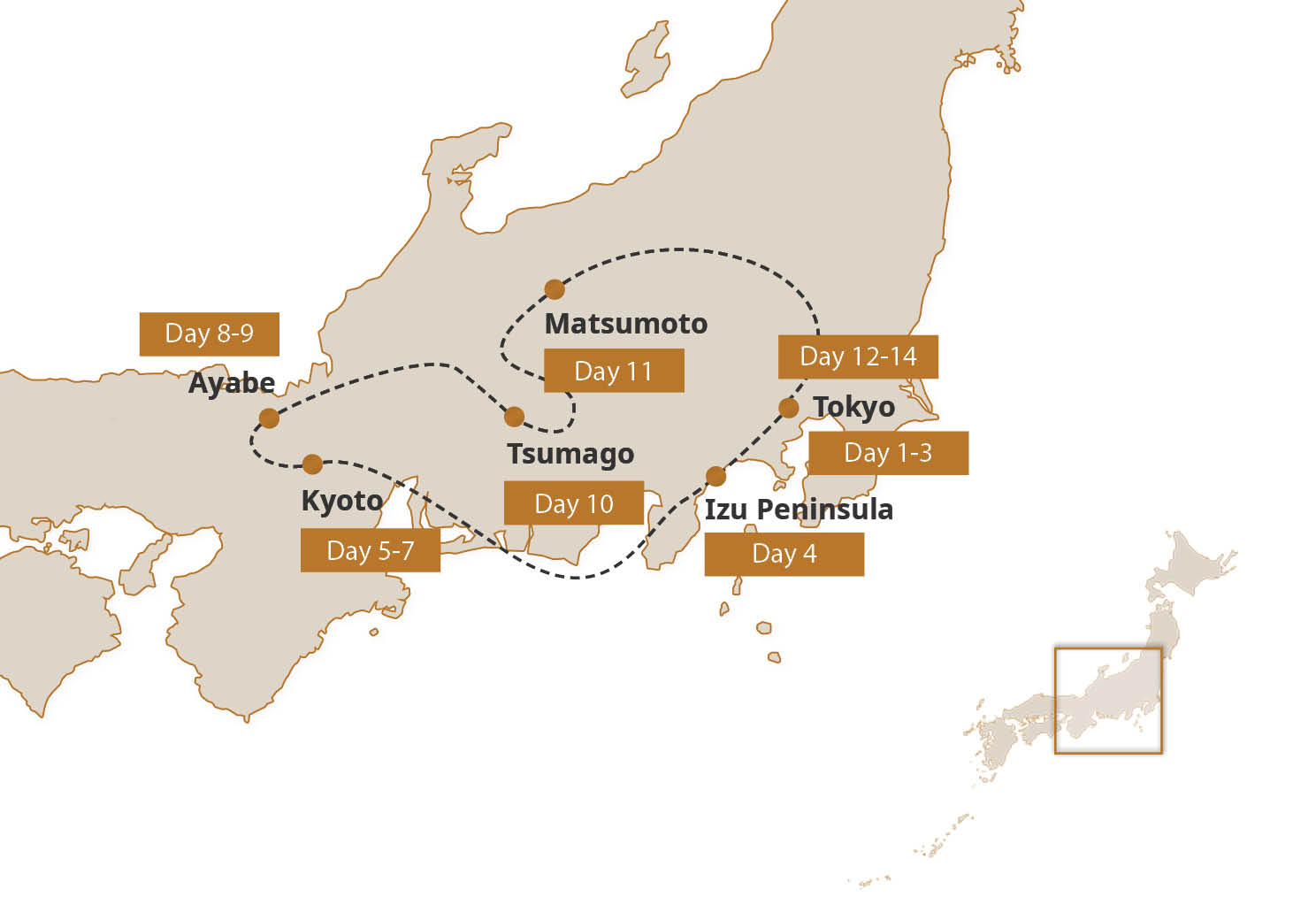 Japanese Ikigai and the Path to Happiness - 14 Days - Day by Day
Japanese Ikigai and the Path to Happiness - 14 Days - Accommodation
Japanese Ikigai and the Path to Happiness - 14 Days - Experiences
Day 1

Welcome to Japan

Today you'll arrive into Tokyo and we'll arrange a shared shuttle bus transfer to take you straight to your first hotel in the historic Asakusa district. There's plenty to see on your doorstep including Tokyo's oldest temple Senso-ji, and you're also just a short hop from the Skytree if you wish to see the capital from above. Of course, you may just want to crash in your hotel room and sleep off any jetlag, that's why we've left this afternoon free for you to do as you please.

Overnight: Richmond Asakusa

Day 2

Onkochishin 温故知新
Finding new wisdom in old ways

The Japanese have a saying for seemingly everything. Onkochishin is a four-character idiom encapsulating the idea that it's important to learn lessons from history in order to make advancements in the future. Keep your eyes peeled as you explore Japan and we're sure you'll start seeing onkochishin everywhere.
You'll join a guided tour of Tokyo today led by one of our Insider experts. The walking tour shows two distinct faces of the capital: first the quaint, nostalgic district of Yanaka and elegant Rikugien Garden, before heading to fashionable Omotesando and the neon lights of Shibuya. Your Insider guide will have an eye on sustainable tourism today as you visit family-run craft shops and traditional food stalls along the way for a fascinating first day in Japan.

Overnight: Richmond Asakusa

Day 3

Wabi sabi わびさび
The acceptance of transience & imperfection

Wabi sabi is a way of living that focuses on seeing the beauty in the imperfect, as well as accepting the natural cycle of life and death. Rather than striving for perfection which ultimately will always end in failure, we challenge you to enjoy the happy accidents in life.
Time to try your hand at the art of kintsugi. Literally "golden joinery", kintsugi uses lacquer dust mixed with powdered gold to repair broken pottery or ceramics. The aim is not to hide the breakages but display the imperfections in a way that is even more beautiful. We'll arrange a kintsugi lesson where you can learn about the history and techniques of this 15th century art and repair a broken item to take home.

Overnight: Richmond Asakusa

Day 4

Kaiseki 懐石
Japanese haute cuisine

Kaiseki is Japanese fine dining at its best, often served in traditional ryokan inns or specialised restaurants. A kaiseki meal consists of a set menu of many little dishes that display different cooking techniques to create contrasting textures. Ingredients are always seasonal, including local meat, fish and vegetables, and the food is often exquisitely presented on ceramics and lacquerware chosen to enhance the meal's aesthetics.
Today you'll take the train from Tokyo down the coast to the Izu Peninsula. Your home tonight is a beautiful ryokan inn near the sea. Dinner tonight is a fabulous kaiseki banquet at your accommodation.

Overnight: Hanafubuki

Day 5

Hadaka no tsukiai 裸の付き合い
Naked communion

Hadaka no tsukiai is the unique friendship between two people taking a hot spring bath together. Something about sitting in hot water in nothing but your birthday suit breaks down usual social barriers and allows intimate conversation to flow. If you get the chance to visit an onsen, give naked conversation a try!
Before you leave the ryokan inn, you must try the onsen hot spring baths. Unlike most places where bathing is communal, this ryokan has seven different outdoor baths that you can lock behind you for private use. A great opportunity to try hot spring bathing Japan-style in privacy.
Later, your journey will continue by train on to Kyoto. En-route you could stop off in Atami to visit the wonderful Museum of Modern Art.

Overnight: Agora Kyoto Karasuma

Day 6

Japanese Buddhism & Shintoism 仏教と神道

The saying goes that in Japan people are born Shinto and die Buddhist. This is Japan's syncretic belief system in a nutshell: two different religions practiced side-by-side as a single system.
Until Buddhism arrived in Japan in the sixth century by way of China, Shintoism didn't have a specific name. It was simply Japan's indigenous spirituality in which every living thing – trees, flowers, animals, rocks, even sounds – contains a kami god. This belief in nature runs throughout Japanese culture; it's in the cherishing of the changing seasons, and in arts such as ikebana flower arranging and garden design.
Today Shinto ceremonies at birth are balanced by Buddhist rituals at death. This entwining of religions runs so deep that establishing a firm boundary between the two is all but impossible. In fact, so close are the two faiths that red Shinto gates and Buddhist prayer halls can often be found on the same site.
For your first full day in Kyoto you will be accompanied by a private guide so you can really get to grips with the city's intricate culture and history. As part of your day together, you'll visit a temple for a meditation experience with the head priest – your guide is on hand to translate.
The priest will instruct you in how to sit, breath and focus before initiating a short 10-minute session of meditation. After sounding a bell to break you from your trance, he will give a further explanation of the ways of Zen before beginning another short period of contemplation. The priest can answer any questions you have about this form of meditation, Buddhism or life in general.

Overnight: Agora Kyoto Karasuma

Day 7

Kodawari こだわり
A relentless devotion to one's craft

During your Japan travels you may be lucky to meet somebody who exudes kodawari. It could be a master artisan, a martial arts practitioner or perhaps a sushi chef; in short, a person who has dedicated their life to the relentless pursuit of their craft. These are passionate individuals; while not attached to perfection which they know is unobtainable, they show an unwavering focus on producing their best work.
We'll arrange a hands-on lesson in roketsu indigo dyeing today. The studio is a family-run business, and the instructors have more than 50 years' experience, utilising techniques developed by artisans working with kimonos. Roketsu dyeing is unique to Kyoto and makes use of wax to block dyes in an area finely drawn by hand on cloth.

Overnight: Agora Kyoto Karasuma

Day 8

Kizuna 絆
The bond that connects people

In the aftermath of the 2011 earthquake and tsunami, the word kizuna was voted Japan's favourite kanji character of that year. It means the bond that connects people. We hope you'll think of kizuna as you make new connections on your journey through Japan.
Today's travels will take you into the Japanese countryside. You'll take a train north from Kyoto to Ayabe station, a journey of around one hour. Here you'll stay at a beautiful farmhouse run by a young couple who chose to escape the big city and live of the land. This is a gorgeous place to spend a couple of days, relaxing with a book, wandering the country lanes, helping on the farm or chatting to your hosts.

Overnight: Furumaya House

Day 9

Ikigai 生き甲斐
A reason for being

What's your ikigai? Ikigai means a reason for being and is often cited as the Japanese secret to happiness. It's the core value that gets you out of bed in the morning, where your passion, mission, profession and vocation intersect. A trip overseas is a great chance to take stock of your life, so as you explore Japan consider what's important to you - that is your ikigai.
Your hosts at the farmhouse invite you to take part in a simple tea ceremony today. The ancient rituals surrounding the preparation and presentation of matcha powdered green tea date back to the 12th century when Buddhist monks began using tea in religious ceremonies. Later the practice spread to samurai warriors in their aim to bring a concentrated level of awareness to everyday activities. There is certainly a controlled meditative element to the tea ceremony and the carefully prescribed movements are based on four principles: harmony, respect, purity and tranquility.
In the afternoon you can also learn how to make simple Japanese dishes in the farmhouse kitchen. Pick up some new cooking techniques to incorporate into your life back home.

Overnight: Furumaya House

Day 10

Shinrin-yoku 森林浴
The art of forest bathing

Shinrin-yoku involves using all your senses to absorb your surroundings as you slowly make your way through a forest. We are all aware on some level of the restorative effect of walking among trees, but the Japanese were the first to put a name to it in the 1980s. Give it a try on your exploration of the Japanese countryside and see if you can feel the therapeutic effects.
Another beautiful Japanese word komorebi describes the sunlight filtering through leaves in a forest. One to keep in mind if you experience forest bathing on a sunny day.
You'll need to be on an 8am train this morning for the four hour journey to Nakatsugawa, gateway to the Kiso Valley and the well-preserved postal villages of Magome and Tsumago.
The best way to explore this area is on foot – it's a three hour walk between the villages along the most beautiful remaining section of the old Nakasendo highway. The Nakasendo was one of the five routes used by samurai to travel between Tokyo and Kyoto during the Edo period and walking it today will reveal a side of Japan seldom seen by either foreigners or Japanese alike. Waterfalls, stone paths, mountain views, and bamboo forests all make this a walk not to be missed. Tonight you'll stay in a charming ryokan inn in Tsumago.

Overnight: Daikichi Minshuku

Day 11

Bushido 武士道
The way of the samurai

Who could fail to be impressed by the mighty samurai and their long-standing philosophies? Rectitude, courage, benevolence, respect, honesty, honour and loyalty are the seven virtues of the samurai bushido code – traits that many Japanese strive to live by even today.
Samurai were the military nobility of Japan, first emerging in the mid-Heian Period (794–1185). Their skills as warriors were most in demand during the 15th and 16th centuries – a time of landowning clans and feudal wars, when Japan splintered into dozens of independent states. As soldiers, the samurai were fierce fighters who followed strict codes of honour and combat. They employed bows and arrows, spears and guns, but their main weapon and symbol was the sword.
During the long peace of the Edo Period (1603–1868), samurai gradually lost their military function and expanded their roles as courtiers, bureaucrats and administrators. The samurai class was eventually abolished in the Meiji Reforms of the 19th century, after hundreds of years of power and influence.
The samurai trail continues today as you walk another section of the Nakasendo highway to Nagsio (one hour) and then take the train to Matsumoto. Matsumoto is home to one of Japan's best-preserved samurai castles. Having survived over four hundred years through wars, earthquakes and fires, the current keep dates back to around the late sixteenth century.

Overnight: Richmond Matsumoto

Day 12

Kuidaore 食い倒れ
Eat oneself to ruin

The verb kuidaore loosely means eating yourself to ruin. It's part of a longer Japanese proverb "Dress into ruin in Kyoto, eat into ruin in Osaka" which alludes to earthy Osakans love of a hearty meal. In our experience kuidaore can be done anywhere in Japan, as wherever you eat, you're sure of a great meal!
Matsumoto is famous for its soba buckwheat noodles and there are numerous restaurants in town serving this simple but tasty dish. Today you will be making soba noodles from scratch, learning how to serve them and then most importantly how to enjoy eating them! The 1-hour course takes place at Takagi, a shop that's been in operation for over 130 years and located close to Matsumoto Castle.
Afterwards, your Japan trip comes full circle as you take the train back to Tokyo. This time you'll be staying on the west side of the city in the modern Shinjuku district.

Overnight: Sunroute Plaza Shinjuku

Day 13

Ichigo ichie 一期一会
One time, one meeting

Ichigo ichie is a four-character idiom which means 'one time, one meeting'. It's a nod to the transience of life; how every encounter is unique. Because a moment can never be repeated, every encounter, with every new person must be treasured. On your journey through Japan, be sure to appreciate all the new encounters you'll have.
You have a final free day to explore Tokyo and perhaps see anything you missed at the start of your trip. Tonight, you'll meet up with another of our Insider experts and some other travellers for an evening food tour around Shinjuku. The route includes three stops at some of our favourite secret eateries, tucked down alleyways or hidden high above street level. En-route you'll get to see some of Shinjuku's famous neon scenery like something out of Blade Runner (the original movie, of course).
At the end of the evening, your Insider will part ways with you at Shinjuku's famous Golden Gai, a collection of cosy bars just a stone's throw from the bustling main streets. You're free to stay out for as long as you'd like with your new friends, or your Insider will happily to escort you back to the start.

Overnight: Sunroute Plaza Shinjuku

Day 14

Sadly, it's time to say sayonara

And we're afraid that's it! Time to take the train back to the airport. We hope you've learned a lot and had some memorable experiences during your time in Japan that will enrich your life back home. We wish you a pleasant journey home.

Overnight: Sunroute Plaza Shinjuku
View all days
Day 1

Welcome to Japan

Today you'll arrive into Tokyo and we'll arrange a shared shuttle bus transfer to take you straight to your first hotel in the historic Asakusa district. There's plenty to see on your doorstep including Tokyo's oldest temple Senso-ji, and you're also just a short hop from the Skytree if you wish to see the capital from above. Of course, you may just want to crash in your hotel room and sleep off any jetlag, that's why we've left this afternoon free for you to do as you please.

Overnight: Richmond Asakusa

Day 2

Onkochishin 温故知新
Finding new wisdom in old ways

The Japanese have a saying for seemingly everything. Onkochishin is a four-character idiom encapsulating the idea that it's important to learn lessons from history in order to make advancements in the future. Keep your eyes peeled as you explore Japan and we're sure you'll start seeing onkochishin everywhere.
You'll join a guided tour of Tokyo today led by one of our Insider experts. The walking tour shows two distinct faces of the capital: first the quaint, nostalgic district of Yanaka and elegant Rikugien Garden, before heading to fashionable Omotesando and the neon lights of Shibuya. Your Insider guide will have an eye on sustainable tourism today as you visit family-run craft shops and traditional food stalls along the way for a fascinating first day in Japan.

Overnight: Richmond Asakusa

Day 3

Wabi sabi わびさび
The acceptance of transience & imperfection

Wabi sabi is a way of living that focuses on seeing the beauty in the imperfect, as well as accepting the natural cycle of life and death. Rather than striving for perfection which ultimately will always end in failure, we challenge you to enjoy the happy accidents in life.
Time to try your hand at the art of kintsugi. Literally "golden joinery", kintsugi uses lacquer dust mixed with powdered gold to repair broken pottery or ceramics. The aim is not to hide the breakages but display the imperfections in a way that is even more beautiful. We'll arrange a kintsugi lesson where you can learn about the history and techniques of this 15th century art and repair a broken item to take home.

Overnight: Richmond Asakusa

Day 4

Kaiseki 懐石
Japanese haute cuisine

Kaiseki is Japanese fine dining at its best, often served in traditional ryokan inns or specialised restaurants. A kaiseki meal consists of a set menu of many little dishes that display different cooking techniques to create contrasting textures. Ingredients are always seasonal, including local meat, fish and vegetables, and the food is often exquisitely presented on ceramics and lacquerware chosen to enhance the meal's aesthetics.
Today you'll take the train from Tokyo down the coast to the Izu Peninsula. Your home tonight is a beautiful ryokan inn near the sea. Dinner tonight is a fabulous kaiseki banquet at your accommodation.

Overnight: Hanafubuki

Day 5

Hadaka no tsukiai 裸の付き合い
Naked communion

Hadaka no tsukiai is the unique friendship between two people taking a hot spring bath together. Something about sitting in hot water in nothing but your birthday suit breaks down usual social barriers and allows intimate conversation to flow. If you get the chance to visit an onsen, give naked conversation a try!
Before you leave the ryokan inn, you must try the onsen hot spring baths. Unlike most places where bathing is communal, this ryokan has seven different outdoor baths that you can lock behind you for private use. A great opportunity to try hot spring bathing Japan-style in privacy.
Later, your journey will continue by train on to Kyoto. En-route you could stop off in Atami to visit the wonderful Museum of Modern Art.

Overnight: Agora Kyoto Karasuma

Day 6

Japanese Buddhism & Shintoism 仏教と神道

The saying goes that in Japan people are born Shinto and die Buddhist. This is Japan's syncretic belief system in a nutshell: two different religions practiced side-by-side as a single system.
Until Buddhism arrived in Japan in the sixth century by way of China, Shintoism didn't have a specific name. It was simply Japan's indigenous spirituality in which every living thing – trees, flowers, animals, rocks, even sounds – contains a kami god. This belief in nature runs throughout Japanese culture; it's in the cherishing of the changing seasons, and in arts such as ikebana flower arranging and garden design.
Today Shinto ceremonies at birth are balanced by Buddhist rituals at death. This entwining of religions runs so deep that establishing a firm boundary between the two is all but impossible. In fact, so close are the two faiths that red Shinto gates and Buddhist prayer halls can often be found on the same site.
For your first full day in Kyoto you will be accompanied by a private guide so you can really get to grips with the city's intricate culture and history. As part of your day together, you'll visit a temple for a meditation experience with the head priest – your guide is on hand to translate.
The priest will instruct you in how to sit, breath and focus before initiating a short 10-minute session of meditation. After sounding a bell to break you from your trance, he will give a further explanation of the ways of Zen before beginning another short period of contemplation. The priest can answer any questions you have about this form of meditation, Buddhism or life in general.

Overnight: Agora Kyoto Karasuma

Day 7

Kodawari こだわり
A relentless devotion to one's craft

During your Japan travels you may be lucky to meet somebody who exudes kodawari. It could be a master artisan, a martial arts practitioner or perhaps a sushi chef; in short, a person who has dedicated their life to the relentless pursuit of their craft. These are passionate individuals; while not attached to perfection which they know is unobtainable, they show an unwavering focus on producing their best work.
We'll arrange a hands-on lesson in roketsu indigo dyeing today. The studio is a family-run business, and the instructors have more than 50 years' experience, utilising techniques developed by artisans working with kimonos. Roketsu dyeing is unique to Kyoto and makes use of wax to block dyes in an area finely drawn by hand on cloth.

Overnight: Agora Kyoto Karasuma

Day 8

Kizuna 絆
The bond that connects people

In the aftermath of the 2011 earthquake and tsunami, the word kizuna was voted Japan's favourite kanji character of that year. It means the bond that connects people. We hope you'll think of kizuna as you make new connections on your journey through Japan.
Today's travels will take you into the Japanese countryside. You'll take a train north from Kyoto to Ayabe station, a journey of around one hour. Here you'll stay at a beautiful farmhouse run by a young couple who chose to escape the big city and live of the land. This is a gorgeous place to spend a couple of days, relaxing with a book, wandering the country lanes, helping on the farm or chatting to your hosts.

Overnight: Furumaya House

Day 9

Ikigai 生き甲斐
A reason for being

What's your ikigai? Ikigai means a reason for being and is often cited as the Japanese secret to happiness. It's the core value that gets you out of bed in the morning, where your passion, mission, profession and vocation intersect. A trip overseas is a great chance to take stock of your life, so as you explore Japan consider what's important to you - that is your ikigai.
Your hosts at the farmhouse invite you to take part in a simple tea ceremony today. The ancient rituals surrounding the preparation and presentation of matcha powdered green tea date back to the 12th century when Buddhist monks began using tea in religious ceremonies. Later the practice spread to samurai warriors in their aim to bring a concentrated level of awareness to everyday activities. There is certainly a controlled meditative element to the tea ceremony and the carefully prescribed movements are based on four principles: harmony, respect, purity and tranquility.
In the afternoon you can also learn how to make simple Japanese dishes in the farmhouse kitchen. Pick up some new cooking techniques to incorporate into your life back home.

Overnight: Furumaya House

Day 10

Shinrin-yoku 森林浴
The art of forest bathing

Shinrin-yoku involves using all your senses to absorb your surroundings as you slowly make your way through a forest. We are all aware on some level of the restorative effect of walking among trees, but the Japanese were the first to put a name to it in the 1980s. Give it a try on your exploration of the Japanese countryside and see if you can feel the therapeutic effects.
Another beautiful Japanese word komorebi describes the sunlight filtering through leaves in a forest. One to keep in mind if you experience forest bathing on a sunny day.
You'll need to be on an 8am train this morning for the four hour journey to Nakatsugawa, gateway to the Kiso Valley and the well-preserved postal villages of Magome and Tsumago.
The best way to explore this area is on foot – it's a three hour walk between the villages along the most beautiful remaining section of the old Nakasendo highway. The Nakasendo was one of the five routes used by samurai to travel between Tokyo and Kyoto during the Edo period and walking it today will reveal a side of Japan seldom seen by either foreigners or Japanese alike. Waterfalls, stone paths, mountain views, and bamboo forests all make this a walk not to be missed. Tonight you'll stay in a charming ryokan inn in Tsumago.

Overnight: Daikichi Minshuku

Day 11

Bushido 武士道
The way of the samurai

Who could fail to be impressed by the mighty samurai and their long-standing philosophies? Rectitude, courage, benevolence, respect, honesty, honour and loyalty are the seven virtues of the samurai bushido code – traits that many Japanese strive to live by even today.
Samurai were the military nobility of Japan, first emerging in the mid-Heian Period (794–1185). Their skills as warriors were most in demand during the 15th and 16th centuries – a time of landowning clans and feudal wars, when Japan splintered into dozens of independent states. As soldiers, the samurai were fierce fighters who followed strict codes of honour and combat. They employed bows and arrows, spears and guns, but their main weapon and symbol was the sword.
During the long peace of the Edo Period (1603–1868), samurai gradually lost their military function and expanded their roles as courtiers, bureaucrats and administrators. The samurai class was eventually abolished in the Meiji Reforms of the 19th century, after hundreds of years of power and influence.
The samurai trail continues today as you walk another section of the Nakasendo highway to Nagsio (one hour) and then take the train to Matsumoto. Matsumoto is home to one of Japan's best-preserved samurai castles. Having survived over four hundred years through wars, earthquakes and fires, the current keep dates back to around the late sixteenth century.

Overnight: Richmond Matsumoto

Day 12

Kuidaore 食い倒れ
Eat oneself to ruin

The verb kuidaore loosely means eating yourself to ruin. It's part of a longer Japanese proverb "Dress into ruin in Kyoto, eat into ruin in Osaka" which alludes to earthy Osakans love of a hearty meal. In our experience kuidaore can be done anywhere in Japan, as wherever you eat, you're sure of a great meal!
Matsumoto is famous for its soba buckwheat noodles and there are numerous restaurants in town serving this simple but tasty dish. Today you will be making soba noodles from scratch, learning how to serve them and then most importantly how to enjoy eating them! The 1-hour course takes place at Takagi, a shop that's been in operation for over 130 years and located close to Matsumoto Castle.
Afterwards, your Japan trip comes full circle as you take the train back to Tokyo. This time you'll be staying on the west side of the city in the modern Shinjuku district.

Overnight: Sunroute Plaza Shinjuku

Day 13

Ichigo ichie 一期一会
One time, one meeting

Ichigo ichie is a four-character idiom which means 'one time, one meeting'. It's a nod to the transience of life; how every encounter is unique. Because a moment can never be repeated, every encounter, with every new person must be treasured. On your journey through Japan, be sure to appreciate all the new encounters you'll have.
You have a final free day to explore Tokyo and perhaps see anything you missed at the start of your trip. Tonight, you'll meet up with another of our Insider experts and some other travellers for an evening food tour around Shinjuku. The route includes three stops at some of our favourite secret eateries, tucked down alleyways or hidden high above street level. En-route you'll get to see some of Shinjuku's famous neon scenery like something out of Blade Runner (the original movie, of course).
At the end of the evening, your Insider will part ways with you at Shinjuku's famous Golden Gai, a collection of cosy bars just a stone's throw from the bustling main streets. You're free to stay out for as long as you'd like with your new friends, or your Insider will happily to escort you back to the start.

Overnight: Sunroute Plaza Shinjuku

Day 14

Sadly, it's time to say sayonara

And we're afraid that's it! Time to take the train back to the airport. We hope you've learned a lot and had some memorable experiences during your time in Japan that will enrich your life back home. We wish you a pleasant journey home.

Overnight: Sunroute Plaza Shinjuku
Close all days
Other trips you may like
Tokyo
Hakone
Kyoto
Hiroshima
Osaka
Takayama
Tokyo

A classic two-week itinerary covering some of Japan's most iconic locations, including Tokyo, Kyoto and Mount Fuji.

14 nights: from US$4147 pp (twin share) Read more >

Tokyo
Nikko
Kyoto
Mount Koya
Himeji
Hiroshima
Kanazawa
Shirakawago
Tokyo

With a wide range of incredible World Heritage Sites, Japan is the perfect destination for this classic 17-night cultural and historical adventure.

17 nights: from US$4485 pp (twin share) Read more >

Tokyo
Matsumoto
Tsumago
Narai
Kyoto
Yunomine Onsen
Koguchi
Nachi
Osaka

From sacred pilgrimage trails to ancient samurai routes, this itinerary showcases some of the best multi-day hiking routes in Japan.

14 nights: from US$3458 pp (twin share) Read more >