Mount Takao
Mount Takao (known as Takao-san in Japanese) is a green oasis just an hour west of central Tokyo, making it a great day trip for those wishing to escape the conrete and neon of the city for a few hours.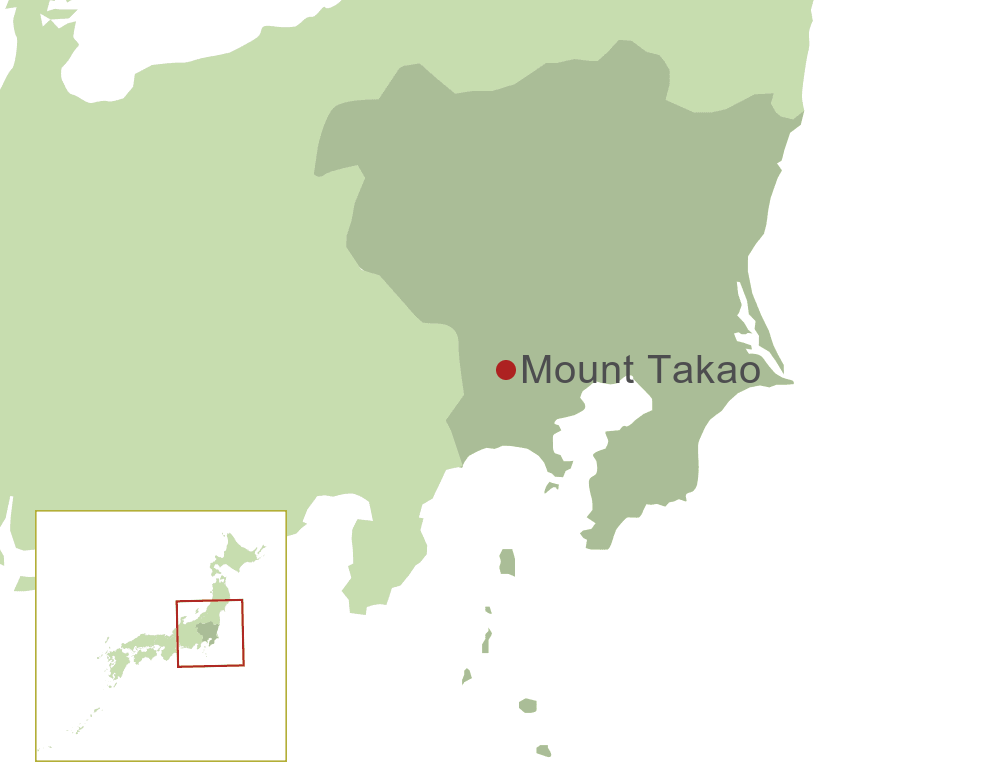 "As amazing as Tokyo is, after a few days in town you may long for some greenery, open space and country air. Mount Takao is the ideal escape; just an hour by train but you will feel a million miles away."
Harry Sargent, Marketing & Agents Manager
This area offers a variety of hiking courses, an attractive temple complex, fine views back over Tokyo and out to Mount Fuji (on a clear day) and of course plenty of fresh air and open space!
Mount Takao (599 metres) forms the start of the Chichibu-Tama National Park, a stretch of densely wooded mountains that form a natural barrier to Tokyo's western expansion and straddle four prefectures. From the base of the mountain a selection of well-marked trails wind their way up to the summit. Close to the summit is Yakuoin, an attractive temple, and the paths leading up the mountain are dotted with statues, offerings and other interesting religious bits 'n' pieces! Look out for winged statues representing the kami or spirits of the mountain, one crow-beaked and one long-nosed, they can be found all over the mountain.
The main hike up to the summit of Takao-san and back down can be done in around 4 hours, making for a leisurely day or a more intense half day. Those keen for extra exercise can follow one of the further hiking routes that head on from the summit of Takao-san deeper into the National Park; there is more than enough terrain here to fill a dawn-til-dusk day if you are so inclined!
If you are spending a few days in Tokyo, Mount Takao is an ideal day trip, offering a lovely mix of scenery, gentle exercise and beautiful religious architecture.
Experiences in Mount Takao
Mount Takao offers a wealth of exciting experiences that will help you get beneath the surface of Japan's fascinating culture. See below for a few of our favourites