Mito
The town of Mito is just an hour train ride north of Tokyo, in the middle of low lying Ibaraki prefecture. Mito is famous amongst the Japanese for its large public garden, a historic school and a uniquely pungent health food - natto.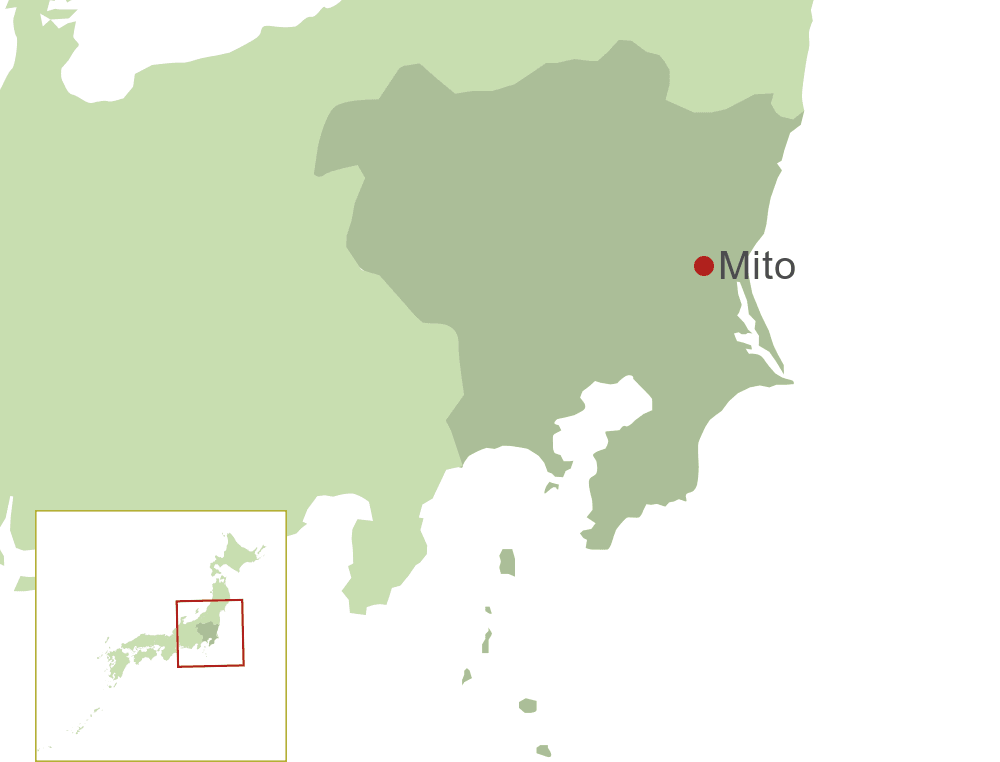 "Mito is home to one of Japan's most beautiful gardens and celebrated foods - natto!"
Popular with those eager to escape the fast pace of Tokyo, visitors flock here throughout the year. Mito is home to Kairakuen which is designated, along with gardens in Kanazawa and Okayama, as one of Japan's three most beautiful. Uniquely among these three, Kairakuen was built for the benefit of the locals, rather than just for the local Lord. The name Kairakuen translates as ?garden for everyone's enjoyment', and at 12.7 hectares, there is plenty to enjoy. Since it was built in 1841, it has been free for public access.
Special trains are put on in late February and March for visitors keen to see the over 3,000 plum trees in bloom in the garden. Pathways snake amongst the plum trees linking to a large shaded bamboo grove and cedar forest. Alongside the grove, perched on a slope overlooking cherry blossom lined Lake Senba, is a 2 story thatched former samurai house. The house receives visitors throughout the year.
While the garden was built for pleasure, the Kodokan hall, on the other side of Mito station, was built for study. Built at the same time as Kairakuen, scholars met here in support of the movement to ?revere the Emperor, expel the foreigner'. Students learnt traditional samurai arts alongside western science while debating how to deal with the threatening behaviour of foreign ships entering Japanese ports. Taking a leisurely walk around the large building and gardens gives you an insight into the education of men growing up during a time of revolutionary change in Japan.
Finally, a visit to Mito would not be complete without sampling some of Mito`s notorious natto. Made from fermented soybeans, and served with soy sauce or mustard, eating natto is a memorable experience. Sticky, stringy and smelly, first timers can be easily put off. But once you get it on your chopsticks, it can be very addictive. For those expert chopstick shovellers, every March a natto speed eating competition is held on the bank of Lake Senba.
Weather in Mito
The Climate Guide for Mito, Japan is perfect for planning your holiday. Monthly weather averages give the best indication of what the weather is usually like for every month of the year including figures for temperature, rainfall and sunshine.
Jan
Feb
Mar
Apr
May
Jun
Jul
Aug
Sep
Oct
Nov
Dec
Max Daytime Temperature (°C)
8
8
11
17
21
23
27
29
25
20
15
10
Min Night-time Temperature (°C)
-3
-2
1
6
11
16
20
21
18
11
5
-1
Hours of Sunshine (Daily)
6
6
6
6
6
4
4
6
4
4
5
5
Hours of Daylight (Daily)
10
11
12
13
14
15
14
14
12
11
10
10
Heat and Humidity Discomfort
None
None
None
None
None
None
Moderate
High
Low
None
None
None
Days with some Rainfall
9
11
15
16
16
20
19
16
19
16
12
9
Monthly Rainfall (mm)
31
54
96
116
125
171
141
146
195
138
74
31
UV Index (Maximum)
2
3
5
7
9
10
10
10
8
5
3
2