Kinosaki Onsen
Kinosaki Onsen is the classic Japanese hotspring resort. Nestling between mountains and sea, Kinosaki has escaped the concrete and glaring pachinko parlours of other Japanese towns. Traditional wooden houses sit along the willow-lined river which carries colourful koi carp through the town centre.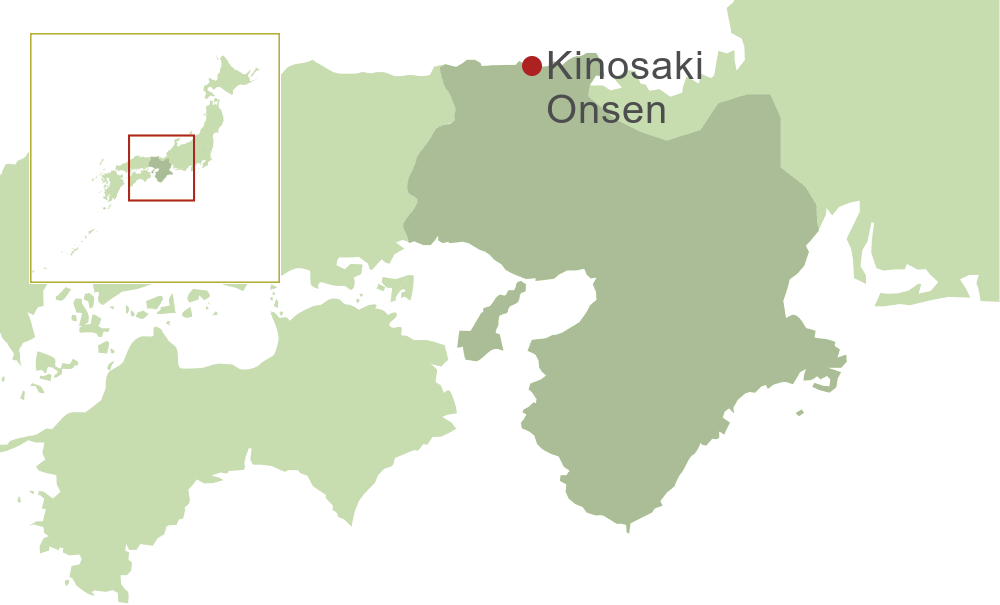 "Communal bathing in public hot springs is an essential part of Japanese culture. No trip to Japan would be complete without this experience and Kinosaki Onsen honours this tradition in beautiful, rustic style"
Samantha Barrow, Expert Travel Consultant and former resident of Kinosaki Onsen
Hot springs were discovered in Kinosaki around the 8th century. According to legend, storks would bathe in the marshes of Kinosaki to heal their wounds. Later bath houses were built over these sites to take advantage of the healing waters. Today the hot springs are believed to cure all manner of ailments from rheumatism to high blood pressure.
Visitors come to Kinosaki to stay in beautiful Japanese inns or ryokan where they enjoy a sumptuous banquet of delicious local cuisine including the famous crab. But by 6pm everyone ventures outside again to visit the bath houses. ?Clip-clop, clip-clop' goes the sound of wooden geta sandals as bathers dressed in summer kimono or yukata weave their way between the seven onsen over wooden bridges lit by atmospheric lanterns. Each onsen hot spring has a different feel and in the course of the evening guests may take a therapeutic soak in all of them!
There has always been a certain sense of spirituality linked to onsen bathing; the notion of cleanliness and purity being linked to Shintoism. This air of holiness permeates Kinosaki and has inspired artists, authors and calligraphers for centuries. A magical stay in Kinosaki Onsen may well be the highlight of your trip to Japan.
Recommended Accommodation in Kinosaki Onsen
The following are our favourites from among the western-style hotels and Japanese-style inns of Kinosaki Onsen.
Experiences in Kinosaki Onsen
Kinosaki Onsen offers a wealth of exciting experiences that will help you get beneath the surface of Japan's fascinating culture. See below for a few of our favourites
Weather in Kinosaki Onsen
The Climate Guide for Kinosaki Onsen, Japan is perfect for planning your holiday. Monthly weather averages give the best indication of what the weather is usually like for every month of the year including figures for temperature, rainfall and sunshine.
Jan
Feb
Mar
Apr
May
Jun
Jul
Aug
Sep
Oct
Nov
Dec
Max Daytime Temperature (°C)
6
6
10
16
21
24
28
30
25
20
14
9
Min Night-time Temperature (°C)
-1
-1
1
7
11
16
21
22
17
11
6
1
Hours of Sunshine (Daily)
2
3
4
6
6
5
5
6
4
4
3
3
Hours of Daylight (Daily)
10
11
12
13
14
14
14
13
12
11
10
10
Heat and Humidity Discomfort
None
None
None
None
None
None
Moderate
High
Low
None
None
None
Days with some Rainfall
16
15
16
14
14
17
18
16
16
13
13
14
Monthly Rainfall (mm)
46
42
43
65
166
248
235
201
250
134
54
39
UV Index (Maximum)
2
4
5
7
9
10
10
10
8
5
3
2
Featured trips including Kinosaki Onsen
Tokyo
Hakone
Kyoto
Kinosaki Onsen
Osaka

Japan's hot spring towns and vibrant cities make for a perfect setting for a romantic honeymoon

11 nights: from US$2938 pp (twin share) Read more >

Tokyo
Kanazawa
Kyoto
Kinosaki Onsen
Hiroshima
Hakone
Tokyo

Coastal cities, hot-spring towns, urban giants and national parks

14 nights: US$9490 Read more >

Tokyo
Hakone
Kyoto
Kinosaki Onsen
Osaka

Japan's hot spring bathing culture and scenic countryside make it a wonderfully romantic setting for a honeymoon.

11 nights: from US$6149 pp (twin share) Read more >